Category : Country : China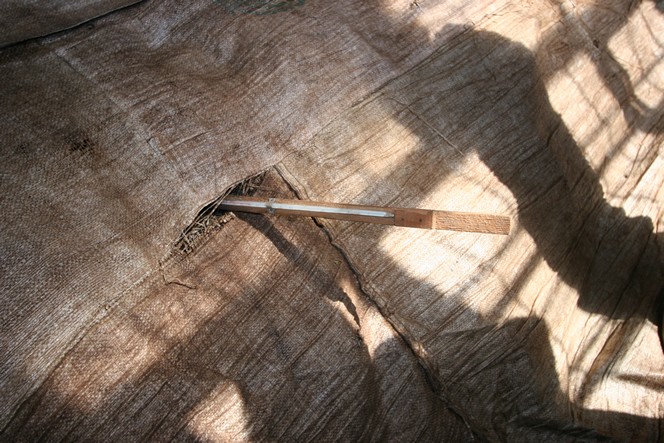 The end-of-year festivities are frequently accompanied by overeating: at a time when many of us welcome friends and relatives into our homes, we enjoy preparing delicious meals and treats for our guests. It is not only the quality that is often high, but also the quantity. As for me, I like to finish a good meal with a cup or bowl of tea, to help me digest. I don't know if the effect is purely psychological but it feels real, which is good enough for me. In China, Pu Er is said to be the best tea to drink during times of feasting. This tea is special in that it is covered and fermented for at least 45 days. During this time, the temperature is checked, hence this thermometer stuck into a pile of tea leaves covered with a cloth. It reads 53°C.
Posted in Country : China by François-Xavier Delmas | Tags : bowl of tea, pu er, Tea, tea leaves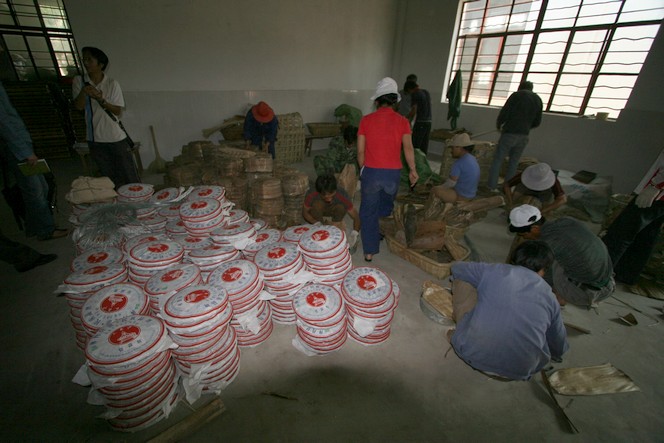 I know that your main objective at the moment is to wrap your purchases so they are ready to go under the Christmas tree in a few days' time. Well, in China there's a tea called Pu Er which requires wrapping with just as much care. Pu er can be bought loose, but it is mainly found in the form of a compressed cake. Having been left to dry on racks, each cake is wrapped in a sheet of printed rice paper, as you can see in this photo. The protected cakes are then wrapped in groups of seven in a dried banana leaf. The tea is then ready to embark on its journey and arrive with you after the festivities, which is just at the right time: in China, Pu Er is said to lower cholesterol. Rightly or wrongly, it is sometimes known as the "fat-eating" tea.
Posted in Country : China by François-Xavier Delmas | Tags : Country : China, fat-eating tea, pu er, Tea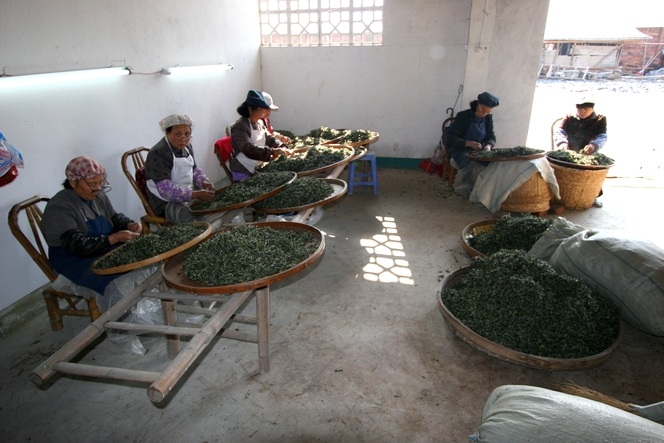 In China as well as in India, when it comes to making high quality tea, no effort is spared in ensuring that only the best leaves are selected. Here, in Fuding (China), these workers are checking all the leaves of the Bai Mu Dan that has just been produced, one by one. It is a painstaking task that requires a great deal of patience. Only when this stage is finished can the leaves be packed into chests and shipped to the buyer.
Posted in Country : China by François-Xavier Delmas | Tags : Bai Mu Dan, Country : China, Country : India, Fuding, Tea, tea leaves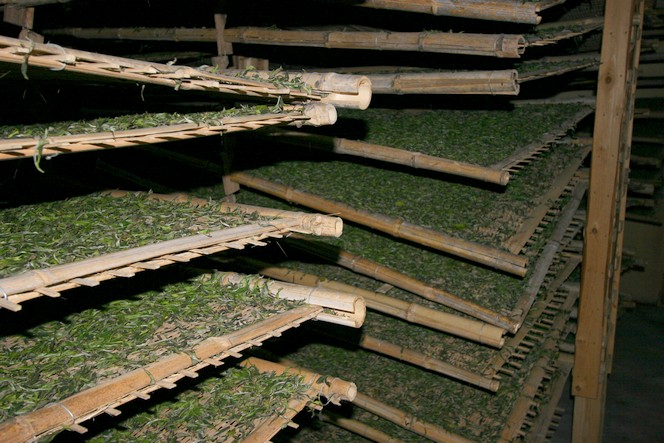 In the past, the withering of tea leaves took place in the open air, but nowadays it increasingly happens in a heated, well ventilated room. This system offers greater control over the ambient conditions. Here, in Fujian (China), the temperature and humidity levels are carefully regulated, and the room benefits from a sophisticated ventilation system. Which means the leaves of this Bai Mu Dan can gradually lose their water content.
Posted in Country : China by François-Xavier Delmas | Tags : Bai Mu Dan, Country : China, Fujian, tea leaves, withering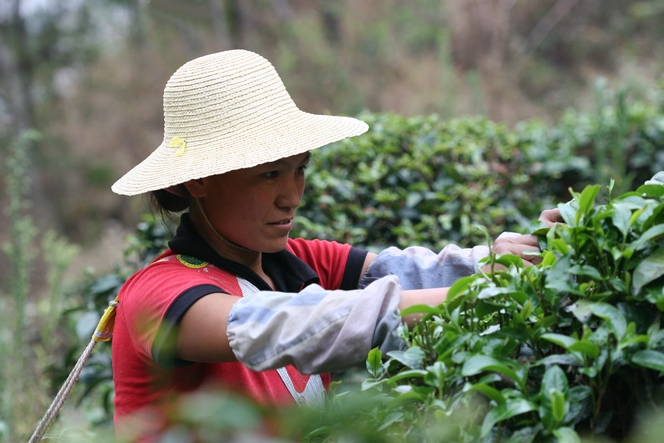 In many countries, the men and women who pluck tea leaves wear a type of sleeve made from a light canvas, which covers part of the arm.
Camellia is quite a tough shrub, and at the end of the day, without this protection, which can be worn directly on bare skin or over the top of a garment, the pluckers' arms would be covered in scratches.
I expect this young woman from Yunnan, who looks rather stylish beneath her straw hat, would agree.
Posted in Country : China by François-Xavier Delmas | Tags : Camellia, tea leaves, Yunnan
The author
François-Xavier Delmas is a passionate globetrotter. He's been touring the world's tea plantations for more than 20 years in search of the finest teas. As the founder of Le Palais des Thés, he believes that travelling is all about discovering world cultures. From Darjeeling to Shizuoka, from Taiwan to the Golden Triangle, he invites you to follow his trips as well as share his experiences and emotions.
Articles classified by themes
Blogs on tea in English
Blogs on tea in French
Cooking
Links to Le Palais des Thés
Past travels