Category : Country : China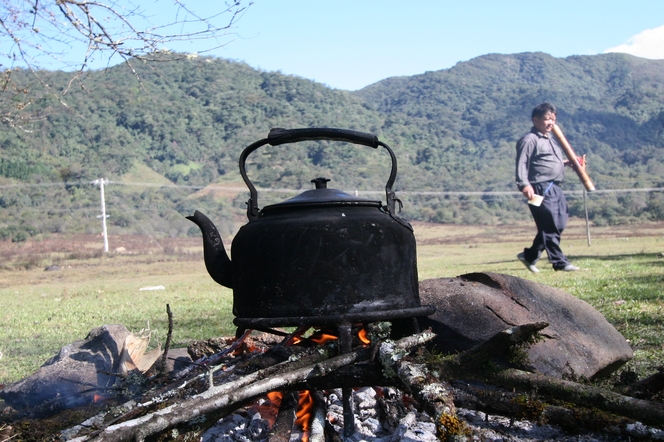 In many of the countries I travel in, the water is not safe to drink unless it is boiled first. So people always have water on the boil, day and night, at home, at work, in the shops, and even on the road, like here, al fresco.
Just after arriving in Sudianlisuzuxiang in Yunnan, while some of our party went off to pluck the birds and others cut fine sticks of bamboo on which to grill the meat, I lit the fire to make tea. On this high and peaceful plateau, once we had eaten our fill and drunk our Pu Er, we stretched out on the grass for a nap. Except for one, who took a stroll with his water pipe.
Posted in Country : China by François-Xavier Delmas | Tags : Country : China, pu er, Sudianlisuzuxiang, Tea, Yunnan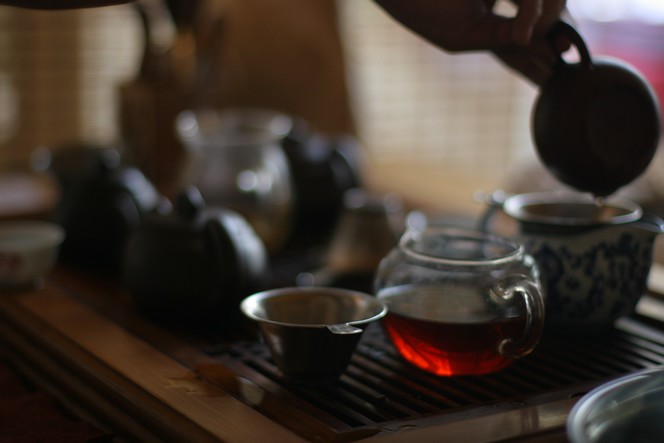 In the West, tea is often prepared in a teapot, usually containing between 50cl and 150cl of tea. In Asia, however, where tea is very popular, the use of a teapot of this size, or even of a teapot at all, is not as common as here. In China, for example, where there are probably the most number of tea drinkers on the planet, tea is traditionally drunk from a zhong (a small bowl with a lid) or from tiny cups filled from a tiny teapot. These utensils – some of which you can see in this photo – comprise what is called Gong Fu Cha.
Posted in Country : China by François-Xavier Delmas | Tags : Country : China, Gong Fu Cha, Tea, teapot, zhong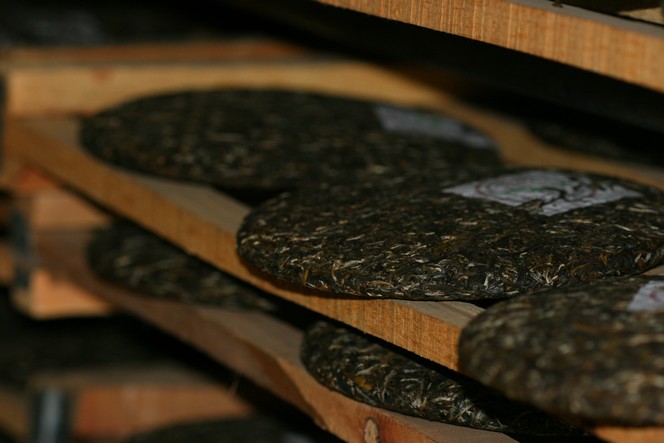 Are the Chinese right to call Pu Er the "fat-eating tea" because it apparently aids weight loss and lowers cholesterol? I have no idea, and have to say that I am not particularly interested in the health-giving qualities of dark teas, which I enjoy for their flavour. Pu Ers have an incredible aromatic richness, taking you through wood and undergrowth, with the whiff of stables, leather and damp straw. A pure delight!
In this photo you can see freshly moulded "cakes" of Pu Er. This is a green (or raw) Pu Er, as you can see from the colour of its leaves. It has not been covered for the fermentation process. Depending on the conditions in which it is stored, it can continue fermenting year after year, often improving with age.
Posted in Country : China by François-Xavier Delmas | Tags : pu er, Pu Er cake, Tea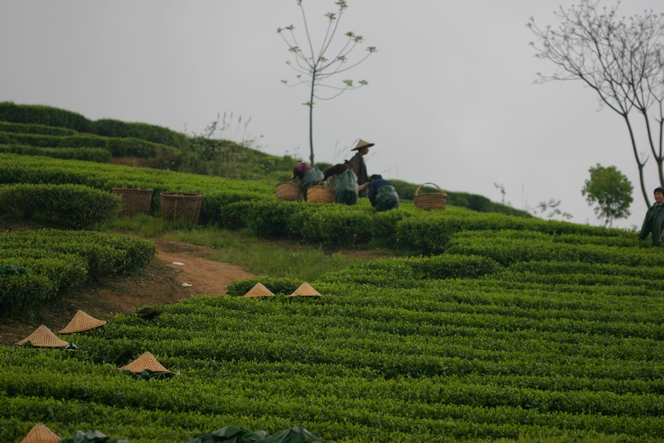 In eastern China, in Fujian or Zheijiang, for example, tea pluckers ware pointed bamboo hats to keep out of the rain and the sun.
Here, I barely had the time to fix my depth of field that the tea pluckers disappeared to have lunch. They left there their nice hats. So in this tea field, it seems that goblins are playing hide and seek and that only their small hats are sticking out. I like this photo for this funny side. I imagine that the hats are going to raise up and that I'll see grinning faces.
Posted in Country : China by François-Xavier Delmas | Tags : Country : China, Fujian, tea fields, tea pluckers, Zhejiang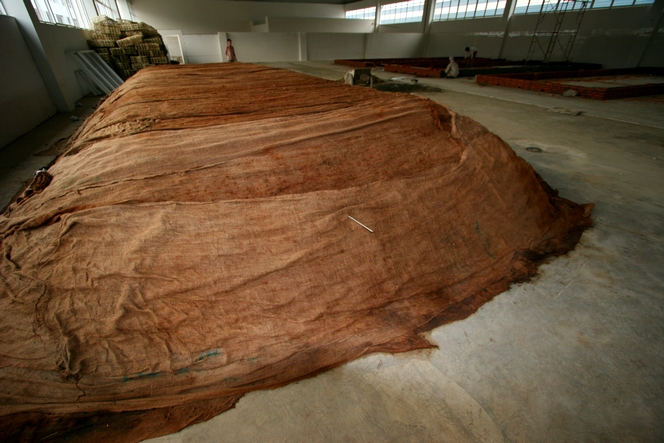 This is not a particularly attractive photo, but it will interest fans of Pu Er. It is quite a rare image, in that until recently it wasn't easy to get inside Pu Er factories, and it was even more difficult to take pictures of them. The manufacturing of Pu Er was supposed to be a secret, or at least it was one of those things that are not revealed to outsiders. Why is this? I don't know, although I suspect it is due to the fact that there is little visual interest in a tea gradually going mouldy.
Pu Er is the name for fermented tea. As a reminder, black teas are oxidised, and dark teas (Pu Ers) are fermented. While we are on the subject, the difference between oxidisation and fermentation is that the former is a process that requires exposure to air, whereas the latter takes place in an environment deprived of oxygen. Now you understand better why these leaves have been deliberately damped down and covered: to allow the tea to ferment for around 45 days. A thermometer, which you can see in the foreground, is stuck through the canvas to check the temperature, which can rapidly reach 50 to 60 degrees centigrade.
This is the fast method. Another time I will tell you about the other method used to make Pu Er, the slow method…
Posted in Country : China by François-Xavier Delmas | Tags : black teas, dark teas, fermented tea, pu er, Tea, tea leaves
The author
François-Xavier Delmas is a passionate globetrotter. He's been touring the world's tea plantations for more than 20 years in search of the finest teas. As the founder of Le Palais des Thés, he believes that travelling is all about discovering world cultures. From Darjeeling to Shizuoka, from Taiwan to the Golden Triangle, he invites you to follow his trips as well as share his experiences and emotions.
Articles classified by themes
Blogs on tea in English
Blogs on tea in French
Cooking
Links to Le Palais des Thés
Past travels
Community