Category : Country : China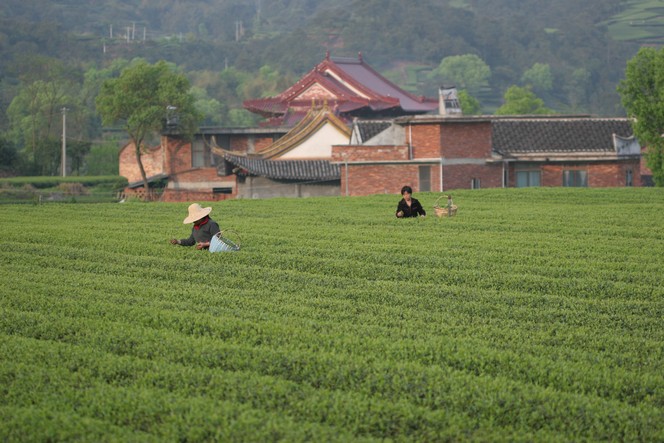 Every year, in mid-April, my attention turns to China. This is the time when production starts of the magnificent China green teas such as Long Jing, Bi Luo Chun and Bai Mao Hou. Right now I'm not far from Suzhou, on the shores of Lake Taihu.
Every day I do my best to sleep in the middle of the tea fields. And this is the kind of view I get when I wake up.
Posted in Country : China by François-Xavier Delmas | Tags : Bai Mao Hou, Bi Luo Chun, Country : China, green teas, Long Jing, tea fields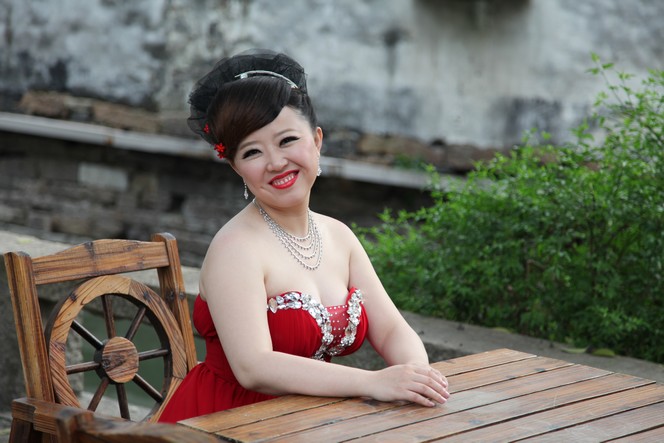 The city of Suzhou is full of character. Many Chinese tourists come here to find some old-world charm. In the historic part of the city, canals run alongside the narrow streets, and many Chinese couples come here to get married. In fact you cannot walk more than a few paces before coming across a pair of young newlyweds posing under the watchful eye of the professional photographers, who are eager to capture their models in the right pose. This pretty bride exudes happiness as she smiles for the cameras.
Posted in Country : China by François-Xavier Delmas | Tags : Country : China, Suzhou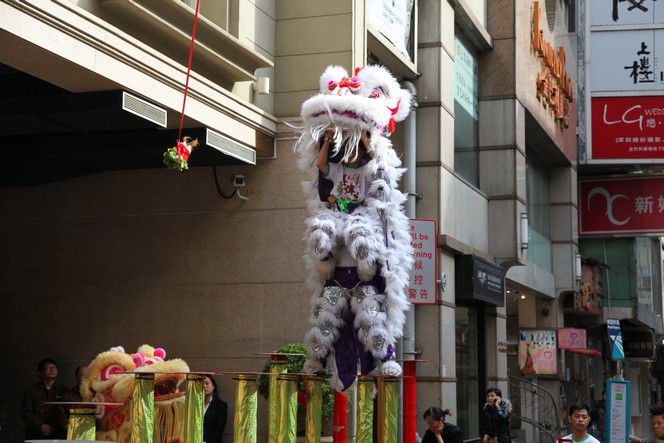 I've witnessed a curious spectacle in the streets of Hong Kong on many occasions in recent days. A large, peculiar-looking animal performs all sorts of contortions and dances, surrounded by percussionists playing the cymbals and other instruments. Then it rises up on its hind legs and stands very tall, to the roar of the drums which gains in intensity to increase the air of excitement. It then gulps down a bunch of vegetables hanging high in the air, before spitting out the leaves a few moments later.
The lion's dance is part of the Chinese New Year festivities. In Hong Kong, no shop or hotel misses out on a visit from this strange creature. Inside the beast are two Gong-Fu experts, and this exercise demands great skill.
Posted in Country : China by François-Xavier Delmas | Tags : Chinese New Year, Country : China, Hong Kong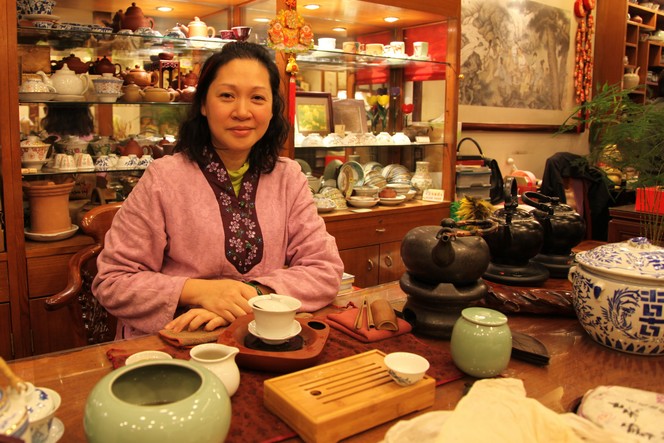 When I arrive in Hong Kong I go straight to one of the tea houses; they're such havens of peace. People go to them to buy old pu er; traditionally, the vendor sits opposite you and, after looking at you for a few moments, puts the water on to boil. They break off a piece of the tea cake, and you talk together about this and that, and about tea of course. You compare the different waters, because the same tea is infused several times over. From one tea to the next, one cake to the next, the minutes – sometimes the hours – pass by, interspersed with the sound of our little gulps: here, tea is drunk from tiny cups, like those used in the Gong Fu Cha.
A student of Yip Wai Man, Eliza Liu has one of these tea houses in the Mongkok district, and teaches her many devoted customers all about tea in an informal manner. Yabo Cha Fang is a friendly place with a special atmosphere, a mysterious charm, like Eliza's smile which I have captured here, as she crosses her hands in the style of the Mona Lisa.
Posted in Country : China by François-Xavier Delmas | Tags : Gong Fu Cha, Hong Kong, pu er, Tea, tea cake, tea houses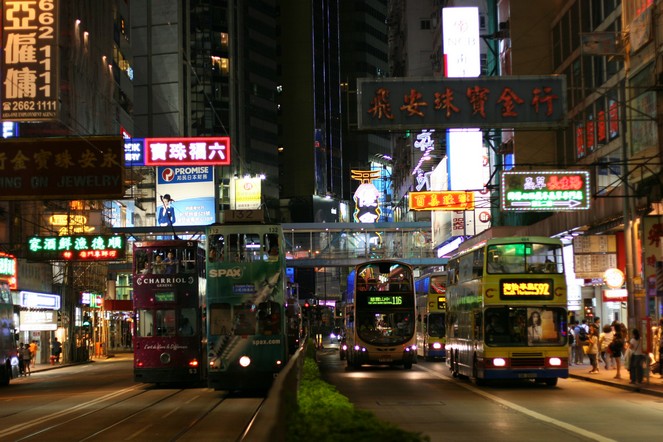 Walking through the streets of Hong Kong is an olfactory journey. In this city where street food is sold on every corner, the many stalls – there's one every ten metres or so – give off copious, diverse and unusual smells: duck skin crackling over the heat, sizzling lumps of fat, garlicky vegetables frying in the wok, caramelised pork. There are fried noodles, fritters and dim sum of all kinds.
With all the greasy smoke, the stalls overflowing with delicious food, it's a real wake-up for the senses. Whatever the time of day or night, it makes you want to dig into a big bowl of steaming noodles.
Nowhere as much as here, in Hong Kong, in this city that never stops and that dazzles with a thousand neon lights, have I ever had such a strong sense that man was put on this earth to eat.
Luckily, there are also tea houses where you can take a seat and follow the owner's advice, and taste with him a few leaves of Pu Er, delicately broken off an old tea cake. Then you can take time to savour your tea, and think about this island and its hyperactive inhabitants who consume with such frenzy.
Posted in Country : China by François-Xavier Delmas | Tags : Hong Kong, tea cake, tea houses
The author
François-Xavier Delmas is a passionate globetrotter. He's been touring the world's tea plantations for more than 20 years in search of the finest teas. As the founder of Le Palais des Thés, he believes that travelling is all about discovering world cultures. From Darjeeling to Shizuoka, from Taiwan to the Golden Triangle, he invites you to follow his trips as well as share his experiences and emotions.
Articles classified by themes
Blogs on tea in English
Blogs on tea in French
Cooking
Links to Le Palais des Thés
Past travels