Categorie : Country : China
Tea has been consumed in China for more than 3,000 years, and it is only in this country that we find such a rich variety. It produces all colours of tea: white, green, blue-green, yellow, black and dark. In China we find a unique culture of terroir: one village might have been following a very specific tradition of tea shaping for centuries, while in the next village the leaves could be processed in a completely different way. Nowhere else in the world do we find such a variety of practices. This photo shows my 2017 selection of "new-season" Chinese green teas, some of which were harvested before the Qingming festival. From left to right: Pre Qing Ming Bi Luo Chun, Pre Qing Ming Long Jing, Pre Qing Ming Bourgeons de Jade, Pre Qing Ming Lu An Gua Pian, Pre Qing Ming Anji Bai Cha, Bai Mao Hou, Mao Feng Premium, Yong Xi Huo Qing, Huang Shan Mao Feng. It goes without saying that just as the size, shape and colour of the leaves differ so much, the tasting experience is equally varied among these premium teas.
Posté dans Country : China par François-Xavier Delmas | Tags : colours of tea, Country : China, new season teas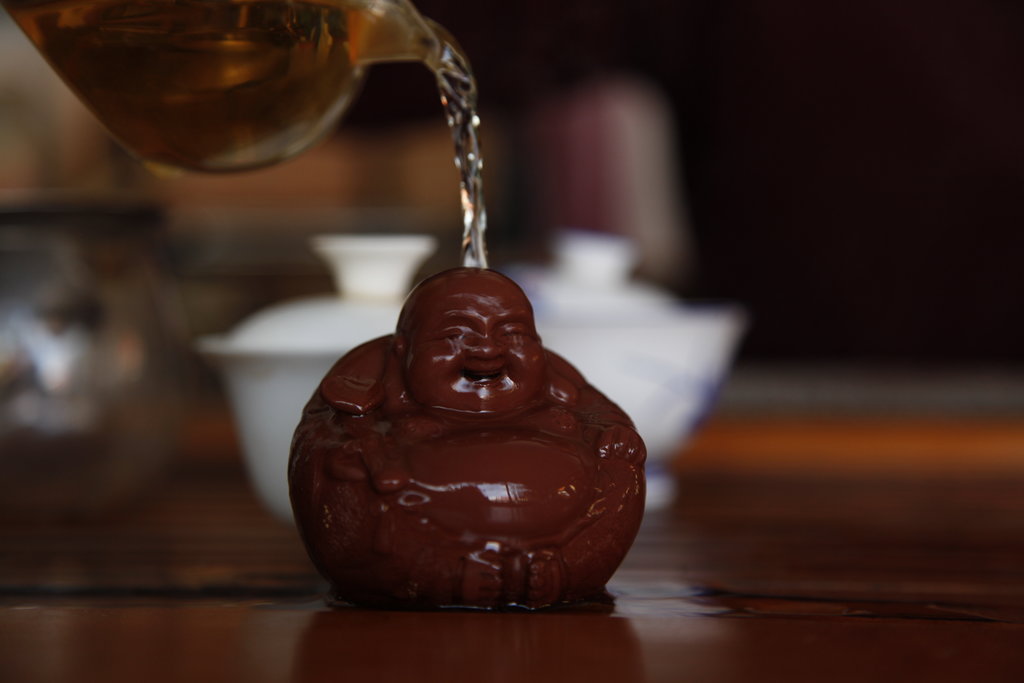 Pets are wonderful creatures that can show the greatest humanity at times when our fellow humans may be lacking. We find these friends to be so sensitive and loyal that the description of animal does not do them justice.
In China, all tea connoisseurs and enthusiasts who use the Gong Fu Cha to prepare their brew have one or more "tea pets". The tea pet is a terracotta figurine placed on the tea boat, over which tea is poured from time to time, to share special moments with it. Over the years the figurine acquires a patina through repeated dousing. The tea pet can be an animal or a human figure, as seen here.
A tea pet, or company being, shares your day-to-day life. Like other pets, it is always in an agreeable mood and is good at listening. You know where to find it. It is always there for you, loyal and happy.
Posté dans Country : China par François-Xavier Delmas | Tags : Country : China, Gong Fu Cha, Tea Pet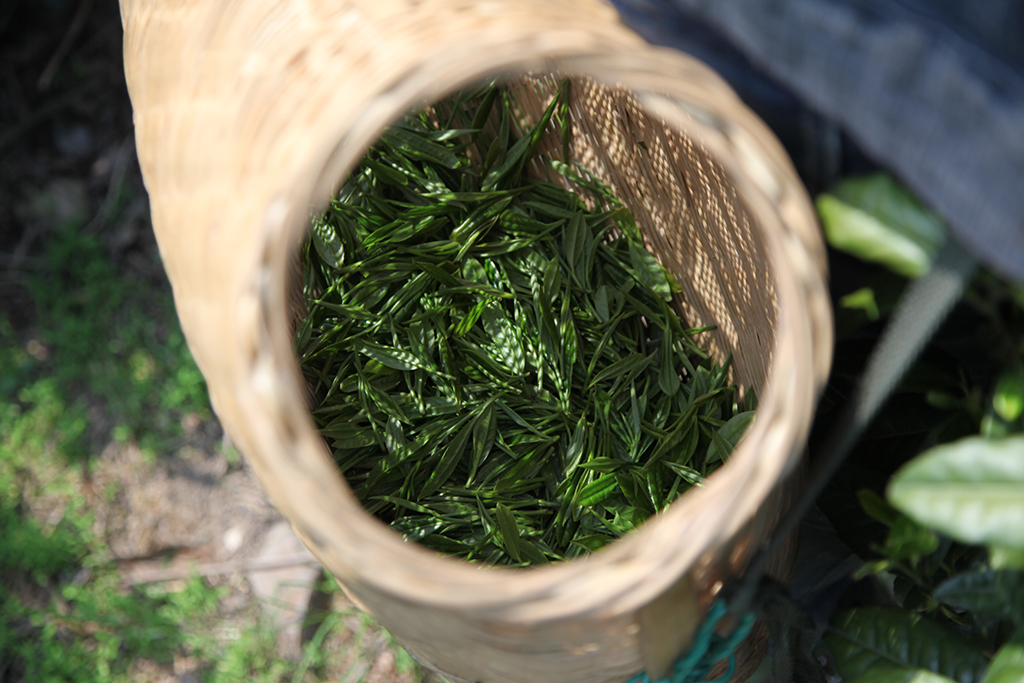 Wherever it comes from, a premium tea involves rigorous work. This starts with the harvest, which must be done meticulously, and of course continues throughout each stage in the processing. Here, in Anhui (China), they are harvesting Huang Shan Mao Feng – "Downy Tips of the Yellow Mountains". We can see the care being taken with the plucking as well as when transporting the leaves, which are shaded from the sun but still have air circulating through them. The baskets are small to prevent any compression of the precious shoots
Posté dans Country : China par François-Xavier Delmas | Tags : Grands Crus, harvest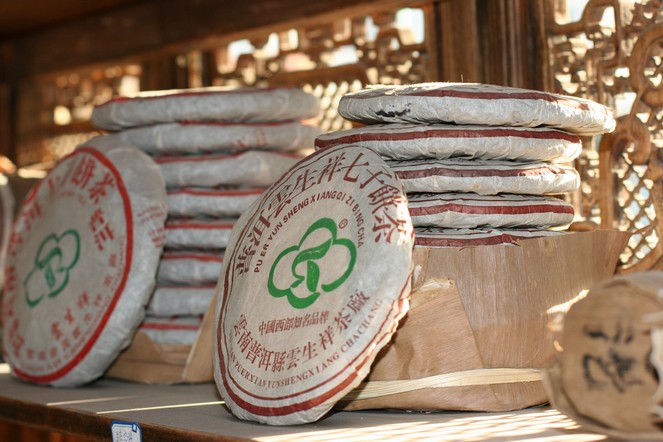 At this time of year, I particularly enjoy drinking Pu Erh after a meal. Firstly, it is said in China that this tea "dissolves fats" and helps prevent cholesterol. Secondly, I like its aroma of wet earth, rotting wood and damp straw; its smell of cowsheds, mushrooms and oak moss; its aroma of cellars, dry wood, liquorice, manes, wax and flint; its vegetal, fruity smell.
From one Pu Erh to another, the variety of olfactory notes is wide, another reason to try this fascinating group of teas, the only ones that undergo real fermentation. It is available loose-leaf or in a "cake". It can be "raw" or "cooked", depending on whether fermentation is done in the traditional manner or accelerated. It can also improve with age, like good wines.
Posté dans Country : China par François-Xavier Delmas | Tags : pu er, Pu Er cake, pu erh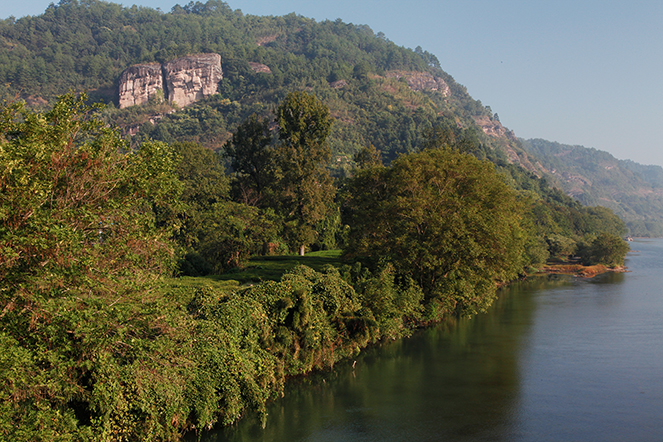 Often I find myself surrounded by mountains covered in tea bushes, and I love these spectacular, grandiose landscapes. But I also enjoy contemplating intimate gardens, discovering a few hidden rows of tea plants, so verdant yet out of sight. This secluded garden that stretches along the riverbank, sheltered by large trees and overlooked by rocky outcrops, is situated in the Wuyishan region. If you are in this part of China, you too may be able to spot these beautiful shrubs growing in the middle of the countryside.
Posté dans Country : China par François-Xavier Delmas | Tags : Country : China, Gardens, Landscapes
The author
François-Xavier Delmas is a passionate globetrotter. He's been touring the world's tea plantations for more than 20 years in search of the finest teas. As the founder of Le Palais des Thés, he believes that travelling is all about discovering world cultures. From Darjeeling to Shizuoka, from Taiwan to the Golden Triangle, he invites you to follow his trips as well as share his experiences and emotions.
Articles classified by themes
Blogs on tea in English
Blogs on tea in French
Cooking
Links to Le Palais des Thés
Past travels