Category : Country : China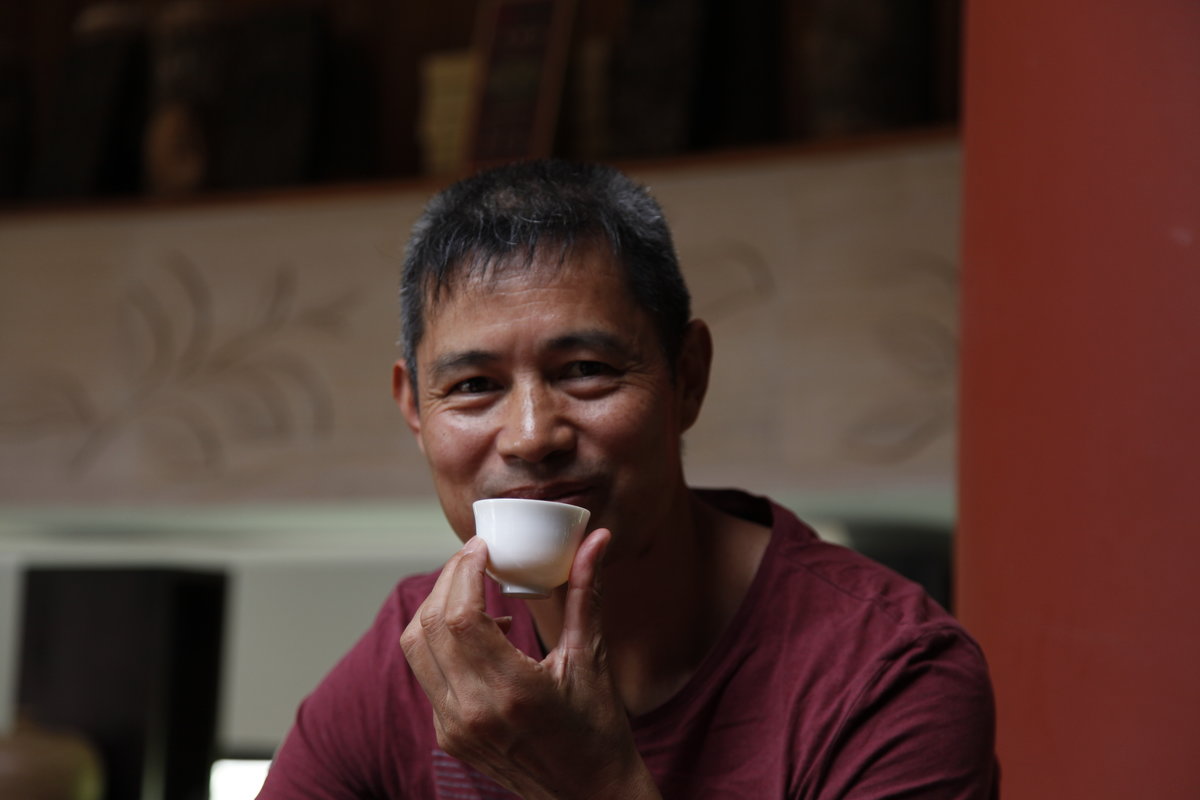 Wen Rong Tian has had two lives: the first as a physical education teacher; the second, which began 27 years ago, as a tea producer. From the first he has kept his love of a healthy life, and follows a daily programme of vigorous exercise and a strict diet. The second came from his father, who managed a tea factory for 20 years. However, son has surpassed father: today, Wen Rong Tian is one of the main, if not the leading, producer of black tea in Yunnan. He makes excellent teas and even claims to have created the famous Yunnan Golden Buds and Golden Needle teas produced in the province. I visited him near Baoshan, where he lives. His passion lies not so much with walking though tea fields as spending all his time tasting his teas and improving production processes. He lives, sleeps, eats and breathes just a few metres from his factory. What gives him the most pride is to make some of the most amazing teas in the world, just from simple leaves. And unlike many Chinese producers, he prefers black teas to green teas, for their generous aromas and smooth presence.
Posted in Country : China by François-Xavier Delmas | Tags : black teas, tea producer, Yunnan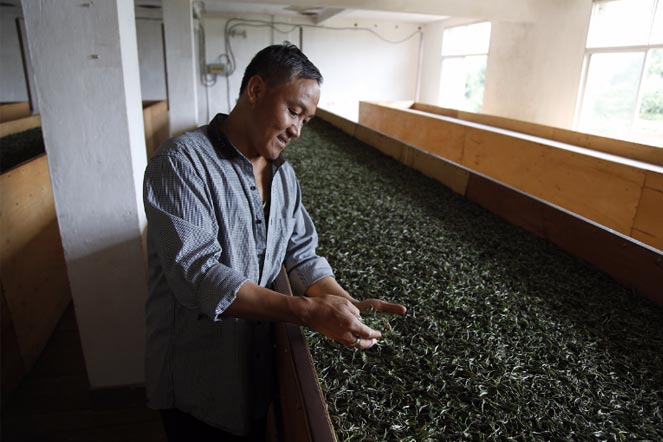 I got to know Xuan Dong Wu this summer. I met him in the Ming De factory he manages and where, that day, he was overseeing the withering of the tea leaves with the greatest attention. Xuan Dong Wu loves his job. He has not always been in the tea business. He started out in the army, and fought in the Sino-Vietnamese War in the early 1980s. He then returned to the village where he was born, and where tea provides the majority of work. He makes white teas, pu erhs, and black teas that are considered the best in Yunnan. He likes to introduce new ideas, and is responsible for several of our Mao Chas, the intermediate teas used to made Pu Erh. Xuan Dong Wu is a shy man, and didn't say much when I asked him what he wanted me to write about him here. He simply told me about his life, and what he likes. He said he likes making tea with his heart and with his efforts, he said he wanted to do his best and make the best teas possible. And then he plunged his hands back into the withering leaves, and didn't take his eyes off them. 
Posted in Country : China by François-Xavier Delmas | Tags : Country : China, People, Tea Factory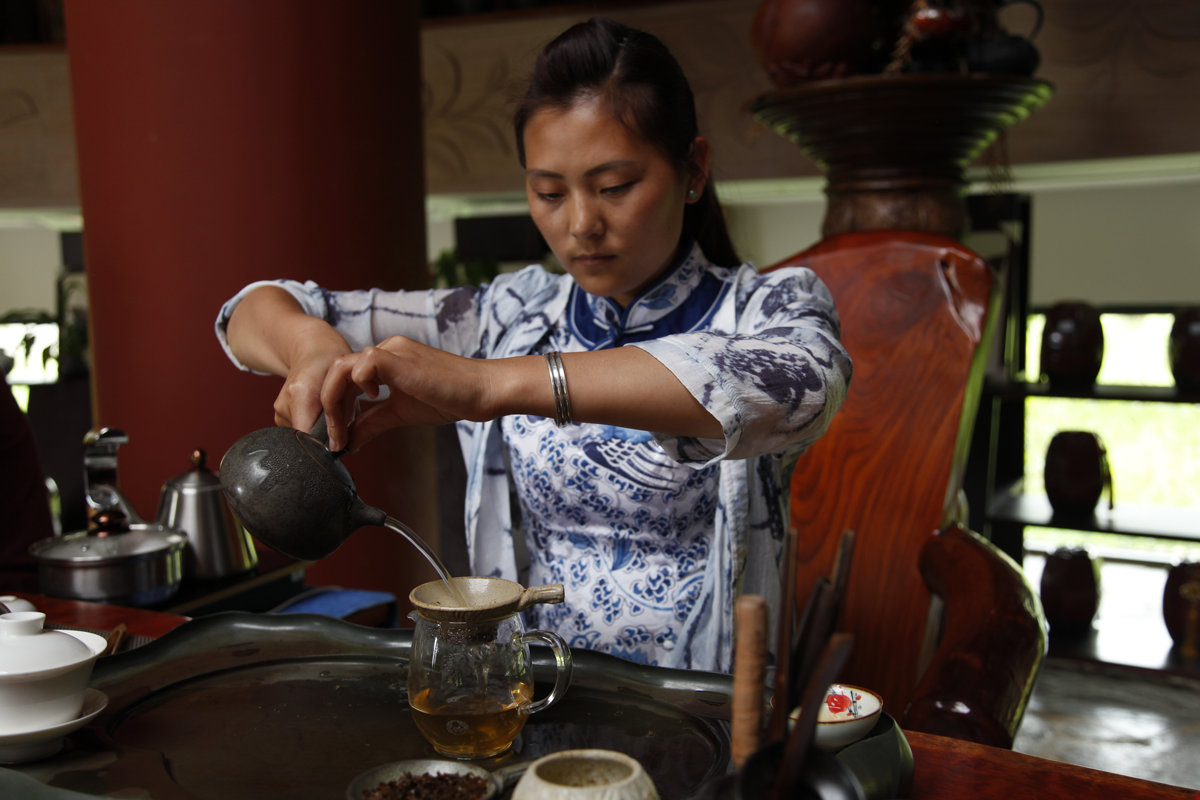 It's true that preparing tea consists simply of placing tea leaves in contact with water, an encounter that produces a delicate, fragrant drink. The process can be more or less simple, more or less delicate. In China, in the space of barely 20 years, preparing tea using the gong fu method, which is slow and controlled, has become incredibly popular. It is often young women who perform the task. They are always elegant, and every movement is carried out with precision. We can admire their agile fingers that trace beautiful smooth arcs in the air before depositing a few drops of the precious nectar into your tiny cup. 
Posted in Country : China by François-Xavier Delmas | Tags : Country : China, gong fu, tea preparation
Tea has been consumed in China for more than 3,000 years, and it is only in this country that we find such a rich variety. It produces all colours of tea: white, green, blue-green, yellow, black and dark. In China we find a unique culture of terroir: one village might have been following a very specific tradition of tea shaping for centuries, while in the next village the leaves could be processed in a completely different way. Nowhere else in the world do we find such a variety of practices. This photo shows my 2017 selection of "new-season" Chinese green teas, some of which were harvested before the Qingming festival. From left to right: Pre Qing Ming Bi Luo Chun, Pre Qing Ming Long Jing, Pre Qing Ming Bourgeons de Jade, Pre Qing Ming Lu An Gua Pian, Pre Qing Ming Anji Bai Cha, Bai Mao Hou, Mao Feng Premium, Yong Xi Huo Qing, Huang Shan Mao Feng. It goes without saying that just as the size, shape and colour of the leaves differ so much, the tasting experience is equally varied among these premium teas.
Posted in Country : China by François-Xavier Delmas | Tags : colours of tea, Country : China, new season teas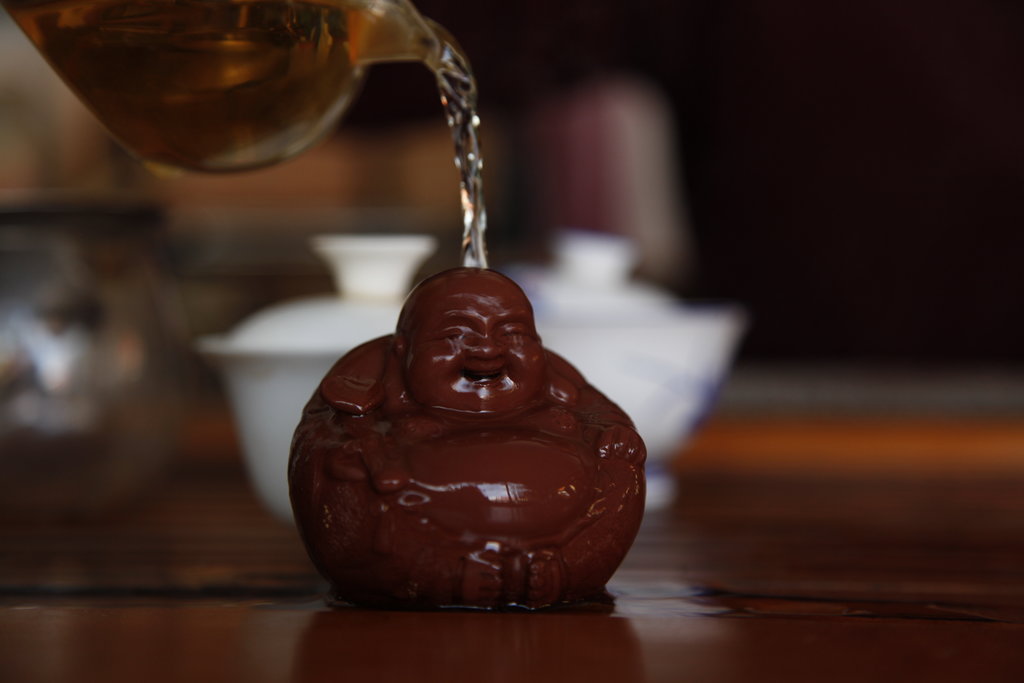 Pets are wonderful creatures that can show the greatest humanity at times when our fellow humans may be lacking. We find these friends to be so sensitive and loyal that the description of animal does not do them justice.
In China, all tea connoisseurs and enthusiasts who use the Gong Fu Cha to prepare their brew have one or more "tea pets". The tea pet is a terracotta figurine placed on the tea boat, over which tea is poured from time to time, to share special moments with it. Over the years the figurine acquires a patina through repeated dousing. The tea pet can be an animal or a human figure, as seen here.
A tea pet, or company being, shares your day-to-day life. Like other pets, it is always in an agreeable mood and is good at listening. You know where to find it. It is always there for you, loyal and happy.
Posted in Country : China by François-Xavier Delmas | Tags : Country : China, Gong Fu Cha, Tea Pet
The author
François-Xavier Delmas is a passionate globetrotter. He's been touring the world's tea plantations for more than 20 years in search of the finest teas. As the founder of Le Palais des Thés, he believes that travelling is all about discovering world cultures. From Darjeeling to Shizuoka, from Taiwan to the Golden Triangle, he invites you to follow his trips as well as share his experiences and emotions.
Articles classified by themes
Blogs on tea in English
Blogs on tea in French
Cooking
Links to Le Palais des Thés
Past travels