Category : Country : India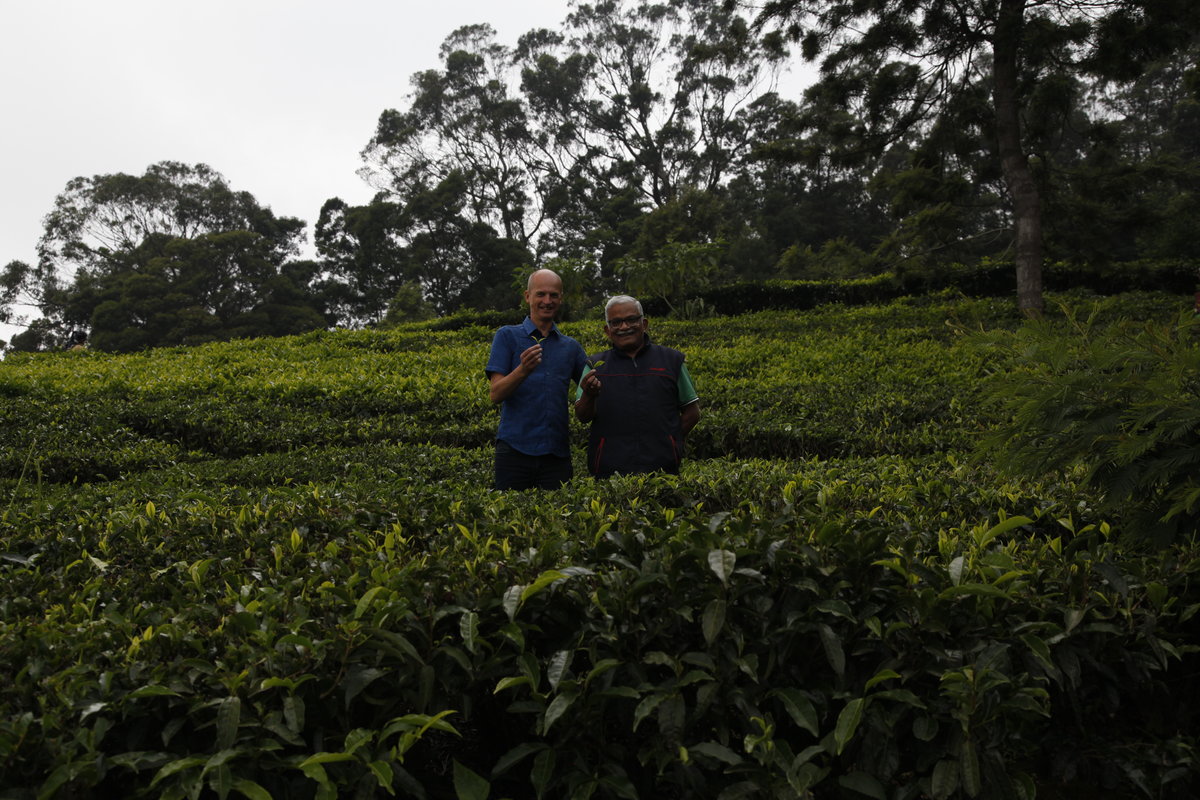 I've known Anil for more than 10 years. Back then, he was running a beautiful tea plantation, Thaishola, in southern India. I visited him there several times, and he taught me a great deal. He made high-quality teas in the Nilgiri Mountains. Then he became an auditor for organisations that certify tea produced using methods which respect the planet and its people. His efforts were admirable. And now, thanks to his immense experience, he advises tea plantations. Recently, I visited him with a team from Palais des Thés. He was so attentive to us, and went to great lengths to arrange meetings with people he considers to be the best producers in the region. We pestered him with questions from morning till night. He also let us stay in this incredible Ootacamund Club, where we were transported 200 years back in time to the reign of Queen Victoria. He dedicated all his time to us, and never tired of our thirst for knowledge about tea. He was generous with every remark and explanation. Thank you Anil!
Posted in Country : India by François-Xavier Delmas | Tags : Anil, Country : India, meet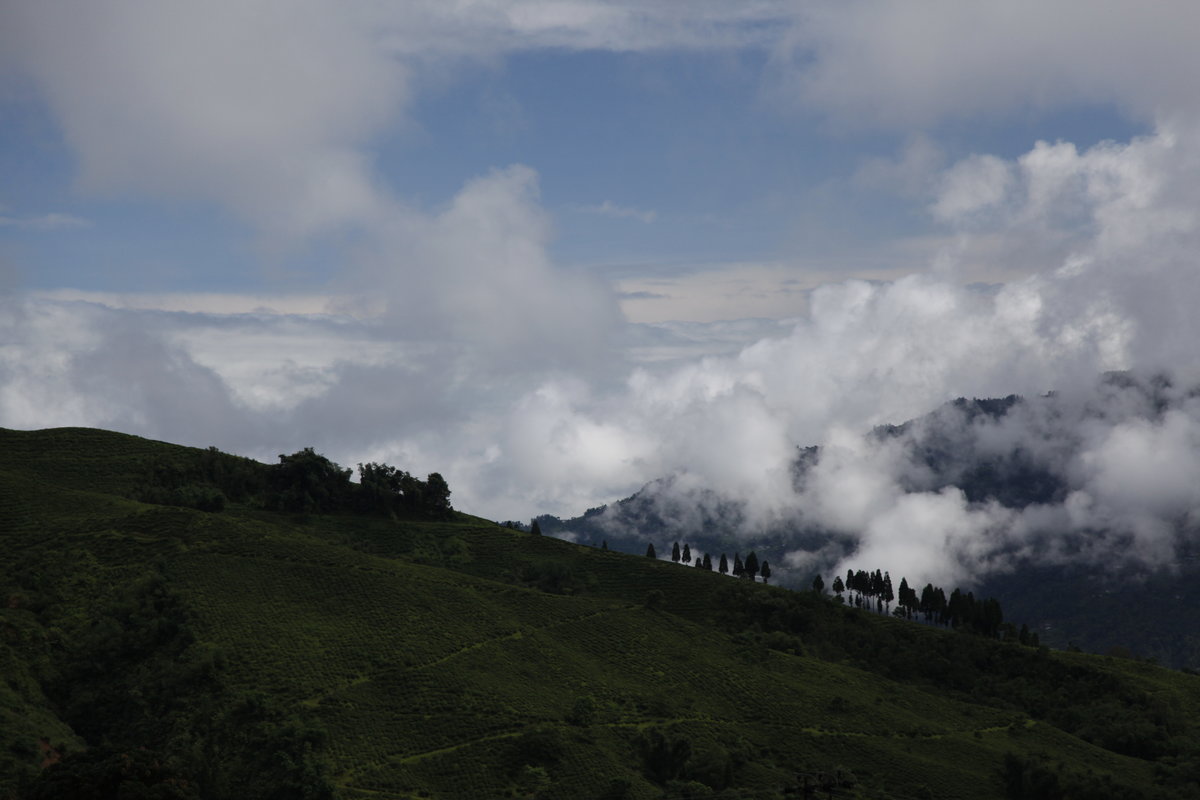 During a recent stay in Ilam Valley, I took the opportunity to meet several Darjeeling planters, and talked with them at length about the situation in the district. This is the latest news I can bring you, as well as a few figures to help you understand. In 2017, 80% of the Darjeeling harvest was lost. Ninety percent of the autumn harvest alone was lost. The separatist leader is now in hiding, and 105 days of strikes have resulted in no concrete gains for the population. They don't know who will pay for the massive financial losses suffered by the tea plantations, of course, but also by everyone whose business relates to tourism. Then there are the shop-keepers who had to remain closed for more than three months. Throughout this stand-off between the autonomists and the government of Western Bengal, many people who were living in the mountains left to find work elsewhere. Now, 30% of this population have gone, and we don't know if they will return. And most people who live in the mountains work in the tea fields. Despite this set-back, the herbs that had grown over the tea plants have been pulled up. There's still a lot of work to do to cut back the bushes, though. Normally they are cut back every four or five years, but this winter, because the plants were left to grow for three months, they must be cut back to form what's known as the plucking table. This winter pruning will delay next spring's Darjeelings, which are usually harvested from the beginning of March. Darjeeling's planters are unanimous in their view that there won't be any teas in 2018 before around 20th March, and even then, only a few. The harvesting period will be shorter, the quantities smaller, and the prices higher. Another subject all our planters agree on is that if the separatists go on strike again, they will allow the tea plantations to operate normally so that people don't suffer any more than they have to.
Posted in Country : India by François-Xavier Delmas | Tags : Darjeeling, news, tea mountains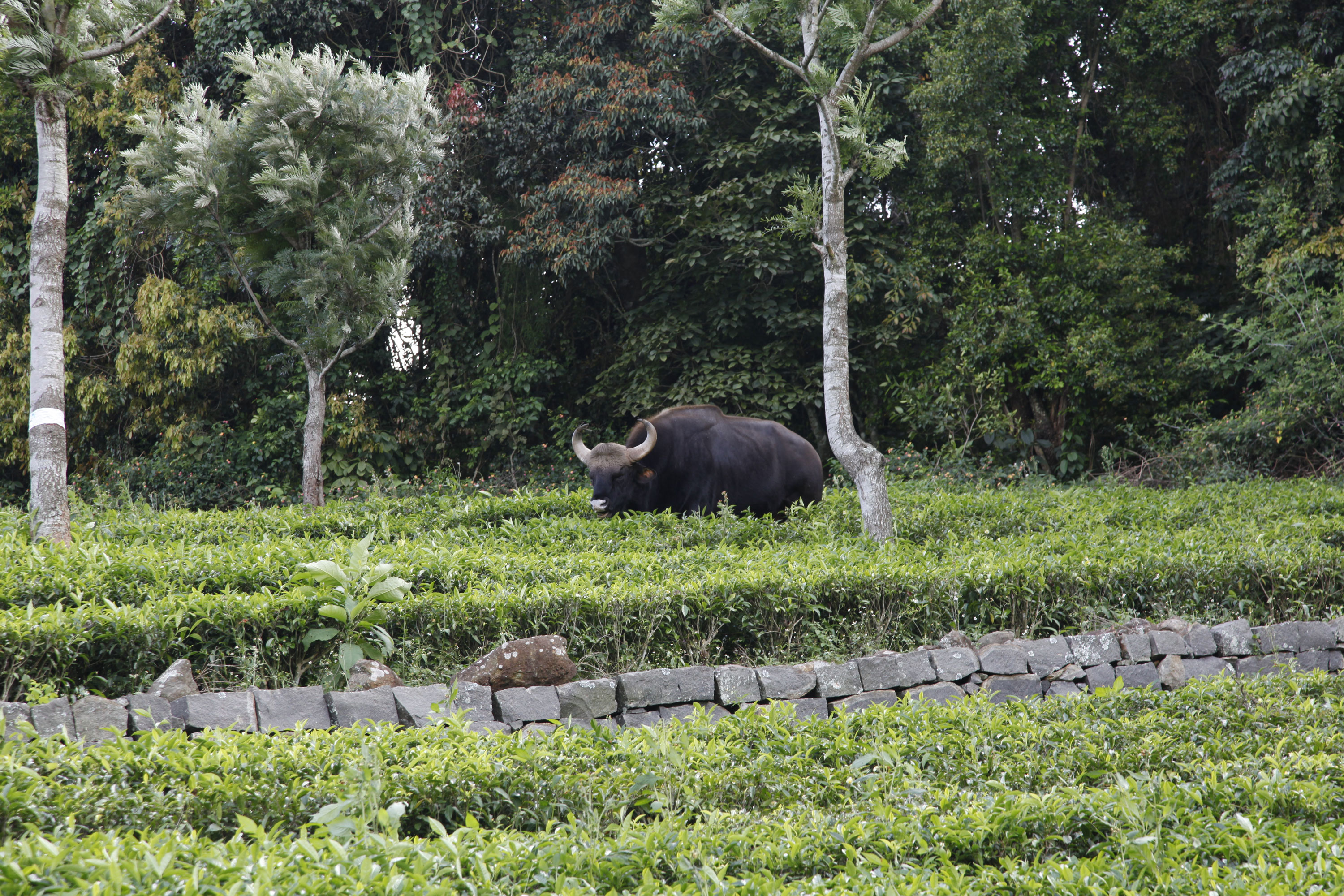 On the tea plantations, I come up against a variety of creatures: charming ladybirds, stunning dragonflies, beautiful butterflies, spiders of all sorts, some harmless, others not, tarantulas, leeches, passerines, birds of prey, rodents, worms, mongooses, snakes as long as my arm, including cobras, roe deer and much more. I only meet the Indian bison – the gaur – in Southern India. They are incredibly powerful. It takes several tigers, still present in this region, to bring one down. Gaurs walk quite daintily among the tea plants. While they don't eat the leaves of these shrubs, they do munch on all the undesirable plants that grow between rows. It's a good way to keep the weeds down.
Posted in Country : India by François-Xavier Delmas | Tags : gaur, tea plantations, weedkiller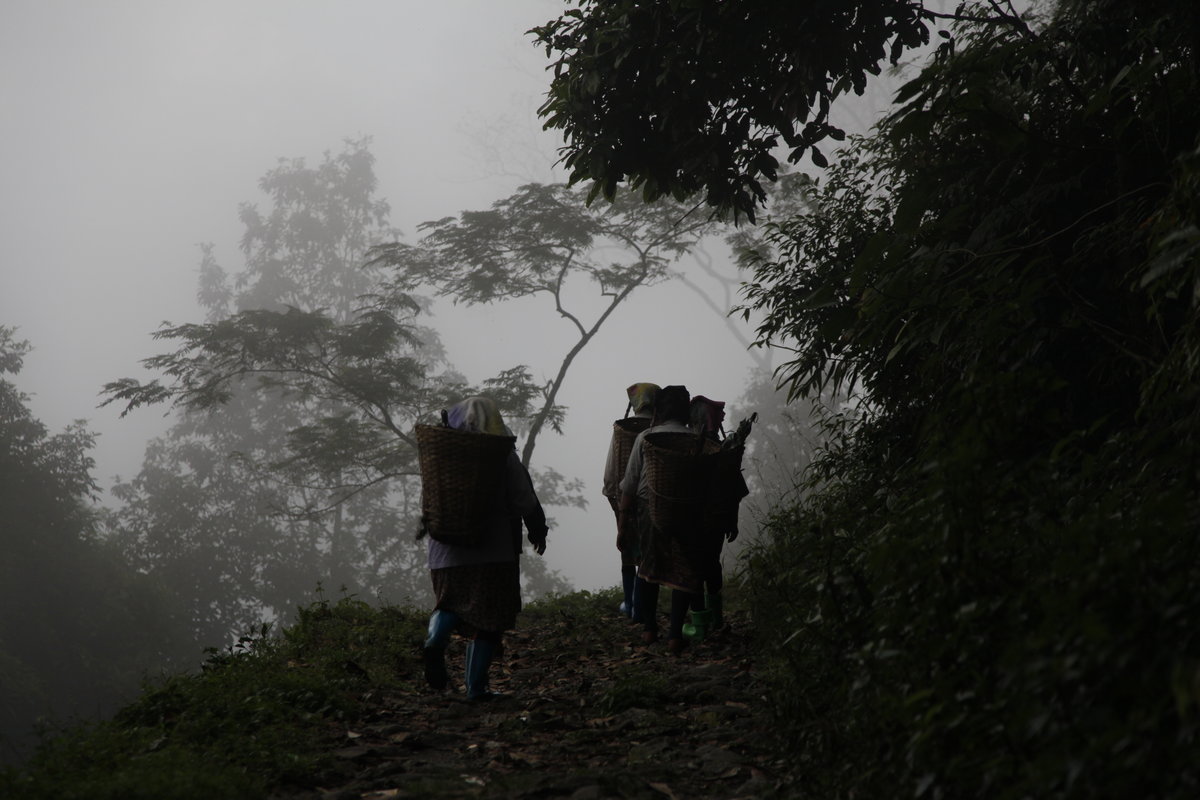 Darjeeling is a place of contrasts right now. Life has resumed throughout the district. Once again, the roads, shops and hotels are open, the tea plantations too. But there is much work to be done, as the tea plants have disappeared beneath the weeds. This is not serious for the shrubs, they're in good conditions, but all the vegetation needs clearing, and then the precious camellia sinensis must be cut back to their initial size. Sadly, there is a lack of manpower in Darjeeling. During the three months of protests in favour of regional autonomy, many men left the mountains to find work elsewhere. And now, the plantations don't have enough people to do the clearing and cutting back. Yet this work is essential if there is to be a good harvest next spring, otherwise there won't be enough Darjeeling tea, and fake Darjeelings, which are already in circulation, will flood the market. That would be a catastrophe for Darjeeling, and I hope with all my heart it will never come to that. We will have to pay close attention to the situation.
Posted in Country : India by François-Xavier Delmas | Tags : Darjeeling, Tea plantation, tea pluckers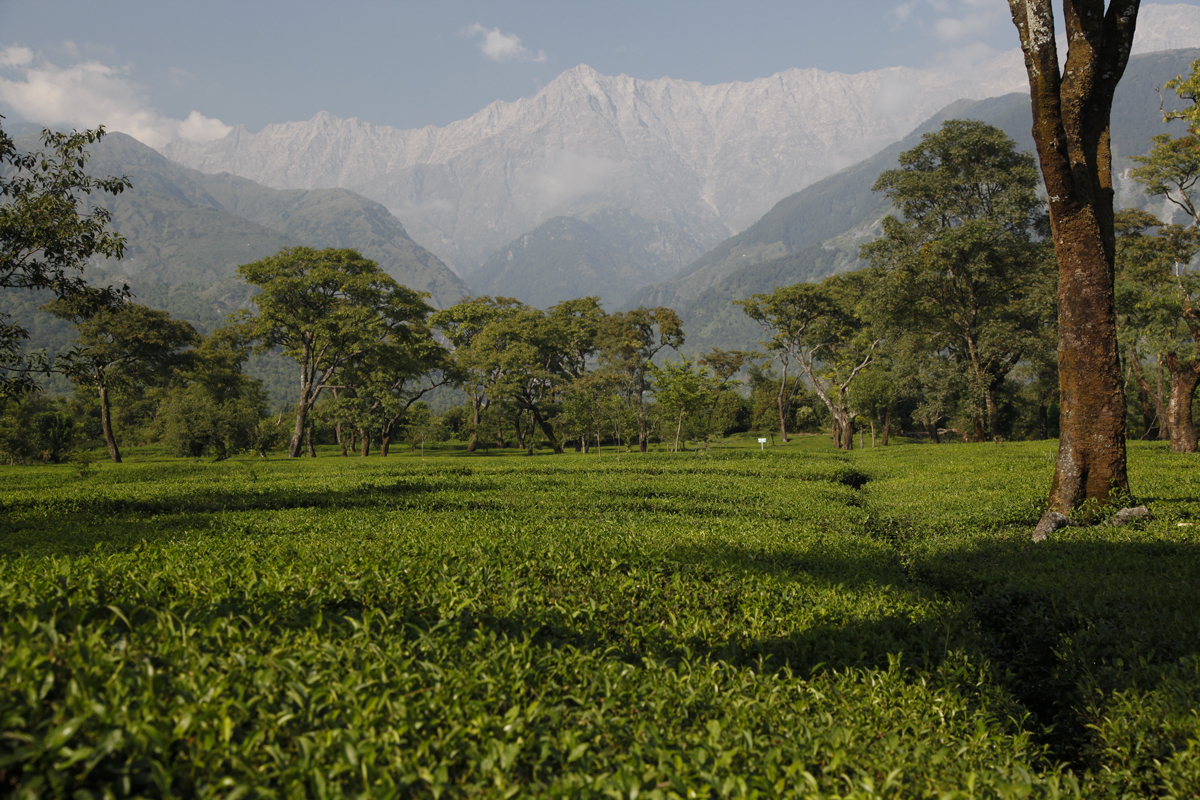 The current tension in Darjeeling, although it seems finally to be easing, has guided my path toward new vistas this month. In the foothills of the Dhauladhar Mountains, a stone's throw from Kashmir, a few tea plantations are well worth the detour—not only for their majestic view of the Himalayas, but also for the hard work of several local producers, which is unquestionably paying off. For decades, the region produced a relatively ordinary green tea for local consumption, but more recently, if you look hard enough, you can find a wide variety of more artisanal teas to delight the palate. All while gazing at the Dhauladhars, naturally.
Posted in Country : India by François-Xavier Delmas | Tags : Darjeeling, Dhauladhar, mountains
The author
François-Xavier Delmas is a passionate globetrotter. He's been touring the world's tea plantations for more than 20 years in search of the finest teas. As the founder of Le Palais des Thés, he believes that travelling is all about discovering world cultures. From Darjeeling to Shizuoka, from Taiwan to the Golden Triangle, he invites you to follow his trips as well as share his experiences and emotions.
Articles classified by themes
Blogs on tea in English
Blogs on tea in French
Cooking
Links to Le Palais des Thés
Past travels