Category : Country : India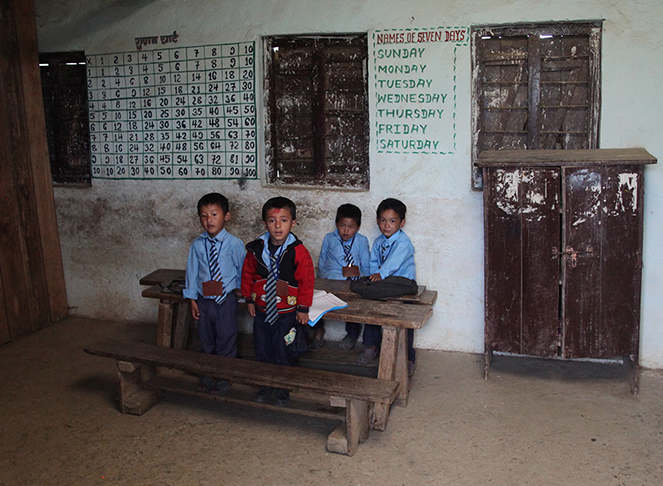 School is a place of learning: learning about knowledge, about language, but that's not all. Learning about living life together, too. At school, we meet other children who might be different from ourselves, they might be stronger, weaker, richer, poorer, they might have a disability, they might have different opinions. They might come from a variety of backgrounds, they might have a different skin colour, a different religion. School is a place where we learn to live together. Language, tolerance and laughter helps form us as men and women.
Posted in Country : India by François-Xavier Delmas | Tags : Freedom, laughter, tolerance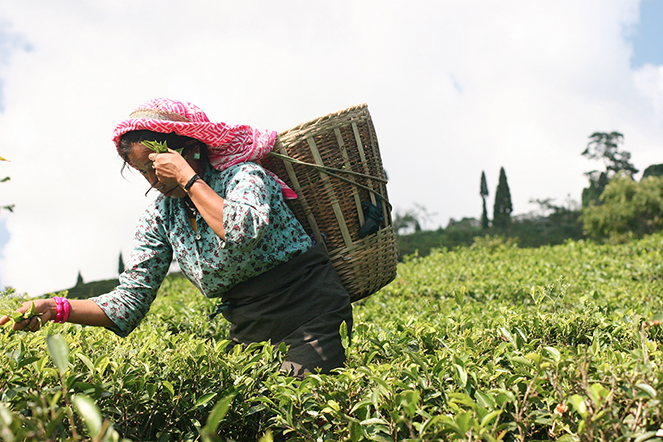 This week, the Margaret's Hope garden celebrates its 150th anniversary, and I am invited to the event. It's an opportunity for me to remind you that tea was only introduced to India very late, in the mid-19th century. It was the British who set up the tea plantations in the country, after stealing the seeds of tea plants from China.
Margaret's Hope makes teas that are sometimes exceptional, such as Margaret's Hope DJ40 Moonlight, and Margaret's Hope DJ219 Pure Av2. They are two fine teas from 2014 that I hope will be back next year.
Posted in Country : India, Places I like in Darjeeling by François-Xavier Delmas | Tags : Darjeeling, Grands Crus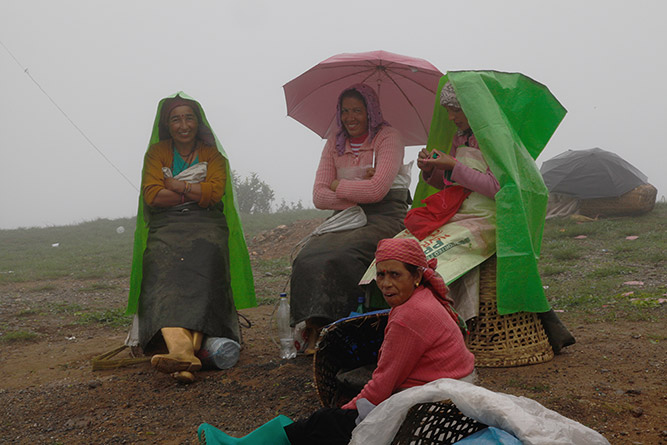 If you are finding the temperatures a bit cool this month, take note that that Western Europe is not the only place where it's raining. In Northern India and Nepal, July and August are rainy months. It can rain for days on end, but people carry on working unperturbed. Or they take a break for a natter with friends.
Posted in Country : India by François-Xavier Delmas | Tags : Country : India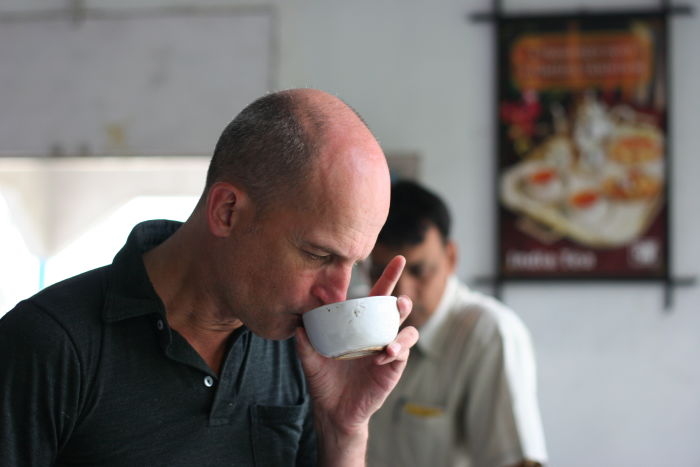 Bitterness is the only intelligent flavour, Olivier Roellinger told me as we tasted a selection of teas together, when I warned him that some darjeelings have a touch of bitterness.
It is a flavour that, unlike sweetness, needs winning over, taming. It can be off-putting, but when we know how to appreciate bitterness, it offers such richness, such delight!
And Olivier Roellinger talked to me about the famous Italian gastronomy, a fine example of a bitter cuisine.
Posted in Country : India by François-Xavier Delmas | Tags : Cooking, Country : India, Darjeeling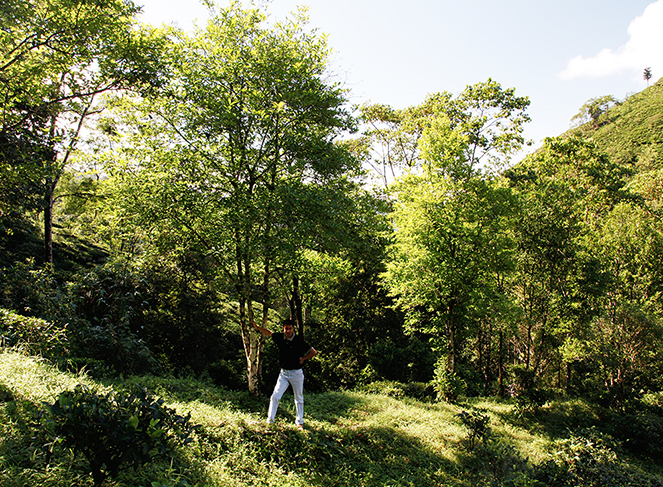 Due to the harvesting of its leaves, a tea plant does not get bigger; instead its trunk thickens. So a tea field looks more like a bonsai forest. But left unchecked, Camellia Sinensis and Camellia Assamica can grow to a height of several metres. Here is Rudra Sharma, the planter at Poobong in India, in front of one of his wild tea plants.
Posted in Country : India by François-Xavier Delmas | Tags : Country : India, Pubong, Tea plant
The author
François-Xavier Delmas is a passionate globetrotter. He's been touring the world's tea plantations for more than 20 years in search of the finest teas. As the founder of Le Palais des Thés, he believes that travelling is all about discovering world cultures. From Darjeeling to Shizuoka, from Taiwan to the Golden Triangle, he invites you to follow his trips as well as share his experiences and emotions.
Articles classified by themes
Blogs on tea in English
Blogs on tea in French
Cooking
Links to Le Palais des Thés
Past travels