Category : Country : India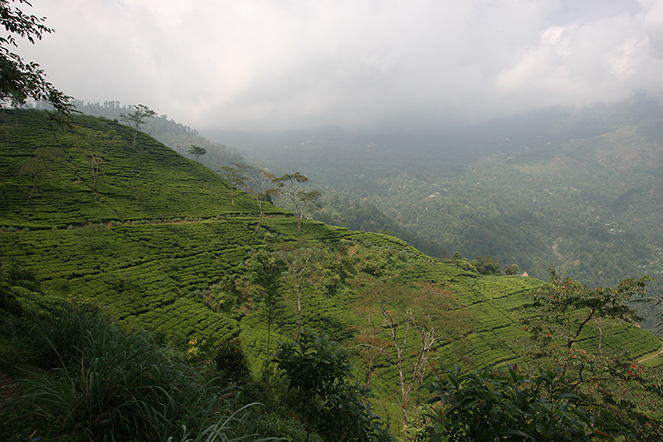 Around the world, much more Darjeeling tea is sold than is actually produced in Darjeeling. There are also considerable differences between gardens in terms of quality, and considerable differences in quality within the same garden. These differences are due to major variations in weather (a garden might produce excellent teas in April, for example, which is impossible in July during the monsoon) and because the same plantation will have tea plants growing at widely varying altitudes. In Tukvar, for example, 1,000 metres in altitude separates the top of the highest plot and the lowest point on the plantation.
So we must be careful when we buy Darjeeling teas, and we should never rely on the name alone, however prestigious it may be. We should also bear in mind that plantations situated on the plains, of mediocre quality, sit alongside those within the appellation, and human nature being what it is, there is a great temptation to sell Terai teas under the Darjeeling name.
Connoisseurs of first-flush Darjeelings must wait a few more weeks to try the new spring harvest. In this region of the world, tea plants are dormant between November and February, as the soil is too cold for Camellia sinensis.
Posted in Country : India by François-Xavier Delmas | Tags : Darjeeling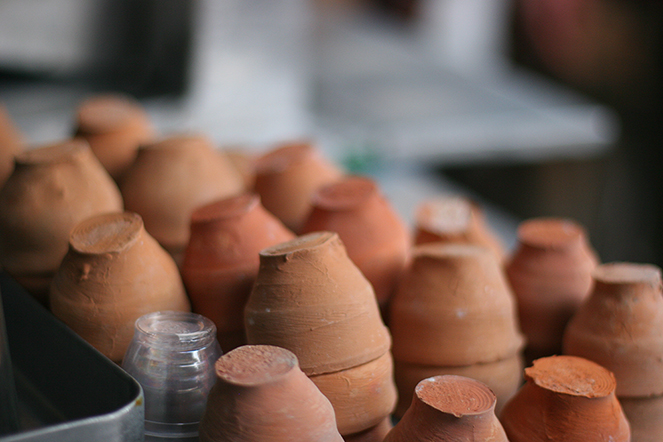 In Kolkata, where the heat is stupefying for a good part of the year, tea is drunk boiling hot. It is consumed in the street, by a stall, where it is often served in an unfired clay cup which is then thrown to the ground. The clay breaks on the pavement, and when the rain comes it turns to mud.
Posted in Country : India by François-Xavier Delmas | Tags : cup of tea, Kolkata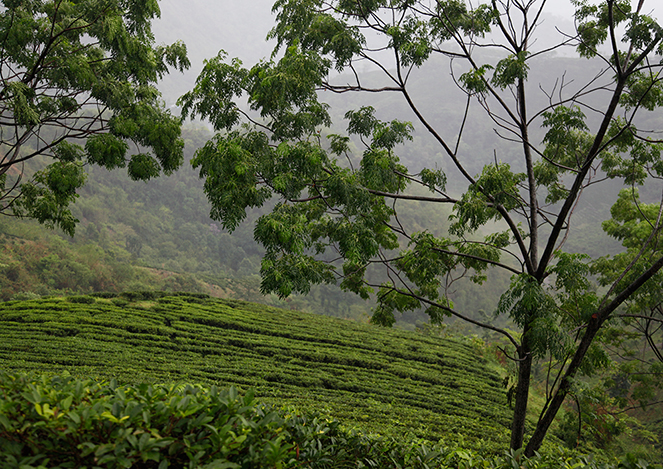 When you harvest the terminal bud of the tea plant several times, the stem becomes stressed and stops producing a new bud. This phenomenon of dormancy, known as "banjhi" in Darjeeling, marks the end of the spring harvest (first flush).
If I had to give my assessment of this season in Darjeeling, I'd say we received batches of very varying quality, and few of exceptional quality. But I'll conclude on a good note, with the choice of a Puttabong Clonal Queen DJ48 and a Margaret's Hope Tippy Clonal DJ30. The first represents what Puttabong does best; the second is quite simply breathtaking.
Posted in Country : India by François-Xavier Delmas | Tags : Darjeeling first flush, Margaret's Hope, Puttabong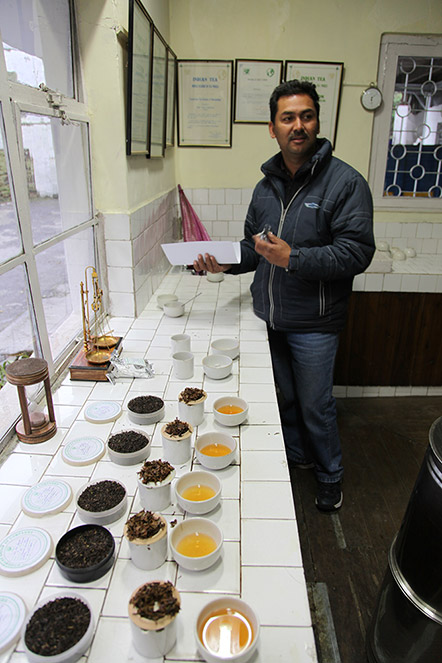 Behind each "grand cru", each tea, there is work, there are people. My work, as I see it, is not limited to tracking down the best teas in the world, it also involves getting to know the people who produce it. Drinking tea with them. Listening to them talk about their product. So when I'm in a Palais des Thés store and I look at that impressive wall of canisters, it's not the names of the teas on the labels I see, but faces, like that of Vikas Gajmer, manager of Castleton (Darjeeling).
Posted in Country : India by François-Xavier Delmas | Tags : Darjeeling, Darjeeling first flush, Grands Crus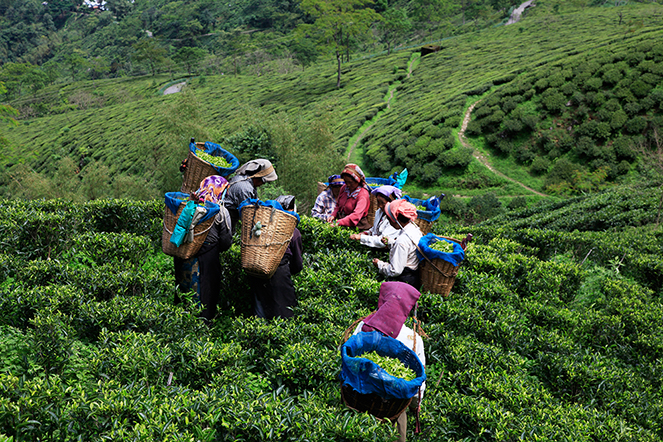 It's not only the tea plantations that are busy at the moment. Yesterday I received no less than 120 different tea samples to taste. As ever, you need to be quick. If I want to make an offer on one of these batches I must have tasted them all in one or two days at the most. After that, it will be too late.
Of course, I don't drink all the teas, I spit them out after turning the liquor around in my mouth while I analyse it.
Posted in Country : India, Places I like in Darjeeling, Professional tasting by François-Xavier Delmas | Tags : Darjeeling first flush, spring teas
The author
François-Xavier Delmas is a passionate globetrotter. He's been touring the world's tea plantations for more than 20 years in search of the finest teas. As the founder of Le Palais des Thés, he believes that travelling is all about discovering world cultures. From Darjeeling to Shizuoka, from Taiwan to the Golden Triangle, he invites you to follow his trips as well as share his experiences and emotions.
Articles classified by themes
Blogs on tea in English
Blogs on tea in French
Cooking
Links to Le Palais des Thés
Past travels