Category : Country : Sri Lanka
Sri Lanka is a magnificent country, now at peace. The landscapes are stunning, with tea plants as far as the eye can see. The country's best teas are produced in the south, near the remarkable Sinharaja forest – these are the low growns. Further north, the teas are manufactured more industrially, a legacy from the colonial days. On these high northern plateaus, producers could make better teas if they stopped using machines called rotorvanes, which maul the leaves to accelerate the oxidation process. It would also be better, in this region where the climate and scenery remind Scottish visitors of their own country, to come across more people who own their land and make their own tea, rather than employees – often women – working in less than ideal conditions. A fair system works very well for the low growns (for example at New Vithanakande, the most famous garden in that region).
During the visit to France by Navin Dissanayake, Sri Lanka's minister for the tea industry, accompanied by Buddhi K. Athauda, the Sri Lankan ambassador to France, we enjoyed an informal tasting and friendly discussion at their request to help them understand how to make what used to be known as Ceylon teas – Sri Lankan teas – better known in France.
Posted in Country : Sri Lanka by François-Xavier Delmas | Tags : sharing, tea tasting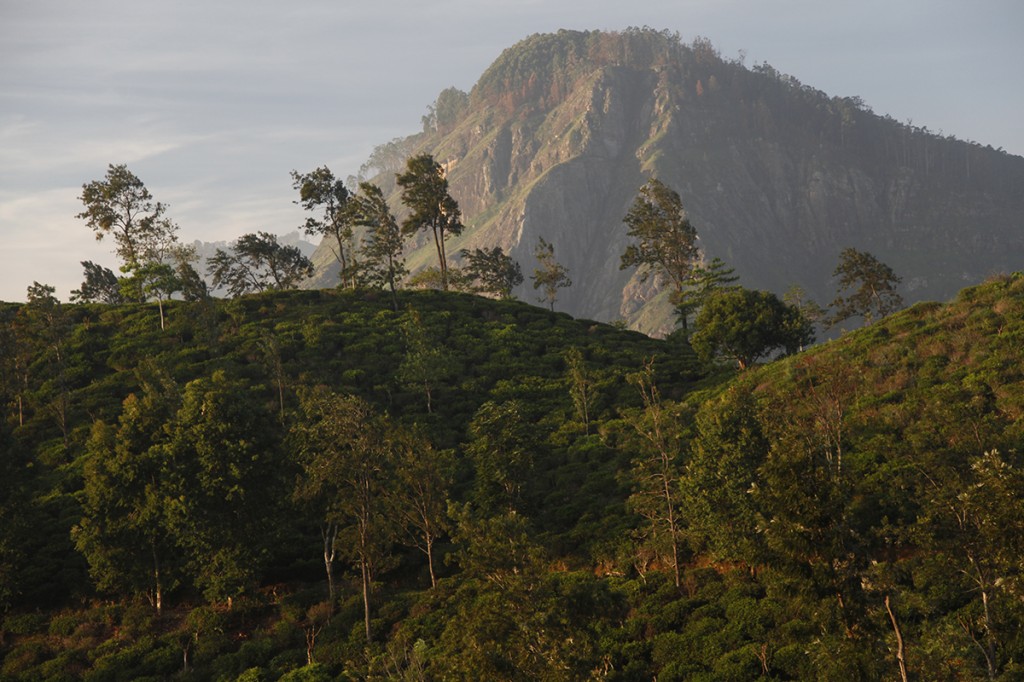 I was incredibly fortunate, when I woke yesterday without knowing exactly where I was, to discover this sublime view from my bed. I'd arrived in Ella late the night before, from Ratnapura, and without the moon I couldn't get a sense of the landscape. I was woken at 5am by the birds singing, as well as the shrill cries of the squirrels, who were celebrating daybreak in their own way. I went out onto the terrace to enjoy the sight, and I stayed there, taking it all in. This mountain is called Little Adam's Peak.
I hadn't been to this beautiful country for a year, and I'm happy to see that in the mountains in the centre of the island, a few factories that used to make teas industrially with a rotorvane machine, which is very rough on the leaves, are now at least trying to make teas the orthodox way, a method that is more respectful of the leaves. They are just attempts, I know, but it's a promising sign and it's a pleasure to see that tea planters want to try out new methods, make better teas; that they are curious, and want to improve their quality.
Posted in Country : Sri Lanka by François-Xavier Delmas | Tags : Sri Lanka, tea production
Many Sri Lankans have climbed the slopes of Adam's Peak at least once in their lifetime.
It is a place of pilgrimage for Buddhists, who worship Buddha's footprint at the summit, but also for Hindus, Muslims and Christians. The ascent begins with a walk through a tea field, which you cross on your way to the top.
Posted in Country : Sri Lanka by François-Xavier Delmas | Tags : Adam's pic, landscape, Sri Lanka, tea plantations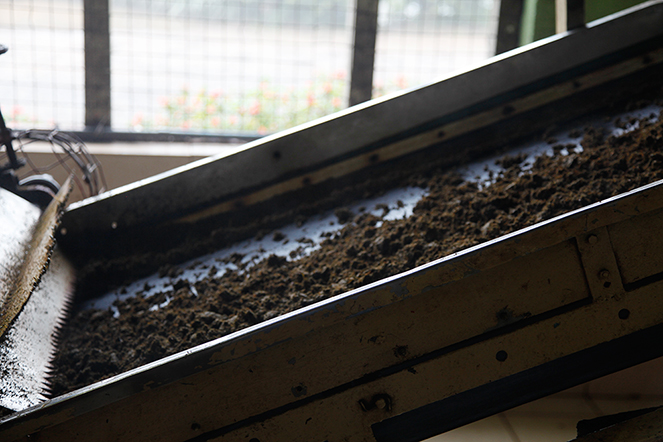 It is difficult to find good tea in Sri Lanka, and here is a photo of the guilty party. Known as a rotorvane, it puts the leaves under enormous pressure and can roll three times the quantity of freshly withered leaves as a traditional roller. The oxidation time can then be reduced to a few minutes because the leaves have been squashed so much.
This procedure is widely used in the mountains in the centre of the country. It has the advantage of increasing yield, but what is the point when you gain strength in lieu of any subtlety of flavour and aroma.
Posted in Country : Sri Lanka by François-Xavier Delmas | Tags : broken tea, rotorvane, Sri Lanka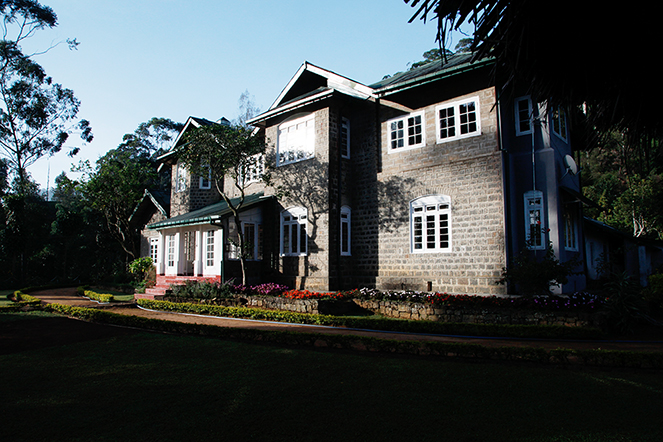 The British had an instinct for comfort. They built magnificent bungalows during the colonial era. These buildings still exist today, surrounded by tea fields, like here in Gorthie (Sri Lanka). I was lucky to stay there recently. It was all very refined: they serve delicious food, and with the first light of dawn you are seduced by the beauty of the garden.
Posted in Country : Sri Lanka by François-Xavier Delmas | Tags : bungalow, Gorthie, Sri Lanka
The author
François-Xavier Delmas is a passionate globetrotter. He's been touring the world's tea plantations for more than 20 years in search of the finest teas. As the founder of Le Palais des Thés, he believes that travelling is all about discovering world cultures. From Darjeeling to Shizuoka, from Taiwan to the Golden Triangle, he invites you to follow his trips as well as share his experiences and emotions.
Articles classified by themes
Blogs on tea in English
Blogs on tea in French
Cooking
Links to Le Palais des Thés
Past travels