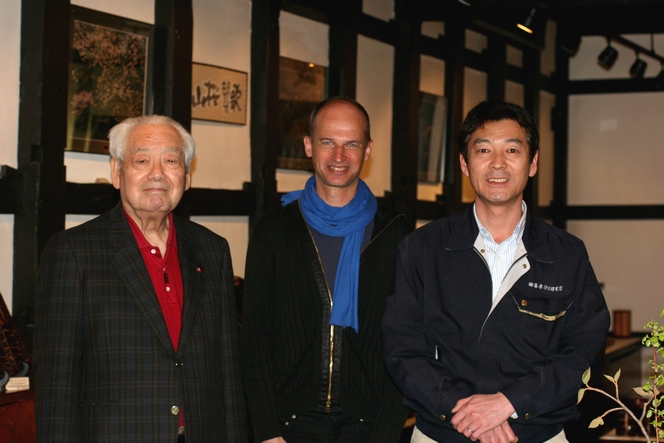 In Japan, all crafts and artisan skills are steeped in tradition. It is reassuring to know that this expertise is handed down through the generations. People here learn from a very young age, by watching their elders at work. Later, they receive plenty of advice. Each generation makes its own contribution, of course, choosing to do something this way instead of that, or being so bold as to invent a new tool.
Today, I'd like to introduce you to Yuichi and Koichi Fujiki. Koichi is the director of the leading company that makes objects in cherry wood. He is Yuichi's son. They are based in Kakunodate, a beautiful town in northern Japan, nestled in the mountains not far from Akita. Yuichi Fujiki's great great grandfather founded the business in around 1867. So Koichi is the sixth generation in the family business. Although he runs the company now, his father has not retired. At the age of 79, he comes into the office every day and continues to advise his son on many matters.
They are charming people, and it was a pleasure to eat a Japanese meal with them. After lunch, Yuichi showed me the very rare cherry wood tea canisters they make. They are true works of art, very finely crafted. The marquetry is remarkable, with subtle nuances in the shades and patterns, in the texture of the bark… They are the result of painstaking and highly skilled artistry!
Posted in Country : Japan by François-Xavier Delmas | Tags : Akita, François-Xavier Delmas, Kakunodate, Koichi Fujiki, Tea, tea caddy, tea canister, tea tin, Yuichi Fujiki
The author
François-Xavier Delmas is a passionate globetrotter. He's been touring the world's tea plantations for more than 20 years in search of the finest teas. As the founder of Le Palais des Thés, he believes that travelling is all about discovering world cultures. From Darjeeling to Shizuoka, from Taiwan to the Golden Triangle, he invites you to follow his trips as well as share his experiences and emotions.
Articles classified by themes
Blogs on tea in English
Blogs on tea in French
Cooking
Links to Le Palais des Thés
Past travels