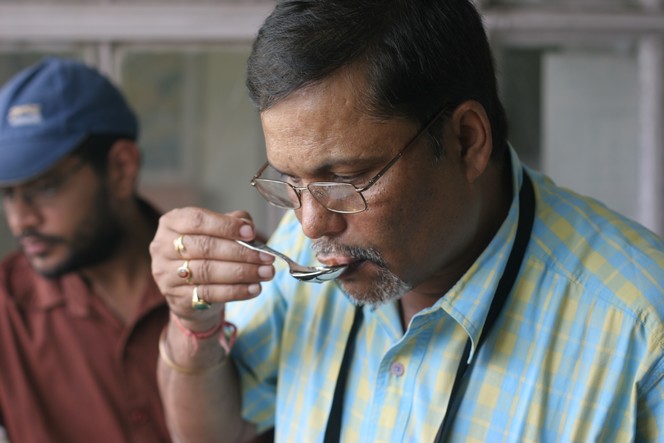 Tasting tea is a bit like tasting wine. You take some of the liquid in your mouth and swirl it around gently. Then comes what we call "retro olfaction": you exhale air through your nose, directing the aromas towards your olfactory bulb. With your head slightly lowered, your cheeks sucked in, you hold the liquid around your tongue and inhale through your mouth several times. By exhaling this air out through your nose, you increase your olfactory capacity to its maximum.
We use this method to enhance our assessment of a tea. It's necessary when you want to describe a tea's aromatic profile, for example.
Here, with one of his assistants, is my friend Anil Jha in action. His Turzums and other Sungmas have acquired an excellent reputation.
Posted in Professional tasting by François-Xavier Delmas | Tags : Anil Jha, Tea, tea tasting
The author
François-Xavier Delmas is a passionate globetrotter. He's been touring the world's tea plantations for more than 20 years in search of the finest teas. As the founder of Le Palais des Thés, he believes that travelling is all about discovering world cultures. From Darjeeling to Shizuoka, from Taiwan to the Golden Triangle, he invites you to follow his trips as well as share his experiences and emotions.
Articles classified by themes
Blogs on tea in English
Blogs on tea in French
Cooking
Links to Le Palais des Thés
Past travels