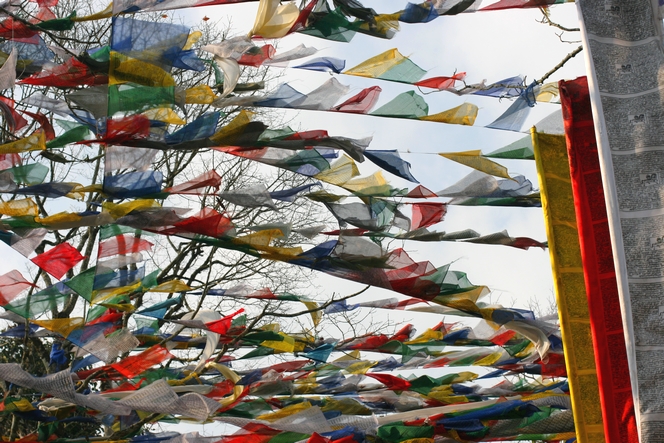 On Sunday, I climbed up to the temple near Chowrasta, in the centre of Darjeeling. From here, you can look out across the city. The big problem with this walk is trying to avoid the hordes of monkeys intent on stripping you of everything you have. They bare their sharp teeth if you have the tiniest piece of food in your pockets. Once at the temple, I slowly make my way around it, and sit on one of the stone benches to observe the faithful. I cannot resist raising my eyes to contemplate the prayer flags, these scraps of fabric printed with prayers or mantras. They are given to the wind in order that it may fulfil them.
I find this poetic ritual fascinating and soothing. I watch these multicoloured scraps dancing gently in the wind, rising from the earth to the sky and taking our prayers to the gods.
Posted in Country : India, Places I like in Darjeeling by François-Xavier Delmas | Tags : Chowrasta, Country : India, Darjeeling, Himalayas
The author
François-Xavier Delmas is a passionate globetrotter. He's been touring the world's tea plantations for more than 20 years in search of the finest teas. As the founder of Le Palais des Thés, he believes that travelling is all about discovering world cultures. From Darjeeling to Shizuoka, from Taiwan to the Golden Triangle, he invites you to follow his trips as well as share his experiences and emotions.
Articles classified by themes
Blogs on tea in English
Blogs on tea in French
Cooking
Links to Le Palais des Thés
Past travels