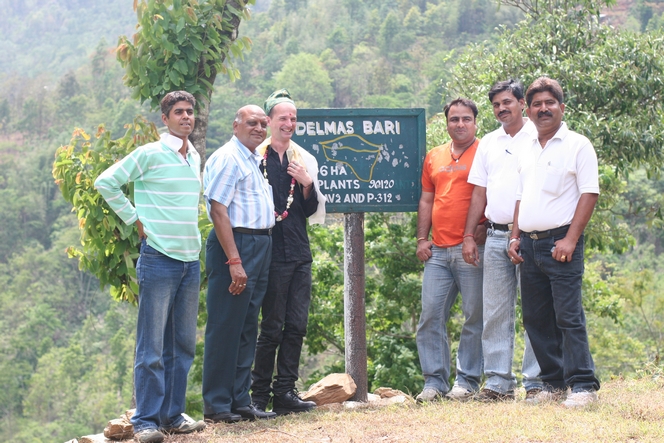 One day, when I was in Darjeeling, I was surprised to find that a plot on the North Tukvar plantation had been named after me. It was a new plot, mainly planted with the AV2 cultivar which I am particularly fond of.
This gesture from G. Somani, superintendant of North Tukvar and Puttabong, touched me greatly, and from time to time I return to "Delmas Bari". The tea plants have grown, they look magnificent at the moment. The place has a unique charm about it. A small stand provides shade where you can enjoy a cup of tea and take in the incredible beauty  and utter tranquillity of the surroundings. I feel quite at home there!
Posted in Country : India, Places I like in Darjeeling by François-Xavier Delmas | Tags : Country : India, Darjeeling, North Tukvar, Puttabong, Tea, tea plants
The author
François-Xavier Delmas is a passionate globetrotter. He's been touring the world's tea plantations for more than 20 years in search of the finest teas. As the founder of Le Palais des Thés, he believes that travelling is all about discovering world cultures. From Darjeeling to Shizuoka, from Taiwan to the Golden Triangle, he invites you to follow his trips as well as share his experiences and emotions.
Articles classified by themes
Blogs on tea in English
Blogs on tea in French
Cooking
Links to Le Palais des Thés
Past travels