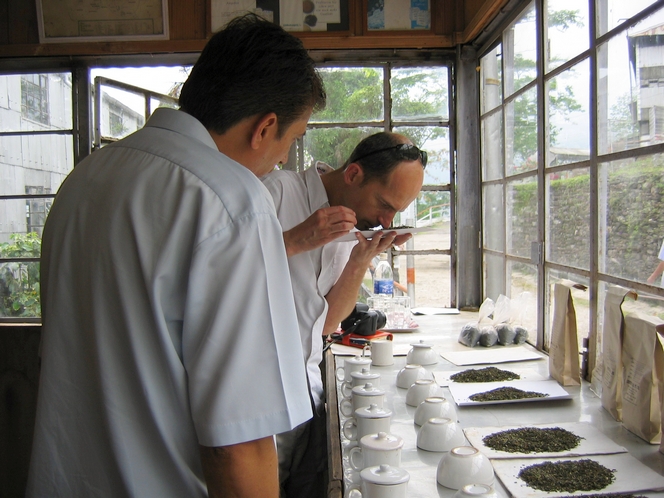 I'm on my way to Darjeeling. On my journey, I sometimes stop at Longview Tea Estate, the first tea plantation in this appellation. It doesn't always produce great teas, as not all of its various plots get enough sun, but at certain times of the year, on the highest part of the plantation, Longview produces some very good teas, earlier than other gardens. Here, under the watchful eye of the grower, I'm assessing the aromas of the different lots I'm going to taste.
Posted in Country : India by François-Xavier Delmas | Tags : Country : India, Darjeeling, Longview Tea Estate, Tea plantation, teas
The author
François-Xavier Delmas is a passionate globetrotter. He's been touring the world's tea plantations for more than 20 years in search of the finest teas. As the founder of Le Palais des Thés, he believes that travelling is all about discovering world cultures. From Darjeeling to Shizuoka, from Taiwan to the Golden Triangle, he invites you to follow his trips as well as share his experiences and emotions.
Articles classified by themes
Blogs on tea in English
Blogs on tea in French
Cooking
Links to Le Palais des Thés
Past travels