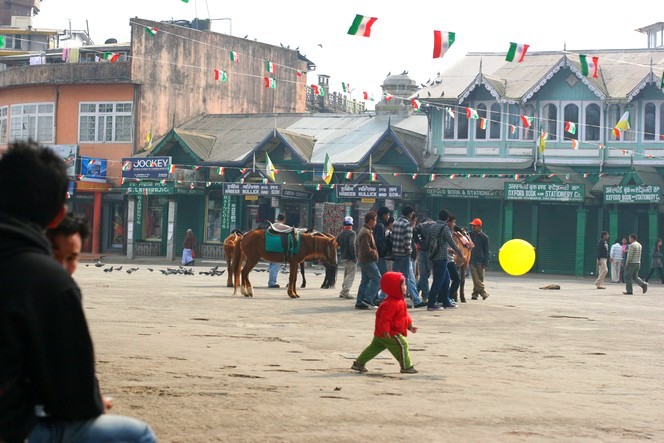 Darjeeling's main square, its centre, its heart, is called Chowrasta. You have to come here on Sundays to realize how popular it is. People come from all the surrounding mountains around, they travel for several hours to spend part of their afternoon there, sitting on one of the numerous benches, sipping the famous spicy chai tea. It's easy for an experienced eye to distinguish by their costume Sikkimese from Nepalese women, Tibetans from Bhutanese and Indian tourists, often from Kolkata, who are cold here and put a scarf around their head, with a knot on top of it, just like an Easter egg. As for the kids, people hoist them on one of the numerous horses for a nice ride on the Mall.
It wasn't very warm this morning on Chowrasta, at a time when shops start opening, the time of the first onlookers, hands in their pockets. At a time when you have the whole space to play when you have such a nice yellow ball like this!
Posted in Country : India, Places I like in Darjeeling by François-Xavier Delmas | Tags : chai, Chowrasta, Country : India, Darjeeling, Kolkata, Tea
The author
François-Xavier Delmas is a passionate globetrotter. He's been touring the world's tea plantations for more than 20 years in search of the finest teas. As the founder of Le Palais des Thés, he believes that travelling is all about discovering world cultures. From Darjeeling to Shizuoka, from Taiwan to the Golden Triangle, he invites you to follow his trips as well as share his experiences and emotions.
Articles classified by themes
Blogs on tea in English
Blogs on tea in French
Cooking
Links to Le Palais des Thés
Past travels