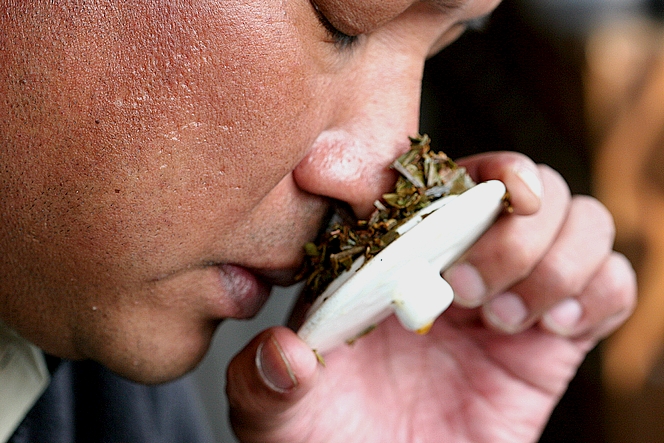 When you taste tea, you first start by smelling it. This is a very important stage in the tasting process. You look at the infused leaves, inhale them and by doing so you already get lots of information on the tea. You could for example easily detect problems such as an over-drying, an overly long oxidization process if it's black tea, or inappropriate fermentation. But of course it also allows you to identify the qualities of the tea and the different scents you could find again in the cup in more or less similar ways.
It's only after smelling the infused leaves (what is called "infusion" in the trade) that we actually taste the liquor itself.
Here, in Badamtam (Darjeeling), Binod Gurung has his eyes closed. His nose is plunged in the damp, warm leaves. He inhales, analyses, all in a state of complete concentration.
Posted in Country : India by François-Xavier Delmas | Tags : Badamtam, black tea, Country : India, Darjeeling, infusion, tasting, Tea, tea leaves
The author
François-Xavier Delmas is a passionate globetrotter. He's been touring the world's tea plantations for more than 20 years in search of the finest teas. As the founder of Le Palais des Thés, he believes that travelling is all about discovering world cultures. From Darjeeling to Shizuoka, from Taiwan to the Golden Triangle, he invites you to follow his trips as well as share his experiences and emotions.
Articles classified by themes
Blogs on tea in English
Blogs on tea in French
Cooking
Links to Le Palais des Thés
Past travels