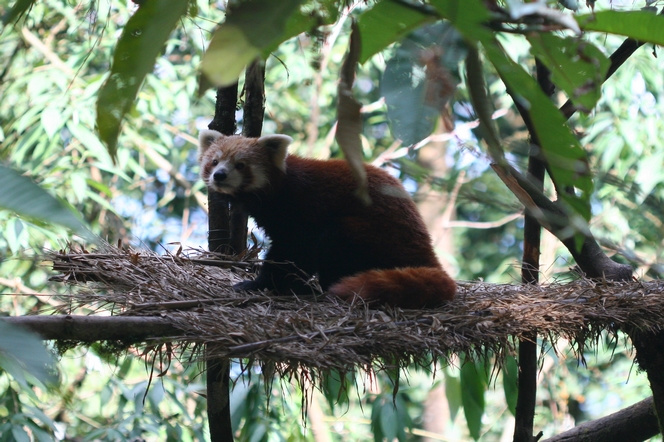 Yes, the firefox! For those who use the well-known web browser of the same name, you'll have seen this long-tailed mammal every day, curled around the icon on your computer screen.
For the rest of you, this is what the panda looks like. It is much smaller than its Chinese cousin and, fortunately, a bit less endangered. It can be found in Darjeeling and throughout the Himalayas.
I didn't just stumble across it while walking in the forest though. I'm not particularly keen on zoos, but I knew that one lived at the Darjeeling zoo, along with some mates, and I wanted to see it. It has beautiful fur you want to stroke, like its neighbour in the next cage, the snow leopard. I certainly wouldn't stick my hand between the bars surrounding its other neighbour, a fearsome looking Siberian tiger whose mouth is so big I could fit my whole head inside, right up to my shoulders.
If you are in the area, do pay a visit to the Himalayan Mountaineering Institute , which honours those who have climbed Everest, starting with Tenzing Norgay, of course, who was from Darjeeling.
Posted in Country : India by François-Xavier Delmas | Tags : Darjeeling, Himalayan Mountaineering Institute, Himalayas, red panda
The author
François-Xavier Delmas is a passionate globetrotter. He's been touring the world's tea plantations for more than 20 years in search of the finest teas. As the founder of Le Palais des Thés, he believes that travelling is all about discovering world cultures. From Darjeeling to Shizuoka, from Taiwan to the Golden Triangle, he invites you to follow his trips as well as share his experiences and emotions.
Articles classified by themes
Blogs on tea in English
Blogs on tea in French
Cooking
Links to Le Palais des Thés
Past travels