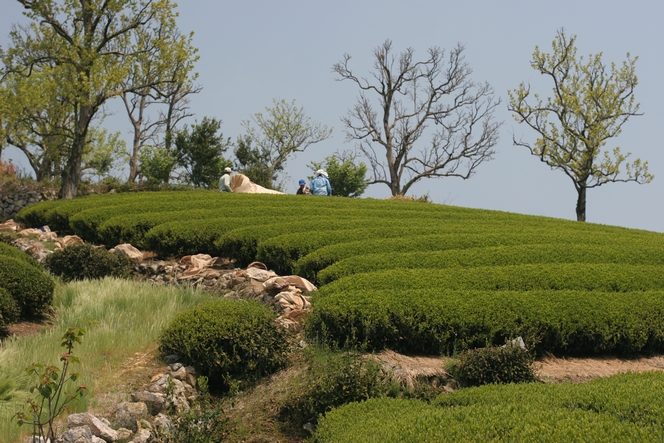 As you read this, I will be arriving in the Land of the Rising Sun. I am here because every three years, a celebration of green tea is held in the Shizuoka region: the O'Cha Festival. It is an opportunity to meet many farmers who grow tea in the surrounding mountains and who leave their tea plants to come and meet other growers, customers and journalists. At the festival, you can try many teas, or watch a matcha tea being made, or a temomi cha, the tea that is entirely processed by hand.
Drinking green tea, whether a superior quality or an everyday brew, is part of Japanese culture. The Japanese serve green tea throughout the day and even drink it while walking in the street, getting it from the numerous vending machines you see everywhere in the country. The Japanese ceremony of Cha no Yu is deeply rooted in tradition, going back more than 500 years, like the Ikebana art of flower arranging, for example.
At the O'Cha Festival, you can taste some very special teas. Several competitions are held during the fair to select the best green teas of the year.
The farmers are immensely proud of the recognition this brings their tea. Here is one family in the middle of harvesting a sencha. Their plot is not big, but their tea is worth its weight in gold.
Posted in Country : Japan by François-Xavier Delmas | Tags : Country : Japan, green tea, matcha, O'Cha Festival, Sencha, Shizuoka, Tea, tea plants, temoni cha
The author
François-Xavier Delmas is a passionate globetrotter. He's been touring the world's tea plantations for more than 20 years in search of the finest teas. As the founder of Le Palais des Thés, he believes that travelling is all about discovering world cultures. From Darjeeling to Shizuoka, from Taiwan to the Golden Triangle, he invites you to follow his trips as well as share his experiences and emotions.
Articles classified by themes
Blogs on tea in English
Blogs on tea in French
Cooking
Links to Le Palais des Thés
Past travels