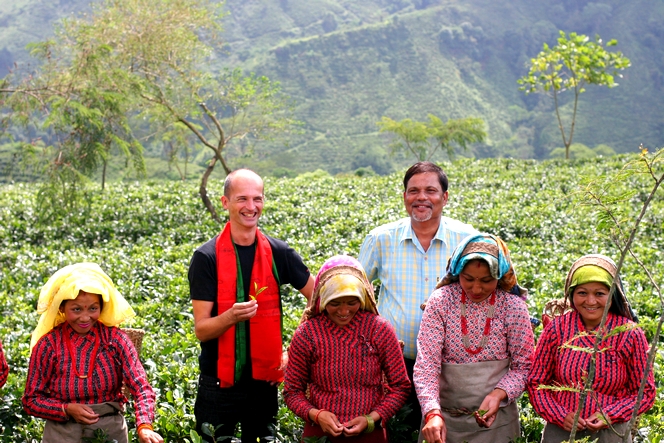 Last week I had the pleasure of visiting the Balasun plantation, in Darjeeling. The plantation got its name from the river Balasun, which runs below it. Anil Jha, who manages the Sungma Tea Estate, and who you can see beside me in this photo, also supervises the Risheehat Tea Estate and the Balasun Tea Estate. He is one of the most respected and most experienced growers in Darjeeling. There are only three or four others with his level of expertise – and authority. I admire him, and I'm also grateful to him, because he was the first person to teach me so much, here on these mountains. We first met 20 years ago, so he has seen me progress, professionally speaking.
Whenever we meet, we talk for hours, united by the same passion.
Posted in Country : India by François-Xavier Delmas | Tags : Anil Jha, Balasun, Country : India, Darjeeling, Risheehat, Sungma, Tea plantation
The author
François-Xavier Delmas is a passionate globetrotter. He's been touring the world's tea plantations for more than 20 years in search of the finest teas. As the founder of Le Palais des Thés, he believes that travelling is all about discovering world cultures. From Darjeeling to Shizuoka, from Taiwan to the Golden Triangle, he invites you to follow his trips as well as share his experiences and emotions.
Articles classified by themes
Blogs on tea in English
Blogs on tea in French
Cooking
Links to Le Palais des Thés
Past travels