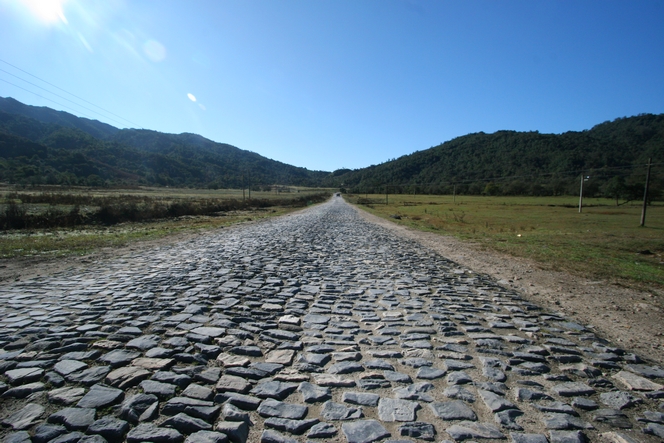 The Pu Er plantations are not an easy place to visit, but they are worth it. The tea leaves used to make Pu Er grow in the remote regions of Yunnan, mainly in Simao, Lincang, Xishuangbanna and near Da Hong. It was Da Hong I visited this month, an experience I shall never forget. Da Hong is an hour's flight from Kunming, which is nothing, but you then need to drive for at least eight hours to see the famous tea plants. At first you drive along a motorway under construction, so all you see is the golden dust thrown up by the vehicle in front. Visibility is reduced to just a few metres, and what's more, you have to swerve around all the potholes. These testing conditions last for a good 100 kilometres, and you must hurry as the road closes at a set time to let the bulldozers in. If you arrive at the barricade too late, you have to do a U-turn and try again the next day. But if you get past all these obstacles in one piece, a magical landscape awaits you the other end. With the altitude, the air cools, and the stunning mountain drive makes you forget what came before. The vegetation changes, conifers appear, and then you come out onto the magnificent high plateaux.
Buffalo and horses roam free, and donkeys cross the pretty paved road whenever they feel like it. It gives you an overwhelming sense of freedom. It is time to take a break. It is a long road to Pu Er. The day has been exhausting, so we walk a little, filling our lungs with the pure air we lacked during the day, and allowing our gaze to wander to the distant horizon. Tomorrow we will be back on the road and cross a few more mountains to reach Su Dian, a few dozen kilometres from Myanmar. There, waiting for us, are people who are little known outside their region.
Posted in Country : China by François-Xavier Delmas | Tags : Country : China, Da Hong, pu er, pu er plantations, tea leaves, tea plants, Yunnan
The author
François-Xavier Delmas is a passionate globetrotter. He's been touring the world's tea plantations for more than 20 years in search of the finest teas. As the founder of Le Palais des Thés, he believes that travelling is all about discovering world cultures. From Darjeeling to Shizuoka, from Taiwan to the Golden Triangle, he invites you to follow his trips as well as share his experiences and emotions.
Articles classified by themes
Blogs on tea in English
Blogs on tea in French
Cooking
Links to Le Palais des Thés
Past travels