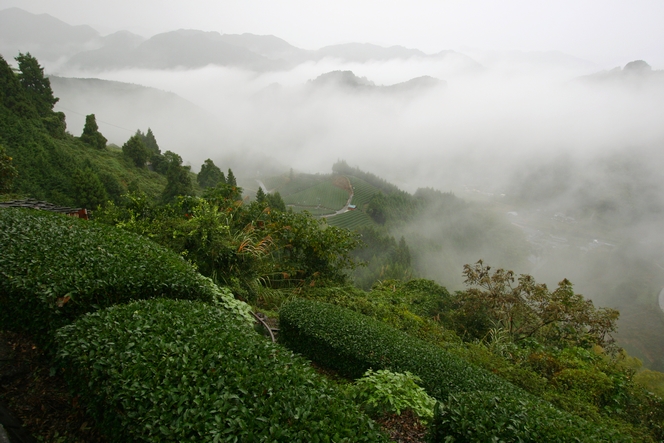 A typhoon has just swept through Japan, from the south to the north. I don't know what delayed it, because it was very late; typhoons normally hit Japan in September. Violent winds flip your umbrella inside out and rain drenches you from head to toe.
It seems I didn't choose the best day to visit Ryogôchi and admire these mountains, where some very high quality Gyokuro and Sencha teas are grown. However, this abundance of clouds does add to the mystery of the place. Although the village itself is slightly hidden, along with the river Okitsugawa, you can still make out some shapes, and it is very Japanese to suggest, rather than to assert.
Posted in Country : Japan by François-Xavier Delmas | Tags : Country : Japan, Gyokuro, Ryogôchi, Sencha
The author
François-Xavier Delmas is a passionate globetrotter. He's been touring the world's tea plantations for more than 20 years in search of the finest teas. As the founder of Le Palais des Thés, he believes that travelling is all about discovering world cultures. From Darjeeling to Shizuoka, from Taiwan to the Golden Triangle, he invites you to follow his trips as well as share his experiences and emotions.
Articles classified by themes
Blogs on tea in English
Blogs on tea in French
Cooking
Links to Le Palais des Thés
Past travels