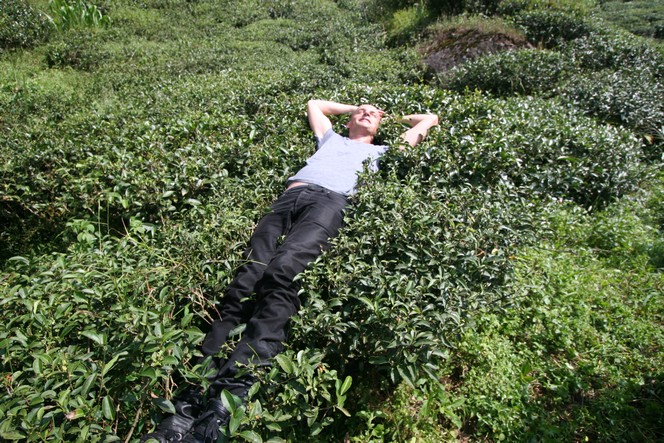 Over time, as its leaves are picked and its growth hindered, the tea plant becomes stronger. Its trunk thickens and new branches appear, while the bush is maintained at a height of about a metre. The plants mesh together to form what is known as the "plucking table", comprising branches so dense that you can lie down on them with no difficulty at all.
I don't need to tell you, who are kind enough to accompany in my peregrinations throughout the year, how one can find a sense of serenity by taking time out every day to savour tea. But perhaps you didn't know that you can find wellbeing with tea in a different way, by diving into the tea plants and taking a nap on their branches.
Tea is not just a drink, it's a whole way of life. It is what makes me feel good. For 2012, I hope we can all find in tea the feeling of relaxation and serenity that we need. Together, let's enjoy tea!
Posted in Tea plant by François-Xavier Delmas | Tags : Tea, Tea plant, tea plants
The author
François-Xavier Delmas is a passionate globetrotter. He's been touring the world's tea plantations for more than 20 years in search of the finest teas. As the founder of Le Palais des Thés, he believes that travelling is all about discovering world cultures. From Darjeeling to Shizuoka, from Taiwan to the Golden Triangle, he invites you to follow his trips as well as share his experiences and emotions.
Articles classified by themes
Blogs on tea in English
Blogs on tea in French
Cooking
Links to Le Palais des Thés
Past travels