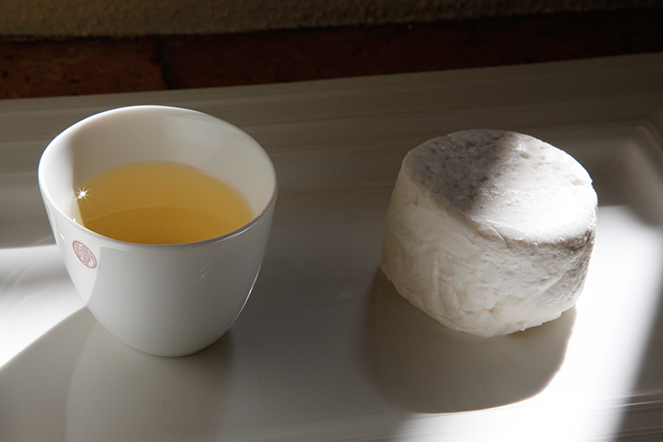 Pairing tea and cheese: the example of goat's cheese Fresh goat's cheese is one of my favourite cheeses, and I like going to the farm to choose mine. I prefer to accompany it with tea rather than wine. More precisely, a Premium Bao Zhong served at room temperature. To prepare it, first steep the tea for six minutes, then remove the leaves from the pot and leave it to cool for 30 minutes. Serve in small clear liqueur glasses. It will make an interesting change for your guests, and you will love the pairing: the tea does not overwhelm the subtle flavour of the cheese; on the contrary, it accompanies it, as the tea's vegetal and floral notes make way for the milky, delicate animal qualities of the cheese. They make a fine match.
Posted in Country : Taiwan, Recipes by François-Xavier Delmas | Tags : cheese, Taïwan
The author
François-Xavier Delmas is a passionate globetrotter. He's been touring the world's tea plantations for more than 20 years in search of the finest teas. As the founder of Le Palais des Thés, he believes that travelling is all about discovering world cultures. From Darjeeling to Shizuoka, from Taiwan to the Golden Triangle, he invites you to follow his trips as well as share his experiences and emotions.
Articles classified by themes
Blogs on tea in English
Blogs on tea in French
Cooking
Links to Le Palais des Thés
Past travels