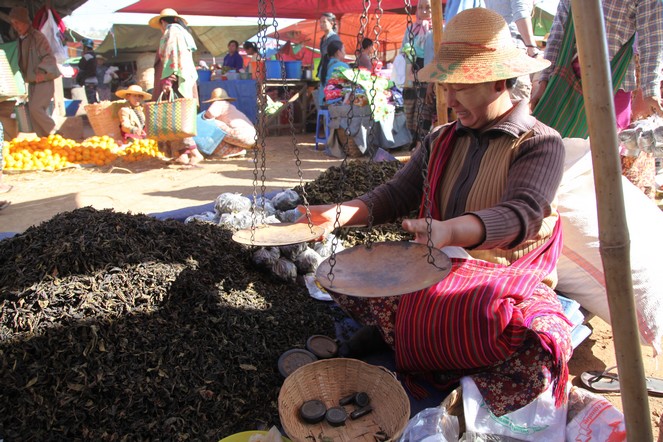 This tea seller I met at Heho market keeps very busy. The whole time I was sitting beside her, customers were constantly coming and going, and she couldn't even spare a couple of minutes to gulp down the bowl of noodles placed to one side.
She mainly sells a black tea which her customers then roast in a pan before drinking it.
This is typical of Myanmar tea: you roast your own tea at home to give it what they call the "taste of fire". Sometimes toasted sesame seeds are added.
Posted in Country: Burma by François-Xavier Delmas | Tags : black tea, Burma, Heho
The author
François-Xavier Delmas is a passionate globetrotter. He's been touring the world's tea plantations for more than 20 years in search of the finest teas. As the founder of Le Palais des Thés, he believes that travelling is all about discovering world cultures. From Darjeeling to Shizuoka, from Taiwan to the Golden Triangle, he invites you to follow his trips as well as share his experiences and emotions.
Articles classified by themes
Blogs on tea in English
Blogs on tea in French
Cooking
Links to Le Palais des Thés
Past travels