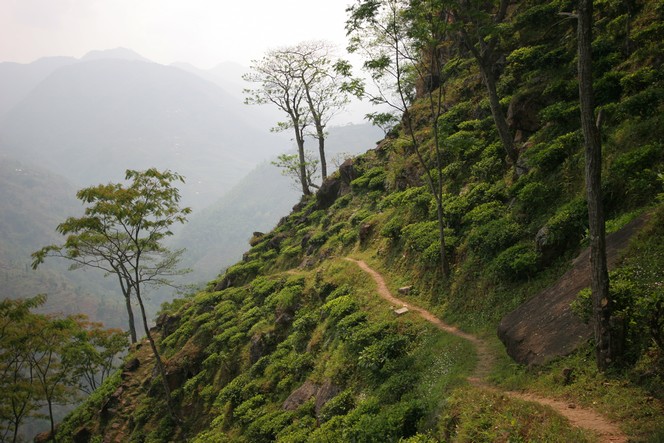 For the first time, a few weeks ago, I bought a lot of a spring tea from the Kanchenjunga Tea Estate. This Nepalese plantation, situated in the middle of nowhere – two day's travel across the Terai Plain – is one of the most promising in the country.
While there, you can admire the incredible steepness of the slopes as you realise how difficult it must be to harvest the leaves on such a gradient. As for this narrow path which snakes around the side of the mountain, and along which I have seen villagers walking, laden down like mules, it is the only route for the inhabitants of other hamlets located a few days' walk from here.
Posted in Country : Nepal by François-Xavier Delmas | Tags : Kanchenjunga, Nepal, Tea, Tea plantation, Terai
The author
François-Xavier Delmas is a passionate globetrotter. He's been touring the world's tea plantations for more than 20 years in search of the finest teas. As the founder of Le Palais des Thés, he believes that travelling is all about discovering world cultures. From Darjeeling to Shizuoka, from Taiwan to the Golden Triangle, he invites you to follow his trips as well as share his experiences and emotions.
Articles classified by themes
Blogs on tea in English
Blogs on tea in French
Cooking
Links to Le Palais des Thés
Past travels