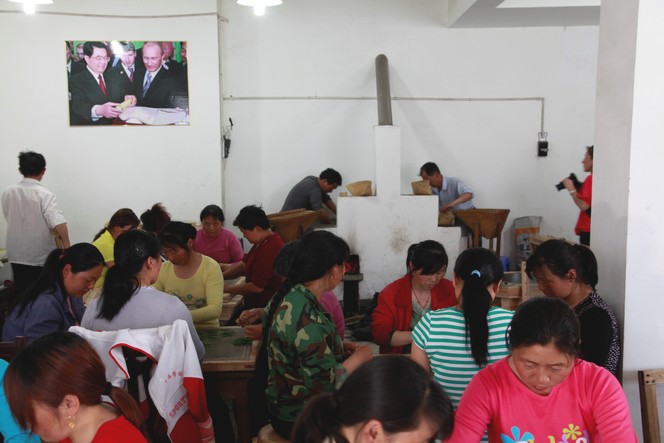 Taiping Hou Kui is known as a precious tea among the Chinese, but very few have had the opportunity of tasting it even once in their life.
Here, we are in Hou Kui, in the famous "Village of the Monkeys", the birthplace of this tea and its most well-known production site. In the main factory of the village, employees work beneath the gaze of the Russian president, who is very fond of this fine Chinese tea and received some as a gift from Hu Jintao. The tea given by the Chinese president to his Russian counterpart was made in this very factory, so you can imagine the pride of all the workers.
If, like Vladimir Putin, you like Taiping Hou Kui, then this is the time to make the most of it. The 2012 plucking is now available.
Posted in Country : China by François-Xavier Delmas | Tags : Country : China, Hou Kui, Taiping Hou Kui, Tea
The author
François-Xavier Delmas is a passionate globetrotter. He's been touring the world's tea plantations for more than 20 years in search of the finest teas. As the founder of Le Palais des Thés, he believes that travelling is all about discovering world cultures. From Darjeeling to Shizuoka, from Taiwan to the Golden Triangle, he invites you to follow his trips as well as share his experiences and emotions.
Articles classified by themes
Blogs on tea in English
Blogs on tea in French
Cooking
Links to Le Palais des Thés
Past travels