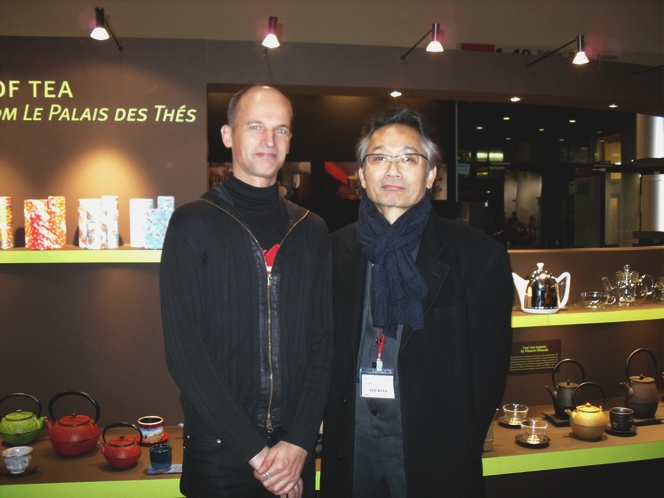 I'm happy to introduce to you my friend Hisanori Masuda. Hisanori is a famous Japanese designer who creates great models of cast iron teapots. He has exhibited worldwide (in New York's MoMa for instance) and teaches at university in Japan. We have known each other for fifteen years thanks to Kayoko Nishikawa with whom I travelled a few times in the north of the archipelago, notably in the district of Iwate. It's in fact the region where cast iron teapots are made. They are still casted one by one today. Hisanori has also made very nice models of tea kettles, with a simple, traditional and meticulous design. The Hikime, Chokaku and Natsume teapots illustrate his work perfectly.
We got together last week at the Ambiente fair in Frankfurt. Hisanori came to visit the Palais des Thés' stand and I thus presented him to our team who was looking forward to meet him. This photo was taken for the occasion.
Posted in Country : Japan by François-Xavier Delmas | Tags : cast iron teapots, Country : China, Hisanori Masuda, Palais des Thés, tea kettle
The author
François-Xavier Delmas is a passionate globetrotter. He's been touring the world's tea plantations for more than 20 years in search of the finest teas. As the founder of Le Palais des Thés, he believes that travelling is all about discovering world cultures. From Darjeeling to Shizuoka, from Taiwan to the Golden Triangle, he invites you to follow his trips as well as share his experiences and emotions.
Articles classified by themes
Blogs on tea in English
Blogs on tea in French
Cooking
Links to Le Palais des Thés
Past travels