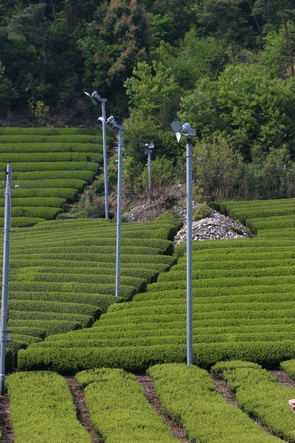 Some sights in the tea fields in Japan are strange. The green rows of tea trees are covered with fans stuck up on top of numerous posts and their metal spikes give contrast to the soft aspects of spring. What can they actually be for? Give a little breeze when the sun is too hot? Certainly not! The fans will fully play their part in the middle of winter. They will be switched on in order to give the atmosphere a stir and prevent the layers of cold air to stay above the trees. These layers of cold air could indeed damage the small trees or slow down their growth.
Posted in Country : Japan, Tea plant by François-Xavier Delmas | Tags : Country : Japan, Shizuoka, tea field, tea fields, Tea plant, tea plants, tea tree, tea trees
The author
François-Xavier Delmas is a passionate globetrotter. He's been touring the world's tea plantations for more than 20 years in search of the finest teas. As the founder of Le Palais des Thés, he believes that travelling is all about discovering world cultures. From Darjeeling to Shizuoka, from Taiwan to the Golden Triangle, he invites you to follow his trips as well as share his experiences and emotions.
Articles classified by themes
Blogs on tea in English
Blogs on tea in French
Cooking
Links to Le Palais des Thés
Past travels