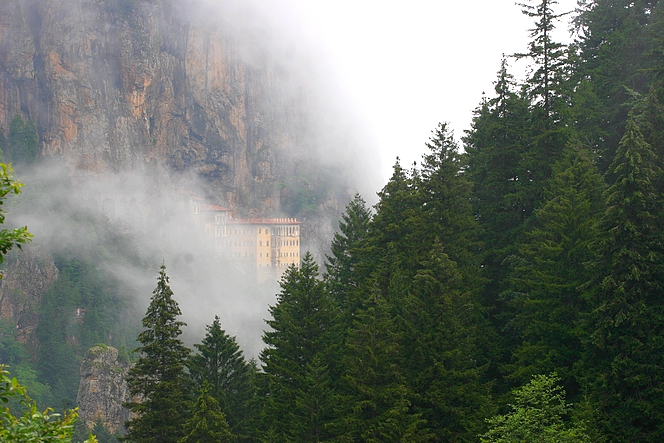 In case you had of Turkey an image of a very hot country, I'd like to tone it down a bit. If tea enjoys being on these mountains lining the Black Sea, it's exactly because here when you climb up a little, it's much cooler and there are plenty of clouds and rain. "It rains all the time in Rize and if it doesn't rain it snows !" have I often heard.
The Sumela monastery –whose picture can only be taken by patient people- is precisely located in the area where tea is grown. You can notice that nature looks close to the one found in the Alps. And these threads of fog remind me of the Himalayan foothills. So now you surely understand why tea enjoys it here !
Posted in Country : Turkey by François-Xavier Delmas | Tags : Black Sea, Country : Turkey, Himalaya, Rize, Sumela, Tea
The author
François-Xavier Delmas is a passionate globetrotter. He's been touring the world's tea plantations for more than 20 years in search of the finest teas. As the founder of Le Palais des Thés, he believes that travelling is all about discovering world cultures. From Darjeeling to Shizuoka, from Taiwan to the Golden Triangle, he invites you to follow his trips as well as share his experiences and emotions.
Articles classified by themes
Blogs on tea in English
Blogs on tea in French
Cooking
Links to Le Palais des Thés
Past travels