Posted in Professional tasting by François-Xavier Delmas | Tags : Tea, tea drinker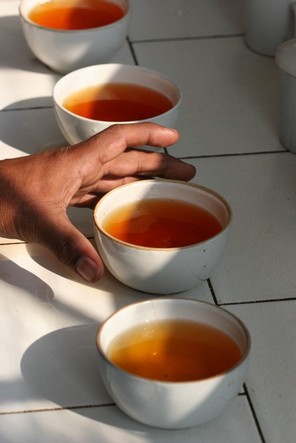 Does tea help the kidneys work better? Does it aid weight loss? Fight cancer? Do some teas contain more or less theine? These were some of the questions posed by the audience in the French television programme "Allo Docteurs", which I appeared on last week. A nutritionist was also in the studio to answer health-related questions.
It's always good to know that tea is a healthy drink. "A little tea every day keeps the doctor away," say the Chinese. However, as far as I'm concerned, the most important quality of tea is the gastronomic pleasure we derive from it.
As I don't have a photo showing the condition of the arteries of a regular tea drinker, I'm instead showing you this hand reaching for a cup, which I think perfectly reflects the pleasure of drinking tea.
The author
François-Xavier Delmas is a passionate globetrotter. He's been touring the world's tea plantations for more than 20 years in search of the finest teas. As the founder of Le Palais des Thés, he believes that travelling is all about discovering world cultures. From Darjeeling to Shizuoka, from Taiwan to the Golden Triangle, he invites you to follow his trips as well as share his experiences and emotions.
Articles classified by themes
Blogs on tea in English
Blogs on tea in French
Cooking
Links to Le Palais des Thés
Past travels
Community