Category : Tea-producing countries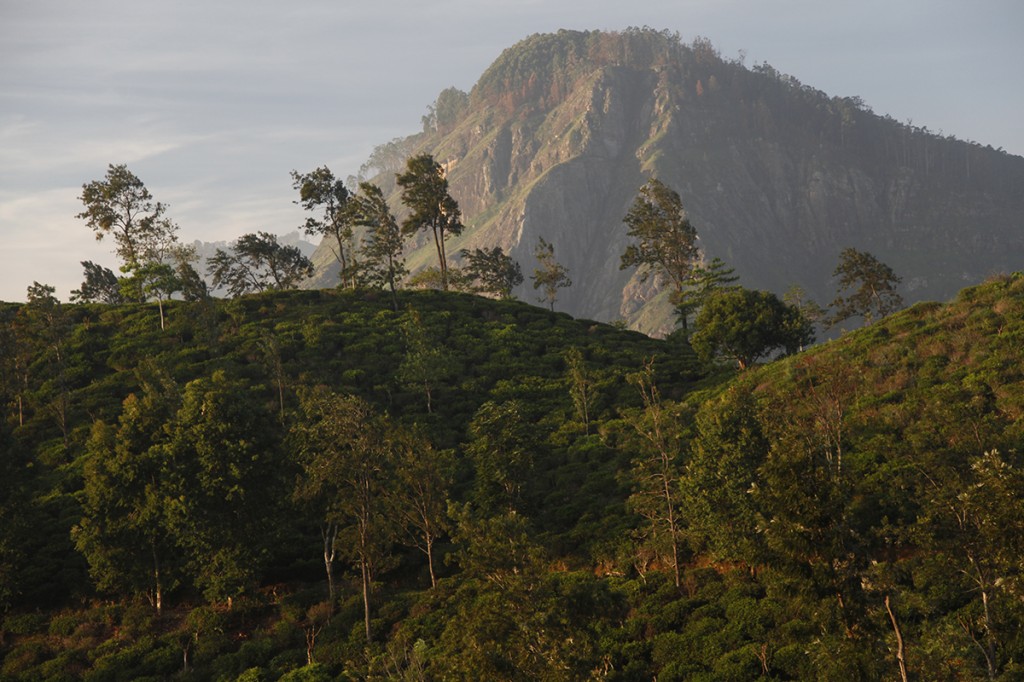 I was incredibly fortunate, when I woke yesterday without knowing exactly where I was, to discover this sublime view from my bed. I'd arrived in Ella late the night before, from Ratnapura, and without the moon I couldn't get a sense of the landscape. I was woken at 5am by the birds singing, as well as the shrill cries of the squirrels, who were celebrating daybreak in their own way. I went out onto the terrace to enjoy the sight, and I stayed there, taking it all in. This mountain is called Little Adam's Peak.
I hadn't been to this beautiful country for a year, and I'm happy to see that in the mountains in the centre of the island, a few factories that used to make teas industrially with a rotorvane machine, which is very rough on the leaves, are now at least trying to make teas the orthodox way, a method that is more respectful of the leaves. They are just attempts, I know, but it's a promising sign and it's a pleasure to see that tea planters want to try out new methods, make better teas; that they are curious, and want to improve their quality.
Posted in Country : Sri Lanka by François-Xavier Delmas | Tags : Sri Lanka, tea production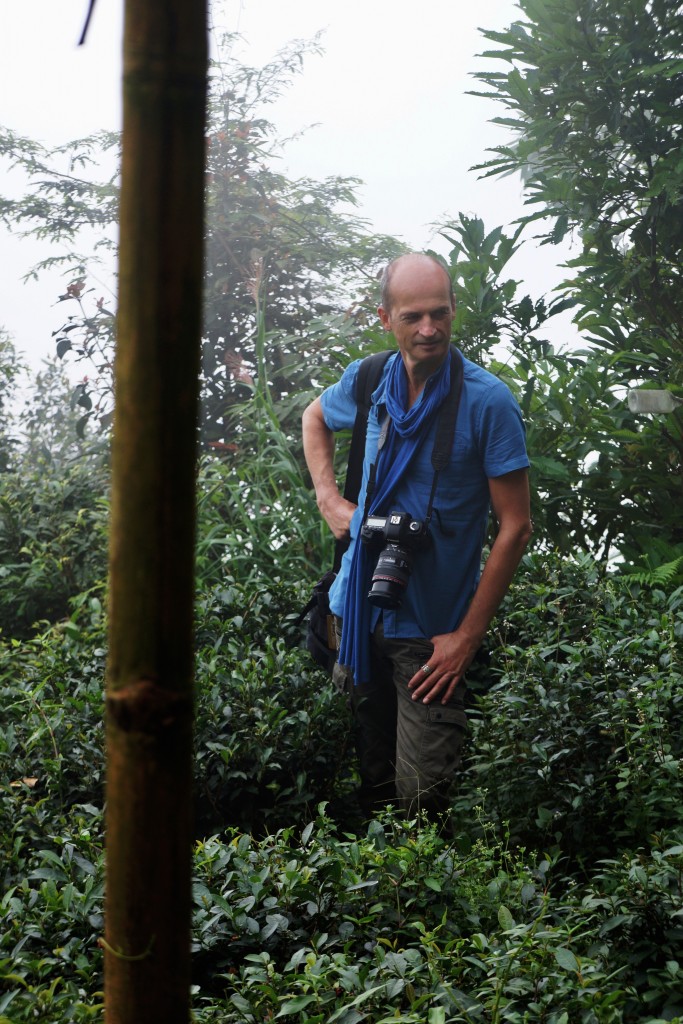 Blue and green are my favourite colours. Blue, because the sea has been very important to me, and the island in Brittany where I spent all my childhood summers taught me a lot about life. The blue that comes and goes with the tides, a blue that turns green then brown when the tide goes out, the blue of the swollen sea, the blue of Brittany's skies (though there are those who love its drizzly rain too)…
Blue and then green, the green of tea fields, the green of camellias, a dark green or a yellowish green, depending on the variety. A glossy green or matt green leaf, depending on whether you look at it from above or below. The green of the rice fields that meet the slopes covered with tea plants, the green of forests, so essential to keeping our climate balanced, the dark green of cryptomeria japonica, that spindly, rather bare tree that I love, found from Kyoto to Darjeeling, whose needles hold the mist so well. The green of the forest school I attended, the green of the countryside, of my little piece of nature where I'm so happy, the different greens of all the herbs I use to season my food, the green of young shoots, the green of springtime, the green of nature awakening; green, the symbol of life.
Posted in Country : India by François-Xavier Delmas | Tags : Darjeeling, François-Xavier Delmas, reflexions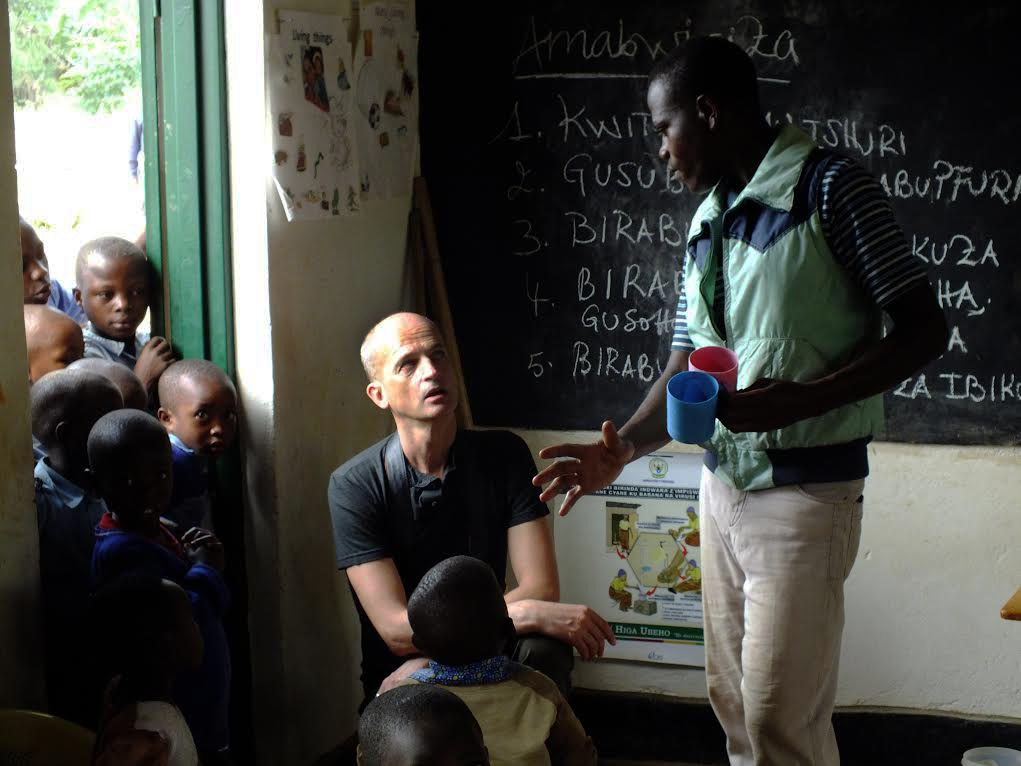 A tea plantation, a farm that produces tea, is a whole world in itself. Wherever tea is grown, wherever it's processed, there's both an agricultural aspect and a human aspect. Tea is where these two paths meet: plants and people. So when I meet tea producers I naturally take an interest in every part of life on the farm: the quality of the tea, of course, as well as the plants and soil, and how they're respected. Also the quality of the environment, forests and rivers; the quality of housing, and the treatment workers receive if they're injured; the quality of all preventive measures put in place and, most of all, the quality of education. Visiting schools is part of my job, and I really enjoy talking with the students and teachers alike. I wouldn't miss these moments, or rush them, for anything in the world.
Posted in Country : Rwanda by François-Xavier Delmas | Tags : humans, Rwanda, school, Tea plantation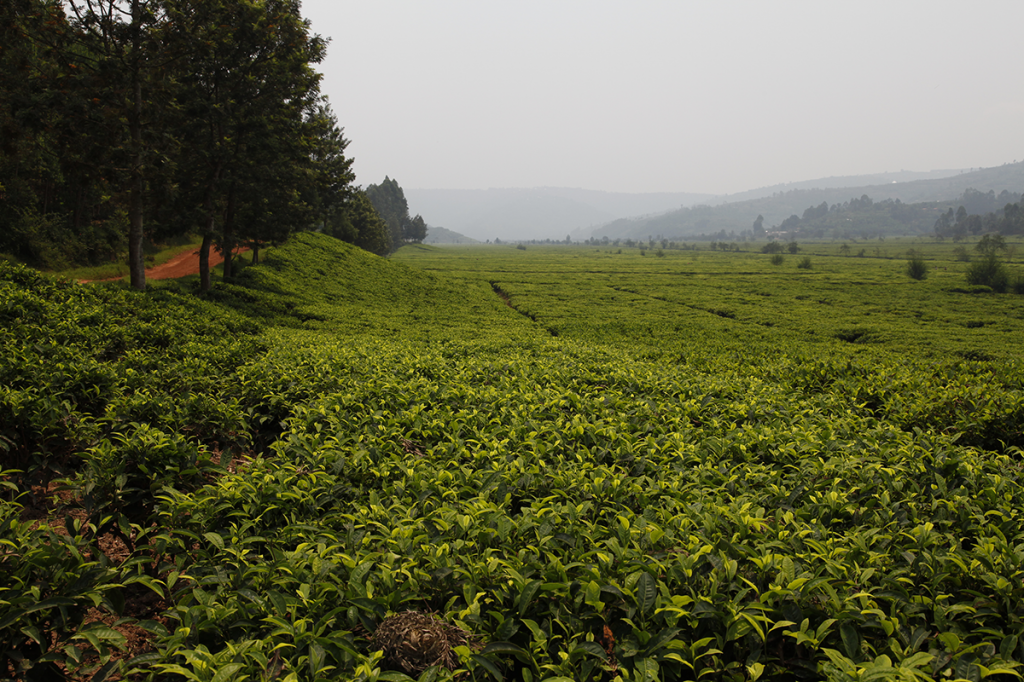 Tasting dozens of teas like I do every day of the year requires the ability to be present in the moment. You can't compare several teas or form an opinion on the aromatic richness of a liquor if you're rushed, stressed, preoccupied or simply thinking about other things. Tasting involves analysis, and this sensory analysis means you need to be very present. When I'm not in exactly the right state of mind for this task, which can happen to anyone, if there's noise around me or if I'm distracted by something, if I'm tense or the slightest bit annoyed, I get away from everything. And I take however long I need to look at a beautiful landscape like this one. I focus on the scene before me. I gaze at it until I'm thinking of nothing else. I dive into it in the true sense, until I'm ready, free from all distractions; until I'm present in the moment. Then I can go to my tasting sets and contemplate the flavours and aromas of the teas I drink.
I recommand this focusing exercise before every tasting session.
Posted in Country : Rwanda by François-Xavier Delmas | Tags : concentration, focus, Rwanda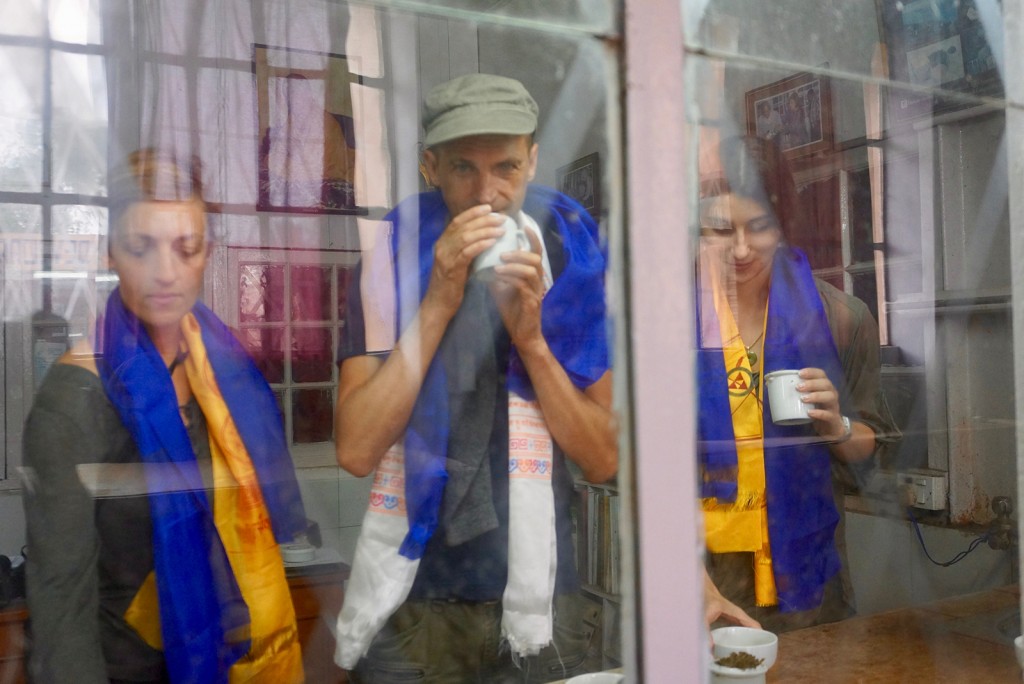 On this blog you follow me on my search for teas and at my tasting sessions, and I thank you. Sometimes I also talk about pairings of teas and food, and I should also tell you about the tastings I've enjoyed so much in the company of chefs and tasters of other quality products such as chocolate and oil.
But I have another mission, which is to share knowledge. I've learnt everything I know about tea from farmers and planters: every trip, everyone I meet, every tea I taste, throughout the year. I've been learning for 30 years and I know just enough to understand that I'll never have time to completely get to grips with the subject. One lifetime is not enough, not nearly enough, to learn everything there is to know about tea. Since the start of our Palais des Thés story, and quite quickly with the Tea School, sharing knowledge has come to play an important role in our company. Today we've passed a very important milestone. With the help of my knowledgeable entourage, I've developed a practical and theoretical exam that will recognise, promote and encourage the best tea experts. So far, five people have been awarded this Tea Sommelier certification. Here I am with two of them, Nathanaëlle, our store manager in Marseille, and Manuela, a sales advisor in Paris, both of whom have accompanied me on a trip to Darjeeling. Well done to these two!
Posted in Country : India by François-Xavier Delmas | Tags : Darjeeling, knowledge, Tea sommelier
The author
François-Xavier Delmas is a passionate globetrotter. He's been touring the world's tea plantations for more than 20 years in search of the finest teas. As the founder of Le Palais des Thés, he believes that travelling is all about discovering world cultures. From Darjeeling to Shizuoka, from Taiwan to the Golden Triangle, he invites you to follow his trips as well as share his experiences and emotions.
Articles classified by themes
Blogs on tea in English
Blogs on tea in French
Cooking
Links to Le Palais des Thés
Past travels