Category : Tea-producing countries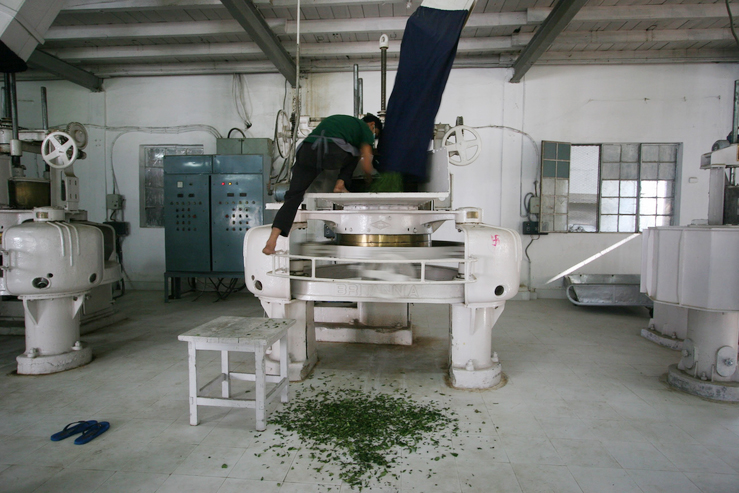 When you read tasting notes on Darjeeling teas, you learn that the leaf can be more or less rolled, depending on the batch. This is what the rolling looks like. As soon as the leaves have finished wilting, on the upper level of the building, they are dropped (see photo) into this container, which has a press. Rolling, as it is performed in Darjeeling, takes just a few minutes. It prepares the leaves, by lightly crushing them, for the following stage: oxidation.
Posted in Country : India by François-Xavier Delmas | Tags : Darjeeling, tea leaves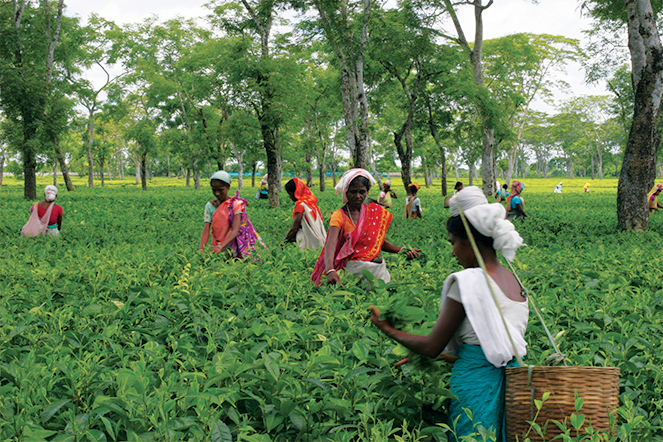 Assam teas have scents of honey, tobacco and spices and a very pronounced aromatic profile, unlike some of the flat countryside in this region. The teas are particularly astringent, and here too, the vocabulary used to describe this sensation contrasts with the words we might use to depict the landscape. Astringency is marked by a contracting of the tissues of the palate, while this beautiful field of tea relaxes me as soon as I see it.
Posted in Country : India by François-Xavier Delmas | Tags : Assam, Country : India, landscape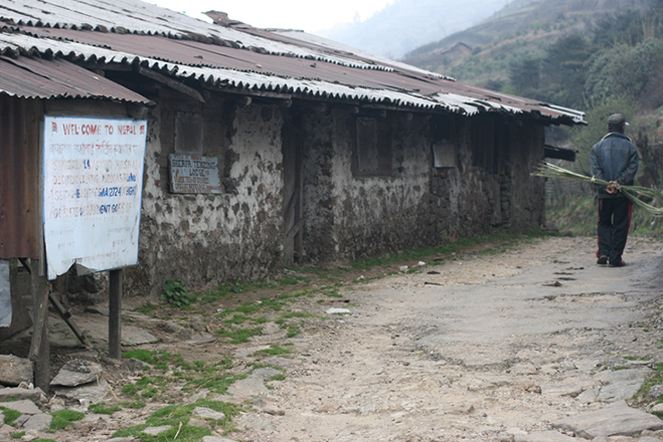 Every year, the first-flush Darjeelings open the season, followed by the spring harvests in Nepal, then China and Japan. I have now started tasting the first samples of Nepalese teas. They come a few weeks after the Darjeelings, due to the harsher climate. Yet the two regions are not so far apart, barely a few days' walk, and you could pass from one country to another without noticing it unless you pay attention to the signs.
Posted in Country : Nepal by François-Xavier Delmas | Tags : Nepal, spring teas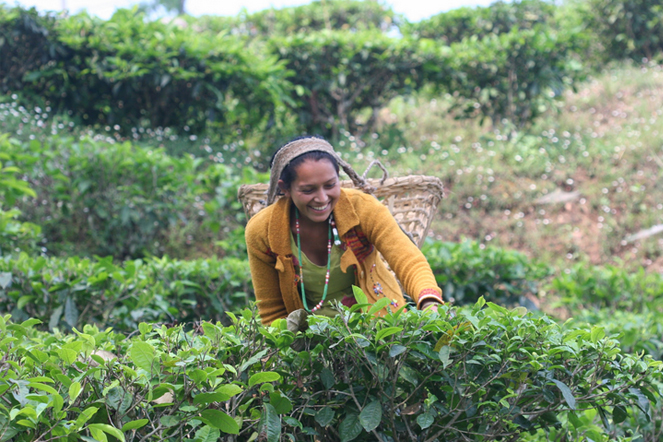 The news I'm getting from Darjeeling is not very good. The planters are disappointed by the small quantities of tea harvested in March. This is due to low temperatures and a lack of sunshine and rain. So far, production is down by almost a third. However, as long as you act quickly, there are still some very fine teas. I have already bought several batches from gardens where the quality is improving year on year, like Gielle, Rohini and Teesta Valley. And a tiny batch of "Puttabong SFTGFOP1 Moondrops": anyone who gets a chance to taste this tea will love it.
Posted in Country : India by François-Xavier Delmas | Tags : Darjeeling, Darjeeling first flush, spring teas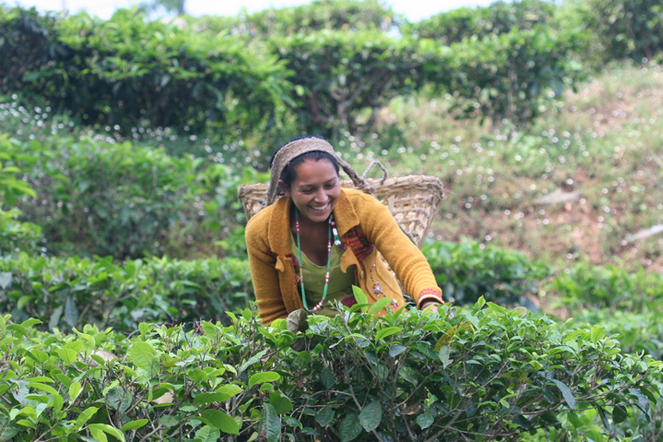 As happens every year at the same time, the first samples of first-flush Darjeelings are starting to arrive. There are never many during the first week, then during the peak of the season, around the end of March, I can taste dozens every day. Each one represents a very small batch of about 100 kilos. I have just chosen two: the Rohini "early spring" and the Longview FTGFOP1 ex-5. They are characterised by their fresh, vegetal, floral and zesty notes.
Posted in Country : India by François-Xavier Delmas | Tags : Country : India, Darjeeling, Darjeeling first flush, tea plucking
The author
François-Xavier Delmas is a passionate globetrotter. He's been touring the world's tea plantations for more than 20 years in search of the finest teas. As the founder of Le Palais des Thés, he believes that travelling is all about discovering world cultures. From Darjeeling to Shizuoka, from Taiwan to the Golden Triangle, he invites you to follow his trips as well as share his experiences and emotions.
Articles classified by themes
Blogs on tea in English
Blogs on tea in French
Cooking
Links to Le Palais des Thés
Past travels