Category : Tea-producing countries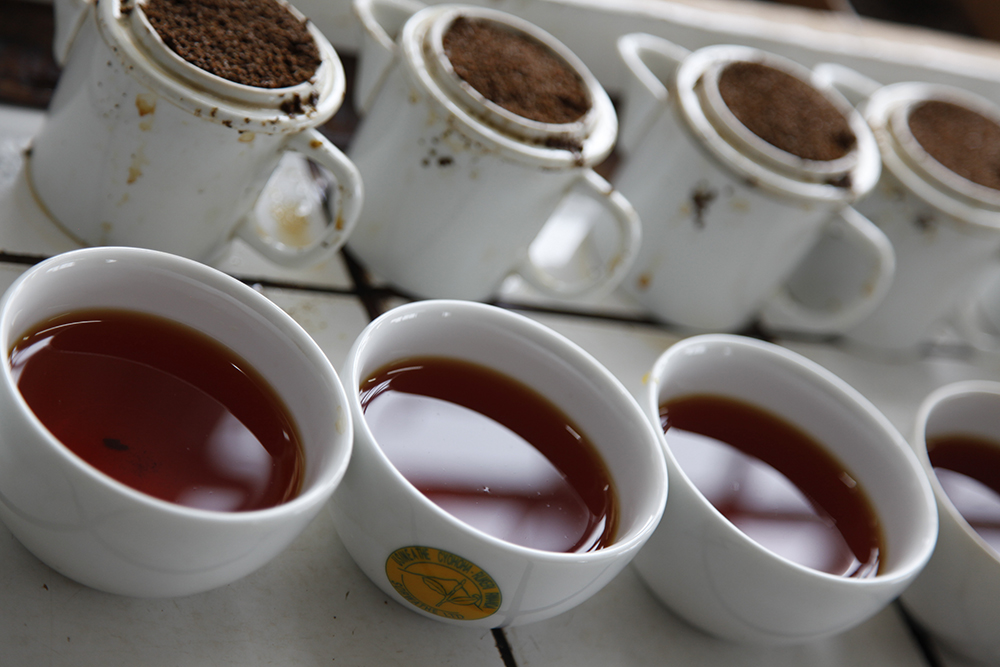 Sometimes I'm asked to taste some very good teas, before being served others that don't interest me at all – broken-leaf teas, for example. I taste them unenthusiastically and move on as quickly as possible. If the light is good and the place interesting, I like to play around with my camera while my host finishes the tasting. I experiment with the settings on my EOS5D as a way of commenting on the quality of teas in front of me. I distort the teas I don't like – I overexpose them, as I've done here. I subvert reality, I frame the shots differently; I'm not interested in these overly black liquors, these broken leaves that develop a dreadful astringency and are devoid of any subtlety. I prefer to create something interesting with my toy, while my puzzled host looks on – he'd rather I got on with tasting and took fewer photos.
Posted in Country : Rwanda by François-Xavier Delmas | Tags : broken tea, Overexposed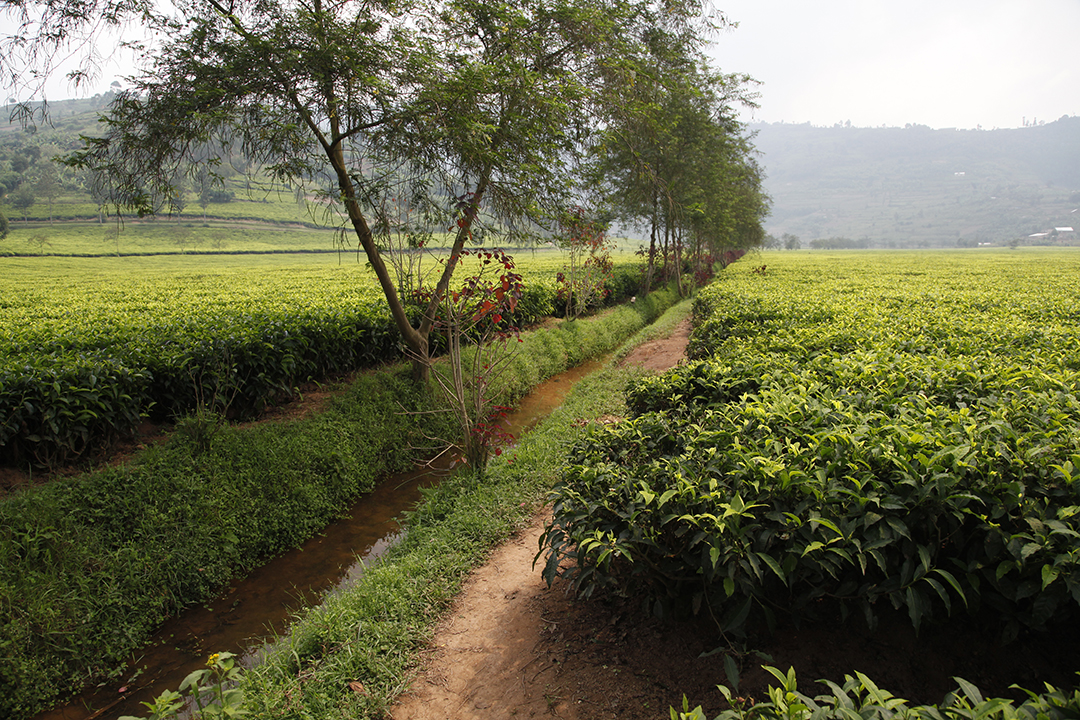 Tea plants don't like to stand in water. When tea is grown on flat land, like here in Rwanda, it's important to dig out ditches so that the rainwater runs away and doesn't linger around the camellia's roots. What's clever here is that the drainage is designed not only to allow water to run off, but also to irrigate the crops during dry spells. For the system to operate, you need to be near a reservoir, or a river, like here, so the water can be diverted into the channels. The frogs love it, judging by the racket they make, and a whole ecosystem thrives in these damp conditions, including colourful kingfishers, which I've startled into flight a few times.
Posted in Country : Rwanda by François-Xavier Delmas | Tags : drainage, irrigation, rainwater, Rwanda, tea plants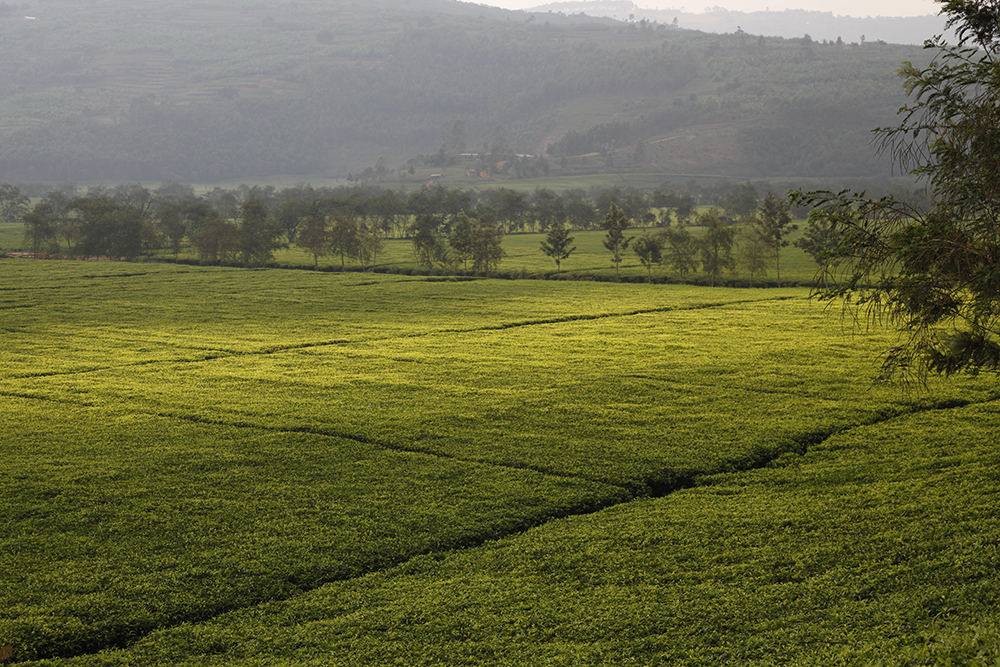 This year, I've been incredibly lucky to visit some beautiful tea plantations, like the ones I went to in Kenya and Rwanda. I've seen a lot of tea fields in my life, yet I still discover breathtaking landscapes that resemble nowhere else. For example here, in Rwanda, tea grows not on hillsides, as is often the case, but at the bottom of the valley. The valley in question may lie at an altitude of 2,000 metres, but even so, it's flat. And it's still hot enough here for dense vegetation to surround the tea plants. In this "Land of a Thousand Hills" you'll find incredible scenery, but also some remarkable and little-known teas. If you want to taste the tea that grows here, and feel connected to this beautiful place, it is called "Rwanda Silver Mist", a powerful tea with fairly fruity, spicy, honey notes. It is a delicious discovery, a door that opens onto a very beautiful corner of our planet.
Posted in Country : Rwanda by François-Xavier Delmas | Tags : plantations, Rwanda, Silver Mist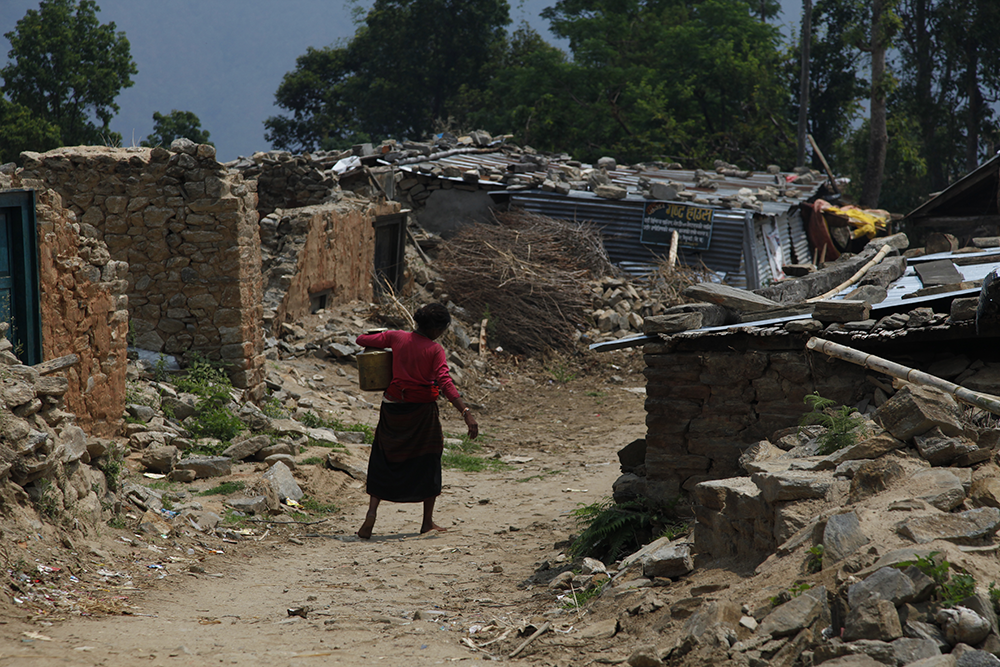 It's more than a year since Nepal was hit by a powerful earthquake. And since then, for many villagers, life has not improved. In this country that is very rural and particularly mountainous, the aid they were promised has not been forthcoming. Many people are living in their houses as before: they have placed a makeshift roof over the ruins, and life goes on. But what will happen to them after the monsoon, what will they have left after the rainy season that turns everything into mud?
Posted in Country : Nepal by François-Xavier Delmas | Tags : earthquake, Nepal


After Darjeeling, we turn our attention to Nepal, China and Japan, to enjoy their new spring teas. In Japan, we return to the farmers we know, and we also enjoy discovering teas from others. In China, we are guided by the traditional appellations, which are attached to a particular village. In Nepal, we know which plantations are capable of producing the best teas at particular times of year. There is sometimes an added difficulty though, like here at Kuwapani. The planter, who was an employee rather than the owner of the plantation, has left. What will the results be like under his successor? We'll know the answer in a few months' time. Meanwhile, let's enjoy tasting the new teas this spring has to offer!
Posted in Country : Nepal by François-Xavier Delmas | Tags : harvest, Nepal
The author
François-Xavier Delmas is a passionate globetrotter. He's been touring the world's tea plantations for more than 20 years in search of the finest teas. As the founder of Le Palais des Thés, he believes that travelling is all about discovering world cultures. From Darjeeling to Shizuoka, from Taiwan to the Golden Triangle, he invites you to follow his trips as well as share his experiences and emotions.
Articles classified by themes
Blogs on tea in English
Blogs on tea in French
Cooking
Links to Le Palais des Thés
Past travels