Category : Tea-producing countries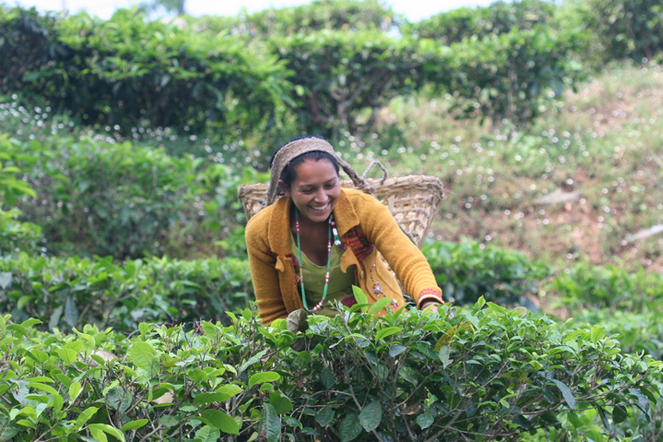 As happens every year at the same time, the first samples of first-flush Darjeelings are starting to arrive. There are never many during the first week, then during the peak of the season, around the end of March, I can taste dozens every day. Each one represents a very small batch of about 100 kilos. I have just chosen two: the Rohini "early spring" and the Longview FTGFOP1 ex-5. They are characterised by their fresh, vegetal, floral and zesty notes.
Posted in Country : India by François-Xavier Delmas | Tags : Country : India, Darjeeling, Darjeeling first flush, tea plucking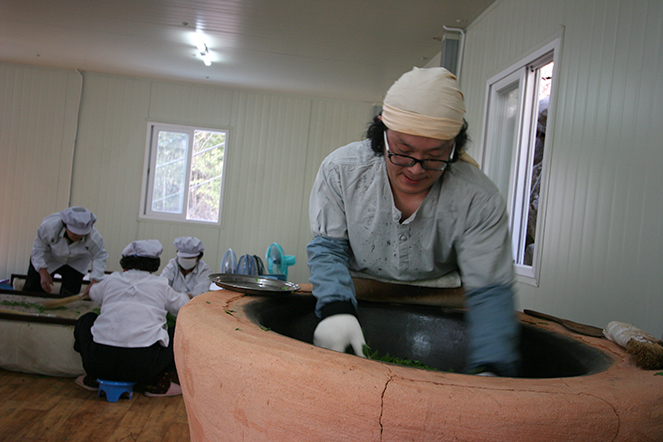 Jukro from South Korea is one of the finest quality teas in the world. I know just one farmer who produces it. He can only do so in the first days of May, using his best leaves. The quantity obtained is so small that only a few customers are able to enjoy it. I think you can imagine how eagerly I anticipate his new plucking every year. The richness of the tea's flavours and its complexity and length in the mouth are worth tasting at least once in a lifetime.
Posted in Country : South Korea by François-Xavier Delmas | Tags : Grands Crus, Jukro, Korea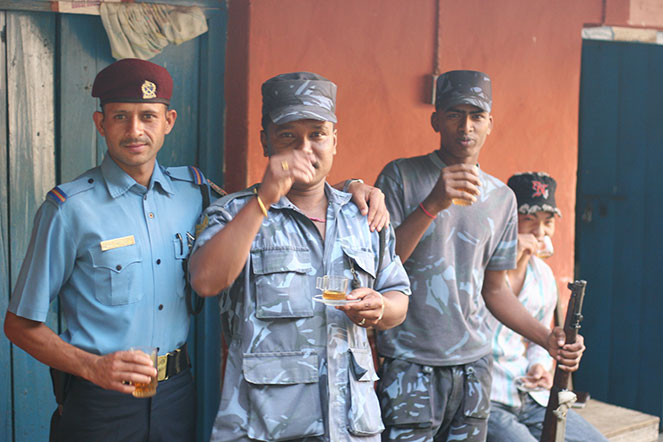 At the moment there is much talk of the violence in Ukraine; tomorrow it will be somewhere else. Violence, blood, weapons: it is as if man cannot live without them. The quality of this photo is not good, I took it quickly, in Nepal, during a visit by the army to the tea plantation where I was staying. That was a few years ago, when the country was experiencing a bloody conflict, but at that particular moment, despite the fighting, the soldiers wanted to put down their weapons and enjoy a good cup of tea.
Posted in Country : Nepal by François-Xavier Delmas | Tags : Nepal, Tea plantation
In the south of Sri Lanka there are many small-scale producers who grow tea and then sell the fresh leaves to one of the local factories. For them, tea represents one source of income among others, and they are not economically dependent on the price if it falls. They are tied by a yearly contract with a guaranteed price. They choose the factory they want to work with, and the factory is responsible for collecting the leaves. It is a fair system.
Posted in Country : Sri Lanka by François-Xavier Delmas | Tags : Sri Lanka, tea pluckers
Every year my friend Gary, who lives in Kunming and runs a tea store there, sends me lots of pu erh samples. Raw pu erhs, cooked pu erhs, pu erhs in cake form or loose, pu erhs of every age, from very young to very old. I always look forward to receiving them. I've known Gary for more than 20 years. He was young when we met and was working for the state organisation in charge of exporting Yunnan teas. He has an excellent knowledge of all the teas produced in south-west China. Tea is his life.
Posted in Country : China by François-Xavier Delmas | Tags : Country : China, Kunning, pu erh
The author
François-Xavier Delmas is a passionate globetrotter. He's been touring the world's tea plantations for more than 20 years in search of the finest teas. As the founder of Le Palais des Thés, he believes that travelling is all about discovering world cultures. From Darjeeling to Shizuoka, from Taiwan to the Golden Triangle, he invites you to follow his trips as well as share his experiences and emotions.
Articles classified by themes
Blogs on tea in English
Blogs on tea in French
Cooking
Links to Le Palais des Thés
Past travels