Category : Tea-producing countries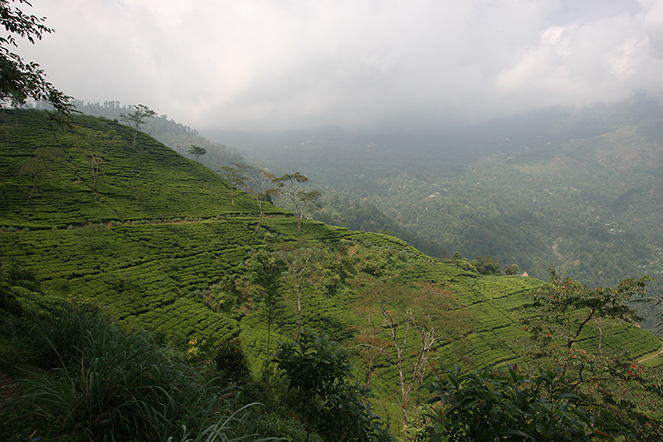 Around the world, much more Darjeeling tea is sold than is actually produced in Darjeeling. There are also considerable differences between gardens in terms of quality, and considerable differences in quality within the same garden. These differences are due to major variations in weather (a garden might produce excellent teas in April, for example, which is impossible in July during the monsoon) and because the same plantation will have tea plants growing at widely varying altitudes. In Tukvar, for example, 1,000 metres in altitude separates the top of the highest plot and the lowest point on the plantation.
So we must be careful when we buy Darjeeling teas, and we should never rely on the name alone, however prestigious it may be. We should also bear in mind that plantations situated on the plains, of mediocre quality, sit alongside those within the appellation, and human nature being what it is, there is a great temptation to sell Terai teas under the Darjeeling name.
Connoisseurs of first-flush Darjeelings must wait a few more weeks to try the new spring harvest. In this region of the world, tea plants are dormant between November and February, as the soil is too cold for Camellia sinensis.
Posted in Country : India by François-Xavier Delmas | Tags : Darjeeling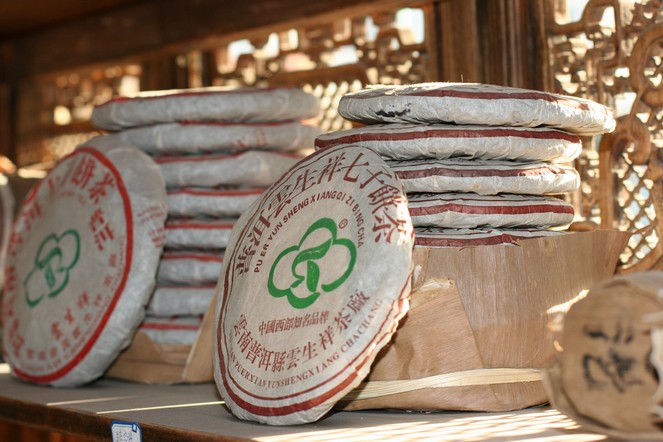 At this time of year, I particularly enjoy drinking Pu Erh after a meal. Firstly, it is said in China that this tea "dissolves fats" and helps prevent cholesterol. Secondly, I like its aroma of wet earth, rotting wood and damp straw; its smell of cowsheds, mushrooms and oak moss; its aroma of cellars, dry wood, liquorice, manes, wax and flint; its vegetal, fruity smell.
From one Pu Erh to another, the variety of olfactory notes is wide, another reason to try this fascinating group of teas, the only ones that undergo real fermentation. It is available loose-leaf or in a "cake". It can be "raw" or "cooked", depending on whether fermentation is done in the traditional manner or accelerated. It can also improve with age, like good wines.
Posted in Country : China by François-Xavier Delmas | Tags : pu er, Pu Er cake, pu erh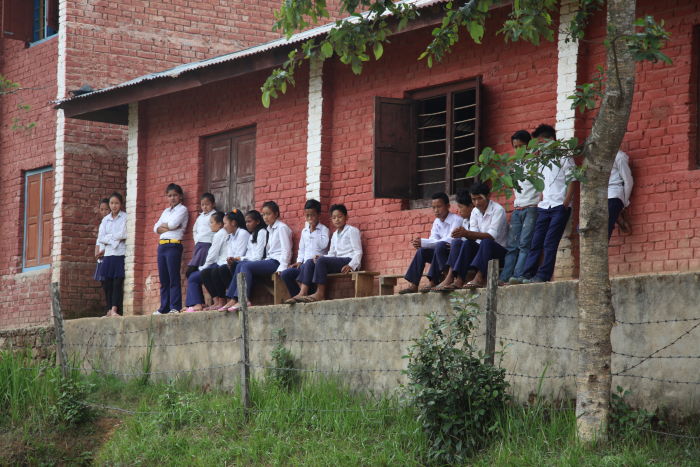 You can say what you like, I remain convinced that education is the key to a society where everyone lives together in harmony. The key to equal opportunities. When I travel through the tea fields, I never miss an opportunity to visit the village school, to chat with the students and the teachers.
Posted in Country : Nepal by François-Xavier Delmas | Tags : Education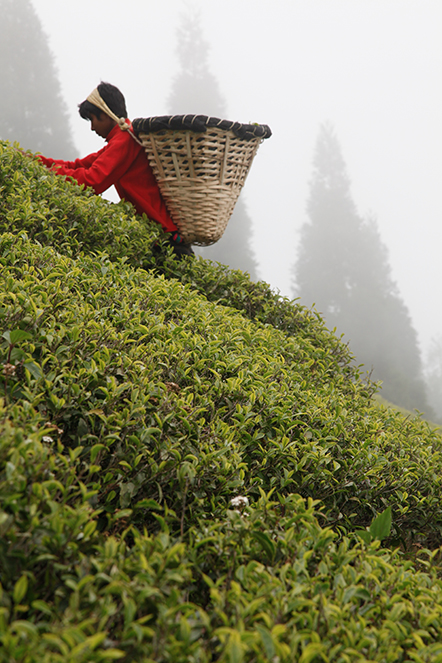 This man dressed in red with a basket on his back, do you recognise him? He is filling his basket with the greatest care, delicately picking the best tea shoots, for you. A few fir trees can be seen through the mist. I hope that, at the bottom of your tree, in a few days' time, he will place the finest teas in the world.
Posted in Country : Nepal by François-Xavier Delmas | Tags : Grands Crus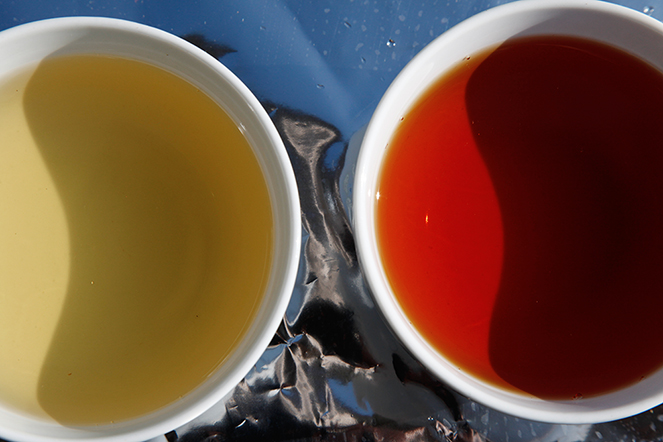 Looking at the liquor is one of the first steps in tea tasting. While the temperature of the cup slowly falls, we pay attention to the colour of the liquid. Green tea produces something pale, while black tea gives a more coppery tone. This does not mean darker tea has been infused for longer, or has a more pronounced fragrance than its neighbour. In fact there are green teas that have a remarkably powerful aroma, even after quite a short infusion. So we cannot conclude from this photo that the most aromatic tea will be the more coloured of the two.
Posted in Country : Nepal, Professional tasting by François-Xavier Delmas | Tags : black tea, green tea, professional tea tasting
The author
François-Xavier Delmas is a passionate globetrotter. He's been touring the world's tea plantations for more than 20 years in search of the finest teas. As the founder of Le Palais des Thés, he believes that travelling is all about discovering world cultures. From Darjeeling to Shizuoka, from Taiwan to the Golden Triangle, he invites you to follow his trips as well as share his experiences and emotions.
Articles classified by themes
Blogs on tea in English
Blogs on tea in French
Cooking
Links to Le Palais des Thés
Past travels