Posted in Country : India, Places I like in Darjeeling by François-Xavier Delmas | Tags : Country : India, Darjeeling, Palais des Thés, Tea, Tea plantation, Tea School, Tumsong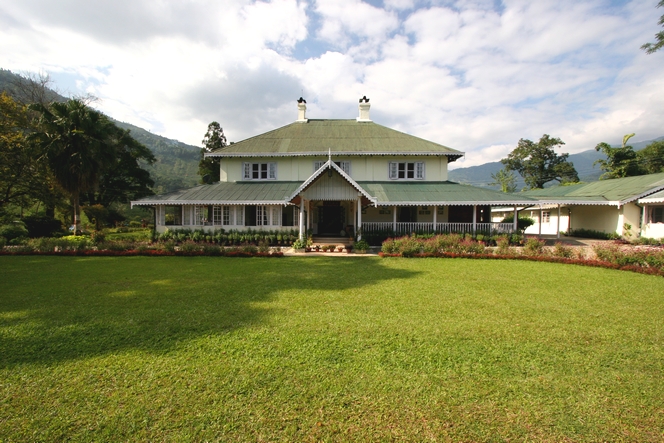 I'm leaving for Darjeeling in a few days. A long trip, hours of plane and four wheel drive. But I go through these hours smoothly as I'm so happy to see these mountains again. Once a year I take with me several people working for Le Palais des Thés. This year Fabienne, in charge of Le Palais des Thés in Lille, Stéphanie from Grenoble, Maud from Paris' rue-Vieille-du-Temple are coming with me among others. I'll soon introduce them to you.
We are first staying at Tumsong Tea Estate, an organically certified tea plantation of Darjeeling which has such a British cottage (photo) ! It's a real pleasure to live in such a great house, nestled in the mountains as it is and exquisitely comfortable. All the more so as Rajiv Gupta, the plantation's manager, keeps an eye on everything and is very concerned of your well-being. We visit his property together, from the factory to the nursery, without forgetting the river's edge where it's nice having a picnic.
These very British cottages are very common in Darjeeling: in each plantation the manager has a similar building, only the size and the style sometimes differ. You can easily stay there in Tumsong if you wish to as contrarily to most plantations, here tourists interested in tea are welcome for one or several nights (www.chiabari.com).
We are also thinking of organizing classes included in Tea School program. Anyone interested?
The author
François-Xavier Delmas is a passionate globetrotter. He's been touring the world's tea plantations for more than 20 years in search of the finest teas. As the founder of Le Palais des Thés, he believes that travelling is all about discovering world cultures. From Darjeeling to Shizuoka, from Taiwan to the Golden Triangle, he invites you to follow his trips as well as share his experiences and emotions.
Articles classified by themes
Blogs on tea in English
Blogs on tea in French
Cooking
Links to Le Palais des Thés
Past travels