Posted in Country : Japan, Recipes by François-Xavier Delmas | Tags : Asahina, Country : Japan, green tea, Kabuse Cha, Maeshima Tohei, Shizuoka, Tea, tea leaves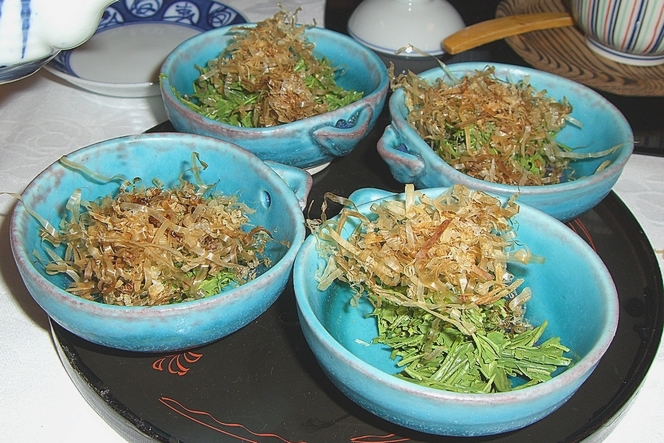 In Japan, people sometimes eat green tea leaves. In that case, it's usually exceptional teas whose leaves have been previously used to prepare tea.
You can see how it is prepaped on the picture: after dropping the wet tea leaves into a container, you add skipjack chips and sprinkle a little bit of soy sauce over the top. It gives you a small tea leaves salad that's absolutely delicious.
Here, in Asahina (Shizuoka prefecture, Japan), the tea used is a great "Kabuse Cha" or "shade tea" manufactured by Mister Maeshima Tohei, one of the most well-known farmers of the area.
One Comment by "In Japan, people eat green tea"
The author
François-Xavier Delmas is a passionate globetrotter. He's been touring the world's tea plantations for more than 20 years in search of the finest teas. As the founder of Le Palais des Thés, he believes that travelling is all about discovering world cultures. From Darjeeling to Shizuoka, from Taiwan to the Golden Triangle, he invites you to follow his trips as well as share his experiences and emotions.
Articles classified by themes
Blogs on tea in English
Blogs on tea in French
Cooking
Links to Le Palais des Thés
Past travels