Posted in Country : China by François-Xavier Delmas | Tags : Country : China, pu er, Tea, tea leaves, withering, Xishuangbanna, Yunnan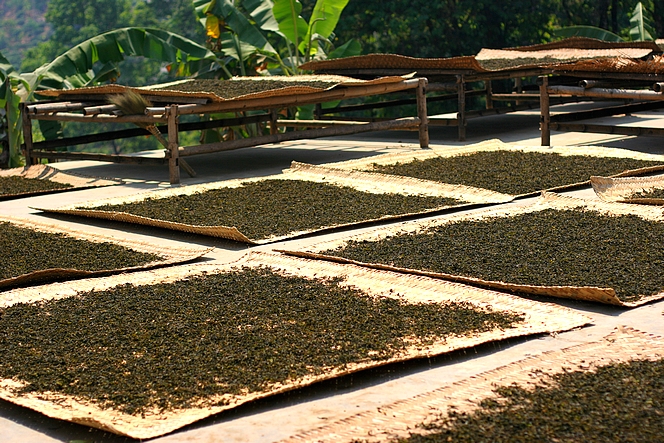 If you ever go to Xishuangbanna (I wish you to because this region of southern Yunnan (China), watered by the Mekong, offers landscapes of great beauty), you might see these mats set on the ground, on which tea is dried.
This is the first step in the making of the famous Pu Er, both considered great for some, terrifying for others, because of its strong smell. Here however, it's only the first stage of production: the leaves wither in the sun for 24 hours, giving off a delicious perfume. It's only later, when the same leaves will ferment 45 days that their smell will change considerably. I'll talk to you again later about it. Meanwhile, enjoy this Xishuangbanna I love, this Celestial Garden as they sometimes call it, with its mountains covered by jungle, its breathtaking gorges. It is both wild and calm. In this part of China, we can really breathe.
One Comment by "Xishuangbanna, celestial garden of Pu Er"
The author
François-Xavier Delmas is a passionate globetrotter. He's been touring the world's tea plantations for more than 20 years in search of the finest teas. As the founder of Le Palais des Thés, he believes that travelling is all about discovering world cultures. From Darjeeling to Shizuoka, from Taiwan to the Golden Triangle, he invites you to follow his trips as well as share his experiences and emotions.
Articles classified by themes
Blogs on tea in English
Blogs on tea in French
Cooking
Links to Le Palais des Thés
Past travels