Category : Le Palais des Thés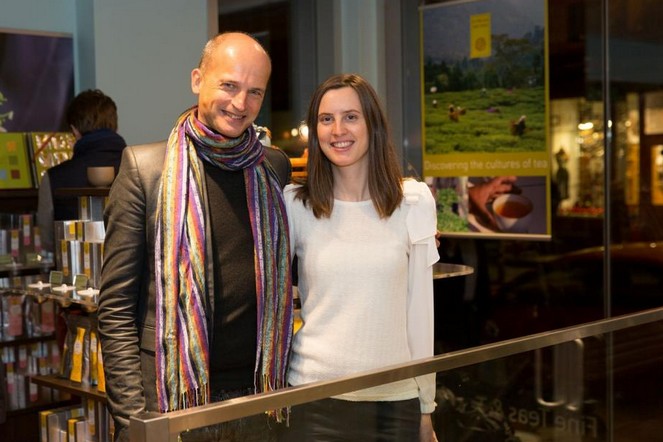 I was lucky enough to travel to New York last week for the opening of the new Palais des Thés store in Soho (156 Prince Street). Here I am with my niece Aurélie Bessière who has been working with her husband Cy for two years to promote the Palais des Thés brand among Americans.
I was delighted to be able to meet dozens of attentive journalists throughout the course of the day. I showed them the best way to make tea, told them all about my work as a tea researcher and "tea sommelier", and answered lots of questions. In the evening, Aurélie and I welcomed many guests.
It was a wonderful occasion and a exciting challenge now lies ahead: to encourage people to appreciate fine teas on that side of the Atlantic.
Posted in Le Palais des Thés by François-Xavier Delmas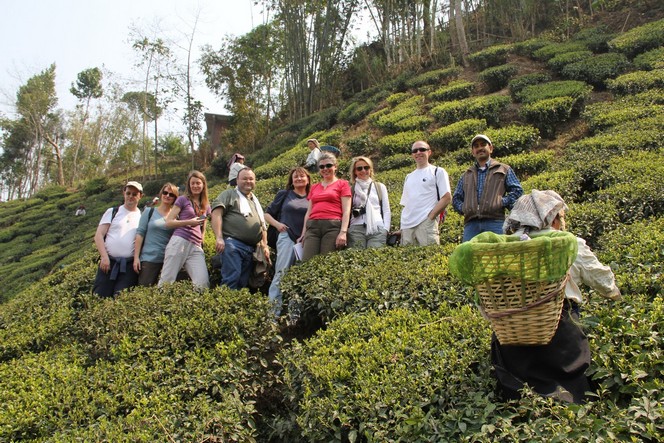 Carine Baudry, who runs the Tea School, travelled to Darjeeling last month accompanied by eight of her students. What a trip! This was a first for Carine, who returned just as enchanted as her fellow travellers, to whom she introduced this magnificent region and the art of producing tea. Carine has often travelled with me in India, Japan and China. But this was the first time she'd had the pleasure of teaching in the production region itself.
On the right, in the blue shirt, is Rajiv Gupta, manager of the Tumsong plantation.
Posted in Country : India, Le Palais des Thés by François-Xavier Delmas | Tags : Carine Baudry, Darjeeling, Tea School, Tumsong
Twenty-five years ago I created Le Palais des Thés to turn my passion into a job, and to share with other enthusiasts the pleasures of tasting the world's best teas. Since she was little, my niece Aurélie has always seen me with a cup of tea in my hand and has listened to my stories of distant travels to the plantations of China and Japan. A year ago, Aurélie, who has grown up to be a great connoisseur of tea herself, decided to start an exciting new venture and a fantastic challenge. Accompanied by Cy, her husband, she has decided to move to the United States and write a new chapter in this family story, by launching Le Palais des Thés in North America.
I am hugely proud of my niece and I know she will succeed – I have seen how passionate she and her husband are. They have a pioneering spirit.
Posted in Le Palais des Thés by François-Xavier Delmas | Tags : Country : China, Country : Japan, cup of tea, Le Palais des Thés, teas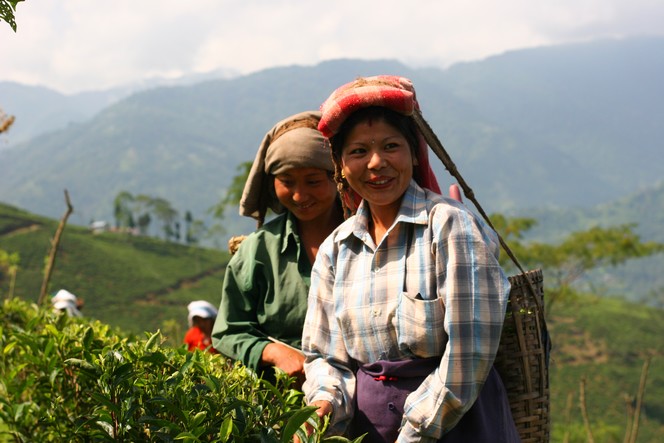 Carine Baudry, head of the Tea School, has just returned from Darjeeling. The trip was organised by the school to allow some of the students to visit the plantations and gain a first-hand understanding of how tea is made. Carine and her eight students stayed in the beautiful surroundings of a tea garden and observed every stage in the production process. They met several planters and were able to ask plenty of questions. They also visited Delmas Bari and admired the breathtaking landscapes of this Himalayan region. And there were plenty of opportunities to meet the smiling tea pluckers, like the two women pictured here.
Posted in Country : India, Le Palais des Thés by François-Xavier Delmas | Tags : Darjeeling, Delmas Bari, tea garden, tea pluckers, Tea School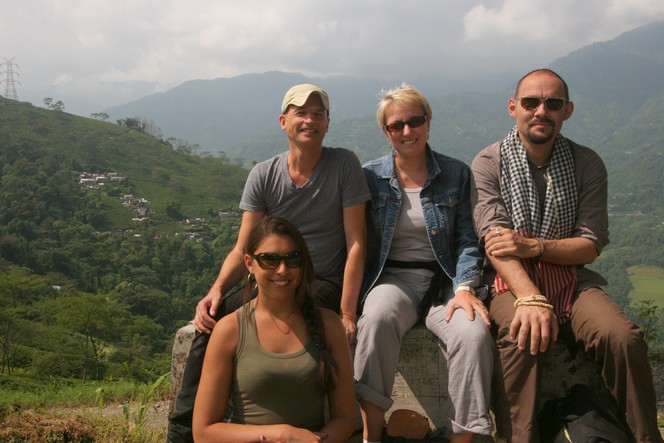 Once a year, I ask some of the senior staff at Le Palais des Thés who have not yet been on a trip with me to pack their bags and accompany me into the tea mountains. There is nothing like a visit to the plantations to compare your theoretical knowledge with reality, and bring a fresh impetus to your learning.
So, in October 2011, here we are: Sarah Daubron (head of customer services), myself, Christine Delétrée (network director) and Paul Roudez (manager of the Rue de l'Annonciation), posing for a group photo by the Tumsong factory in Darjeeling (India).
Posted in Country : India, Le Palais des Thés by François-Xavier Delmas | Tags : Country : India, Darjeeling, Le Palais des Thés, tea mountains, tea plantations, Tumsong
The author
François-Xavier Delmas is a passionate globetrotter. He's been touring the world's tea plantations for more than 20 years in search of the finest teas. As the founder of Le Palais des Thés, he believes that travelling is all about discovering world cultures. From Darjeeling to Shizuoka, from Taiwan to the Golden Triangle, he invites you to follow his trips as well as share his experiences and emotions.
Articles classified by themes
Blogs on tea in English
Blogs on tea in French
Cooking
Links to Le Palais des Thés
Past travels