Category : Country : Japan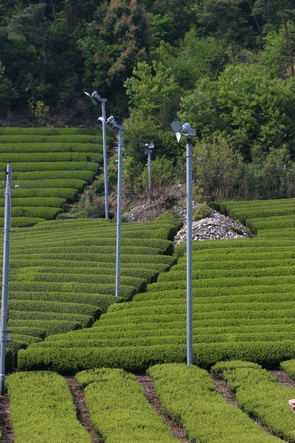 Some sights in the tea fields in Japan are strange. The green rows of tea trees are covered with fans stuck up on top of numerous posts and their metal spikes give contrast to the soft aspects of spring. What can they actually be for? Give a little breeze when the sun is too hot? Certainly not! The fans will fully play their part in the middle of winter. They will be switched on in order to give the atmosphere a stir and prevent the layers of cold air to stay above the trees. These layers of cold air could indeed damage the small trees or slow down their growth.
Posted in Country : Japan, Tea plant by François-Xavier Delmas | Tags : Country : Japan, Shizuoka, tea field, tea fields, Tea plant, tea plants, tea tree, tea trees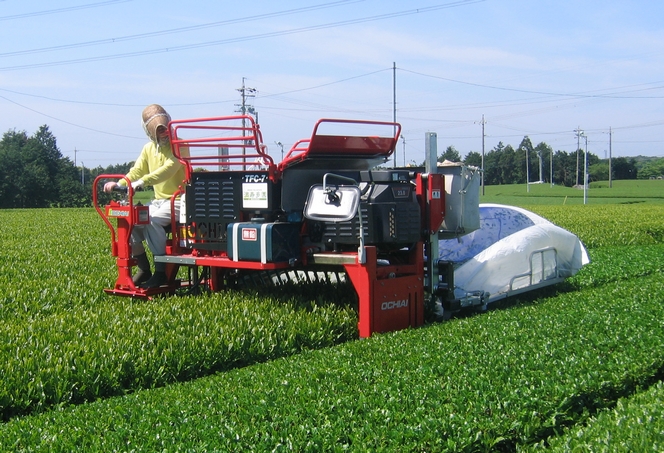 In Japan, tea harvesting is highly mechanized. In the Shizuoka region, which is on the Makinohara plateau and where Sencha teas are produced, you come across some machines that have a very strange way of talking to the tea leaves. And yet these sharp, deft steel fingers don't harm them. With extreme precision, this strange harvester takes just the most tender parts of the shoots.
Posted in Country : Japan by François-Xavier Delmas | Tags : Country : Japan, Makinohara, Sencha, Shizuoka, Tea, tea harvest, tea leaf, tea leaves, teas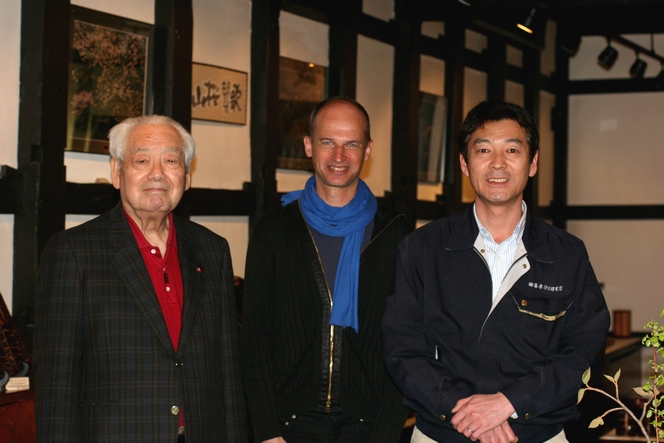 In Japan, all crafts and artisan skills are steeped in tradition. It is reassuring to know that this expertise is handed down through the generations. People here learn from a very young age, by watching their elders at work. Later, they receive plenty of advice. Each generation makes its own contribution, of course, choosing to do something this way instead of that, or being so bold as to invent a new tool.
Today, I'd like to introduce you to Yuichi and Koichi Fujiki. Koichi is the director of the leading company that makes objects in cherry wood. He is Yuichi's son. They are based in Kakunodate, a beautiful town in northern Japan, nestled in the mountains not far from Akita. Yuichi Fujiki's great great grandfather founded the business in around 1867. So Koichi is the sixth generation in the family business. Although he runs the company now, his father has not retired. At the age of 79, he comes into the office every day and continues to advise his son on many matters.
They are charming people, and it was a pleasure to eat a Japanese meal with them. After lunch, Yuichi showed me the very rare cherry wood tea canisters they make. They are true works of art, very finely crafted. The marquetry is remarkable, with subtle nuances in the shades and patterns, in the texture of the bark… They are the result of painstaking and highly skilled artistry!
Posted in Country : Japan by François-Xavier Delmas | Tags : Akita, François-Xavier Delmas, Kakunodate, Koichi Fujiki, Tea, tea caddy, tea canister, tea tin, Yuichi Fujiki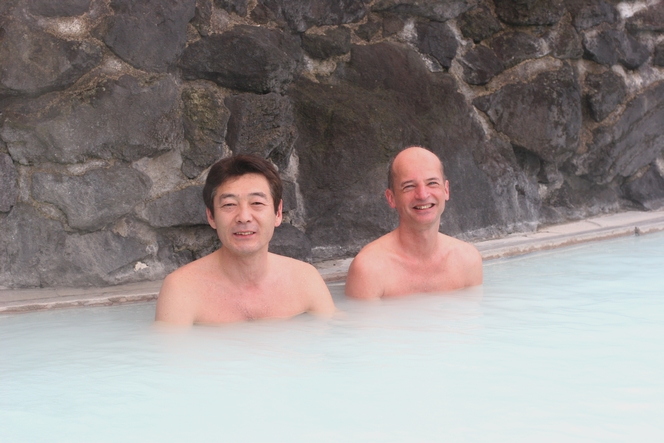 There is a Japanese tradition that is completely unrelated to tea, but I like it so much I want to tell you about it. It is about the famous onsen, the hot springs.
In a volcanic country like Japan, with all that matter fermenting together underground, it is no surprise that boiling water erupts from the ground everywhere. There are many hot springs in the land of the rising sun.
The water temperature is so high that even in the middle of winter, it can make you hot even when your shoulders are exposed to the cold air.
The onsen are an extremely popular destination among the Japanese: they bathe in them to relax, rest and even cure themselves. They spend weekends, even entire vacations, in them. You go to the onsen with your family and your friends. When you go with a client, or a business contact, it is known as « hadaka no tsukiai », or "naked communion". The Japanese believe that bathing together, naked, is a way of showing yourself as you really are, with nothing to hide. This is important, they say, if you want to forge transparent business relations.
Here, near lake Tazawa, the deepest in the country, I am taking part in « hadaka no tsukiai » with Koichi Fujiki, a producer of tea canisters. We want to work together, for a long time, to be able to trust each other in business, without hiding anything. And this is how you do it!
Posted in Country : Japan by François-Xavier Delmas | Tags : Country : Japan, François-Xavier Delmas, Koichi Fujiki, onsen, Tazawa, tea caddy, tea canister, tea tin
During my recent journey to Japan which led me to the north of Honshu at the extreme south of Kyushu, I visited for the first time a lovely city deeply nestled among mountains covered with woods. This city is Kakunodate, located nearby Akita (I'm giving details for the people, like me, who enjoy poking their nose on a map and dream while pointing their finger on imaginary roads).
In Kakunodate the tradition of wood work is still carried on. But not any wood ! Here they are only interested in cherry tree. Objects are carved in its bark, or, in other words, this beautiful bark is turned into a smooth and delicate leaf just like a precious parchment and is then pinned against the desired object:  a tea canister for example.
It is a very slow and meticulous work: once the wet season is over, a sample of bark is taken (approximately ten meters above the ground) and is then left to dry for no less than a year ! This leaves enough time to carefully think about its destiny…
With the help of a small flat-iron, this worker smoothly presses against the bark, after having coasted its back so that it perfectly sticks to the tea canister's body. Of course, before that, she slowly polished the bark with great care,  using the blade of a knife in a repetitive movement  so as to make it surprisingly soft.
I'm admiringly watching her, in the silence surrounding her workshop. Once the tea canister is finished, she strokes it and holds it out to me with a discreet pride and I'm thinking about the beautiful Japanese green tea which will be a perfect case for it.
Posted in Country : Japan by François-Xavier Delmas | Tags : Akita, cherry bark, cherry tree, Country : Japan, green tea, Kakunodate, tea caddy, tea canister, tea tin
The author
François-Xavier Delmas is a passionate globetrotter. He's been touring the world's tea plantations for more than 20 years in search of the finest teas. As the founder of Le Palais des Thés, he believes that travelling is all about discovering world cultures. From Darjeeling to Shizuoka, from Taiwan to the Golden Triangle, he invites you to follow his trips as well as share his experiences and emotions.
Articles classified by themes
Blogs on tea in English
Blogs on tea in French
Cooking
Links to Le Palais des Thés
Past travels
Community