Category : Country : Japan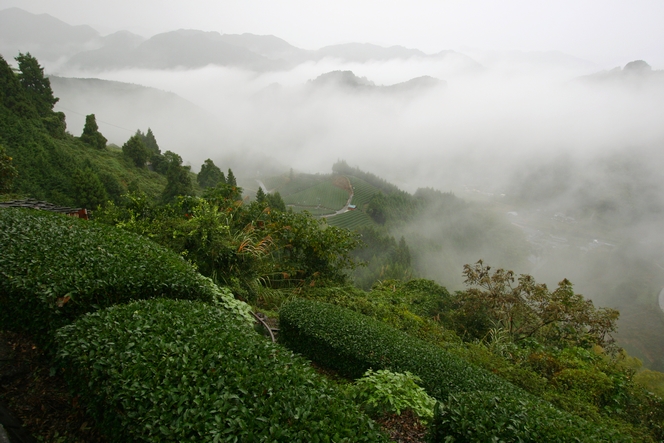 A typhoon has just swept through Japan, from the south to the north. I don't know what delayed it, because it was very late; typhoons normally hit Japan in September. Violent winds flip your umbrella inside out and rain drenches you from head to toe.
It seems I didn't choose the best day to visit Ryogôchi and admire these mountains, where some very high quality Gyokuro and Sencha teas are grown. However, this abundance of clouds does add to the mystery of the place. Although the village itself is slightly hidden, along with the river Okitsugawa, you can still make out some shapes, and it is very Japanese to suggest, rather than to assert.
Posted in Country : Japan by François-Xavier Delmas | Tags : Country : Japan, Gyokuro, Ryogôchi, Sencha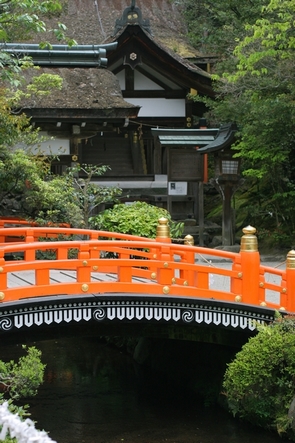 I am writing this in the city where time stands still, where thousands of temples are hidden, where the gardens are of moss or of stone, but always invite contemplation. Here, everything is silent, beautiful, refined.
Those on a journey of self-discovery can loose themselves among the narrow paved streets. Will you see reflected in the surface of the stream the geisha about to cross the bridge, her face whitened with rice powder and protected from the sun by a delicate parasol? Will you hear the clicking of her pretty wooden clogs? They echo to the beating of a heart: perhaps mine, perhaps yours. This is Kyoto.
Posted in Country : Japan, Places I like in Kyoto by François-Xavier Delmas | Tags : Country : Japan, Kyoto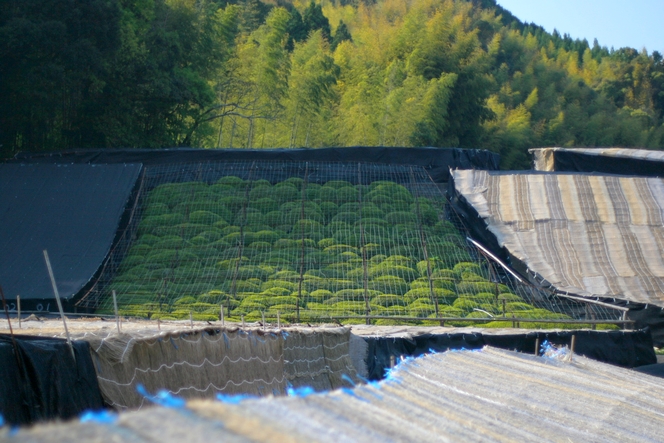 In Japan, there are teas grown in the light, and teas grown in the shade. These shaded teas, which are called "Kabusecha" here, are deprived of light for three weeks before harvest. This inhibits the process of photosynthesis in the leaves, meaning the tea plant must draw heavily on its own store of nutrients. This changes the chemical composition of the leaves as well as the aromatic properties.
In terms of flavour, it makes the tea smoother and more delicate, and it develops less bitterness. The best known "Kabusecha" tea is called Gyokuro, which has distinctive dark green, fine, glossy leaves.
In this photo I took very near Shizuoka, you can see how some of the tea plants have been covered by a large tarpaulin to shade them from the light.
Posted in Country : Japan by François-Xavier Delmas | Tags : Country : Japan, Gyukuro, Kabusecha, light teas, shaded teas, Shizuoka, tea plants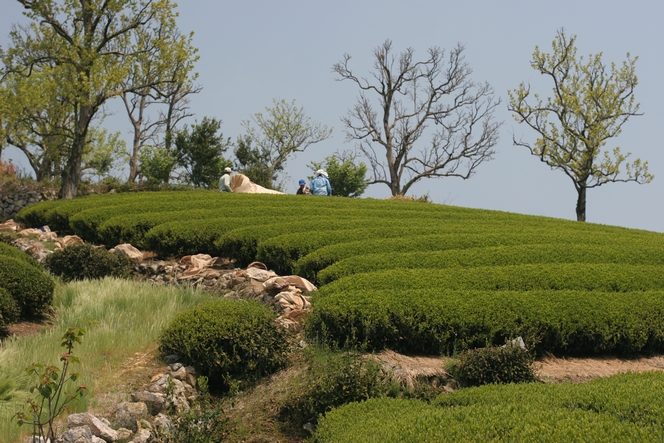 As you read this, I will be arriving in the Land of the Rising Sun. I am here because every three years, a celebration of green tea is held in the Shizuoka region: the O'Cha Festival. It is an opportunity to meet many farmers who grow tea in the surrounding mountains and who leave their tea plants to come and meet other growers, customers and journalists. At the festival, you can try many teas, or watch a matcha tea being made, or a temomi cha, the tea that is entirely processed by hand.
Drinking green tea, whether a superior quality or an everyday brew, is part of Japanese culture. The Japanese serve green tea throughout the day and even drink it while walking in the street, getting it from the numerous vending machines you see everywhere in the country. The Japanese ceremony of Cha no Yu is deeply rooted in tradition, going back more than 500 years, like the Ikebana art of flower arranging, for example.
At the O'Cha Festival, you can taste some very special teas. Several competitions are held during the fair to select the best green teas of the year.
The farmers are immensely proud of the recognition this brings their tea. Here is one family in the middle of harvesting a sencha. Their plot is not big, but their tea is worth its weight in gold.
Posted in Country : Japan by François-Xavier Delmas | Tags : Country : Japan, green tea, matcha, O'Cha Festival, Sencha, Shizuoka, Tea, tea plants, temoni cha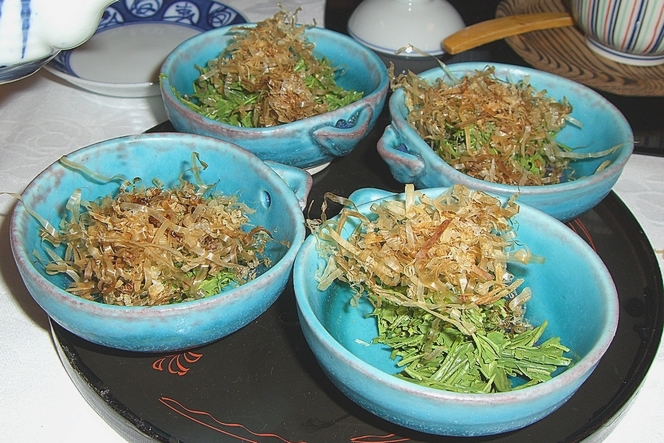 In Japan, people sometimes eat green tea leaves. In that case, it's usually exceptional teas whose leaves have been previously used to prepare tea.
You can see how it is prepaped on the picture: after dropping the wet tea leaves into a container, you add skipjack chips and sprinkle a little bit of soy sauce over the top. It gives you a small tea leaves salad that's absolutely delicious.
Here, in Asahina (Shizuoka prefecture, Japan), the tea used is a great "Kabuse Cha" or "shade tea" manufactured by Mister Maeshima Tohei, one of the most well-known farmers of the area.
Posted in Country : Japan, Recipes by François-Xavier Delmas | Tags : Asahina, Country : Japan, green tea, Kabuse Cha, Maeshima Tohei, Shizuoka, Tea, tea leaves
The author
François-Xavier Delmas is a passionate globetrotter. He's been touring the world's tea plantations for more than 20 years in search of the finest teas. As the founder of Le Palais des Thés, he believes that travelling is all about discovering world cultures. From Darjeeling to Shizuoka, from Taiwan to the Golden Triangle, he invites you to follow his trips as well as share his experiences and emotions.
Articles classified by themes
Blogs on tea in English
Blogs on tea in French
Cooking
Links to Le Palais des Thés
Past travels