Category : Country : Japan
In most tea-producing countries, tea leaves are harvested by hand. Japan is an exception, the main reason being the high cost of manpower. However, the sophisticated machinery used by Japanese farmers allows them to be very precise when harvesting. Only the young shoots are picked, which are then sorted with the most rigorous standards, in the factory, using machines with electronic eyes.
Posted in Country : Japan by François-Xavier Delmas | Tags : mechanical, tea harvest, Tea plantation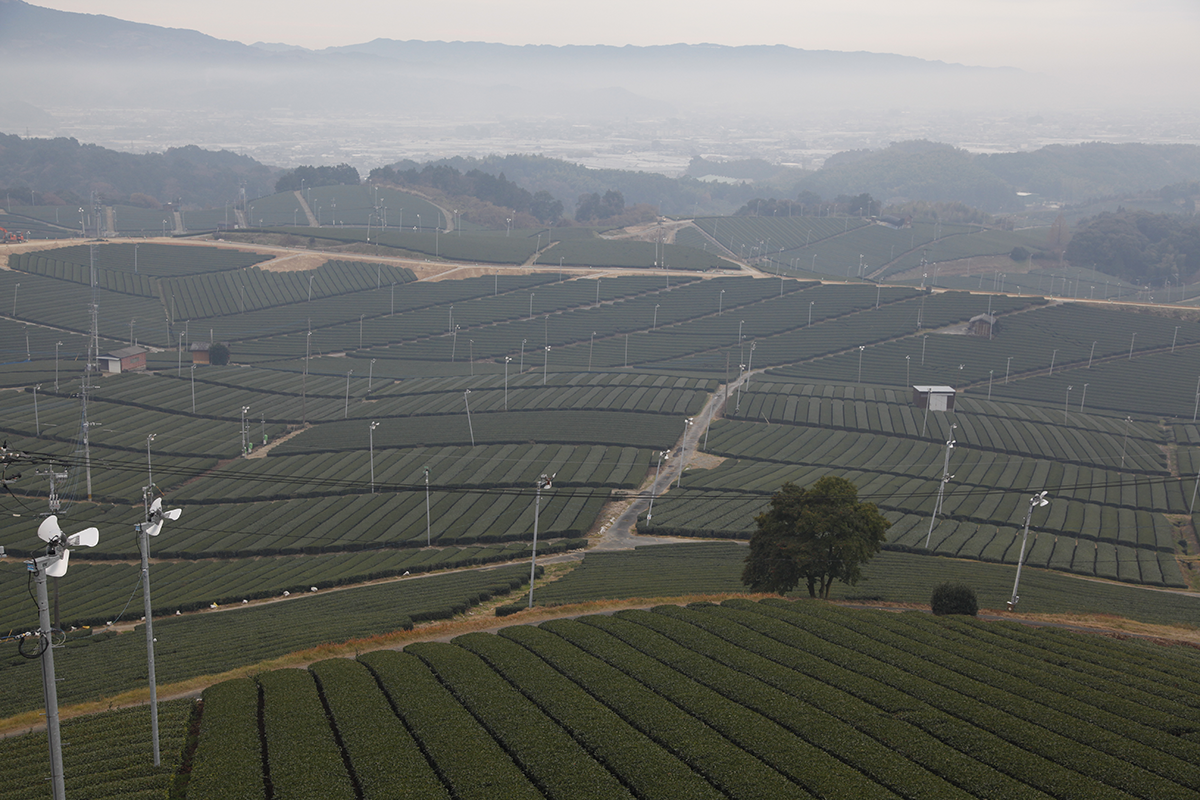 Since the start of May, I've been tasting and choosing the best teas of the season from Japan. They're called Ichibanchas because they're the first to be harvested in the year. Japanese teas come from the regions of Shizuoka and Uji, and in the south of the archipelago. In the north of the country, the tea plant grown everywhere is Yabukita, whereas in the south, with its warmer climate, less Yabukita is grown. For example, here, near Kagoshima, the Yutaka Midori cultivar dominates, and represents nearly 60% of production.
Posted in Country : Japan by François-Xavier Delmas | Tags : ichibancha, Japanese teas, Yabukita
On the island of Kyushu in Japan, it isn't unusual to find a volcano in your field of vision. As someone who enjoys photography, this makes me very happy. The outline of these lava giants emphasises the controlled horizontality of the tea plants. They disrupt a rather too orderly landscape. They also remind us that the duration of harvests, the duration of seasons, the duration of human life, quite simply, is infinitesimal. Here is Mount Kaimon, which has a silhouette similar to that of Mont Fuji.
Posted in Country : Japan by François-Xavier Delmas | Tags : landscape, tea harvest, volcano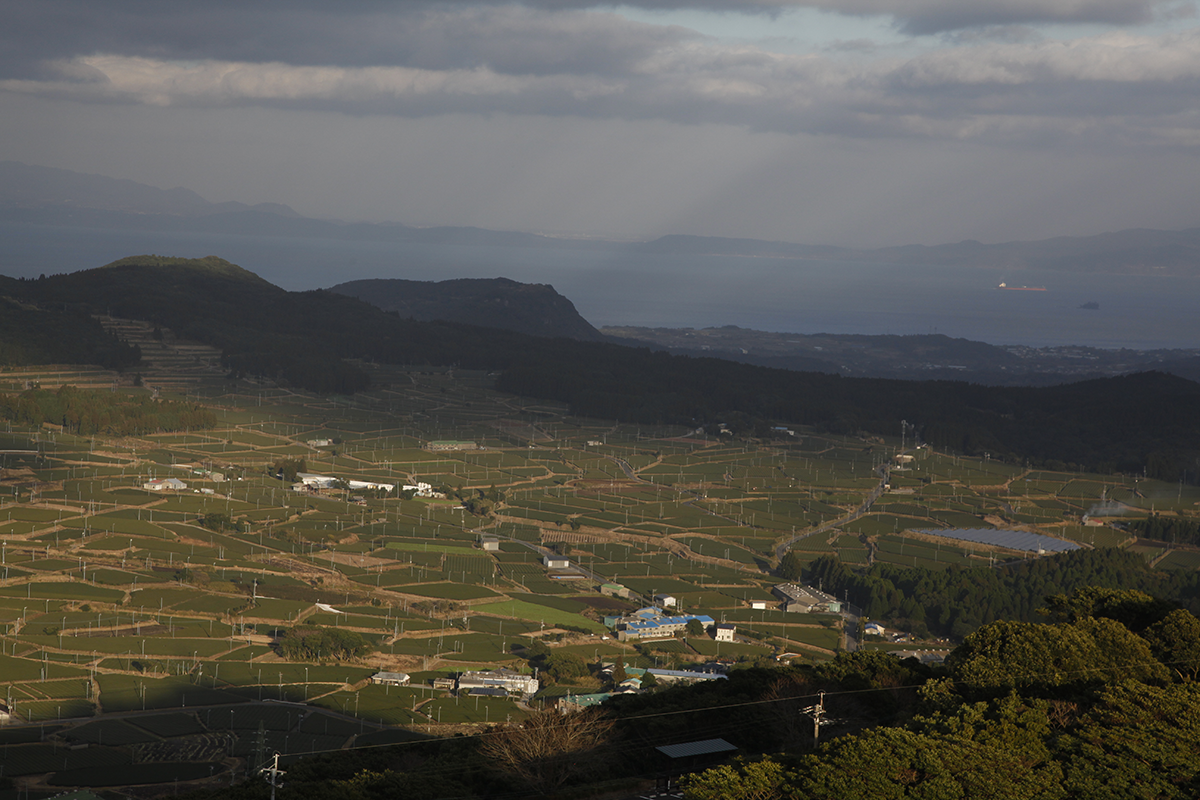 Right down to the extreme south of Japan you can find these tea fields. They are recognisable for being spiked with fans, which are installed to prevent cold air from lingering around the tea plants. Here, I'm close to Kagoshima Bay, visible in the background, an important tea-producing region in the archipelago.
Posted in Country : Japan by François-Xavier Delmas | Tags : Japanese teas, tea fields, travel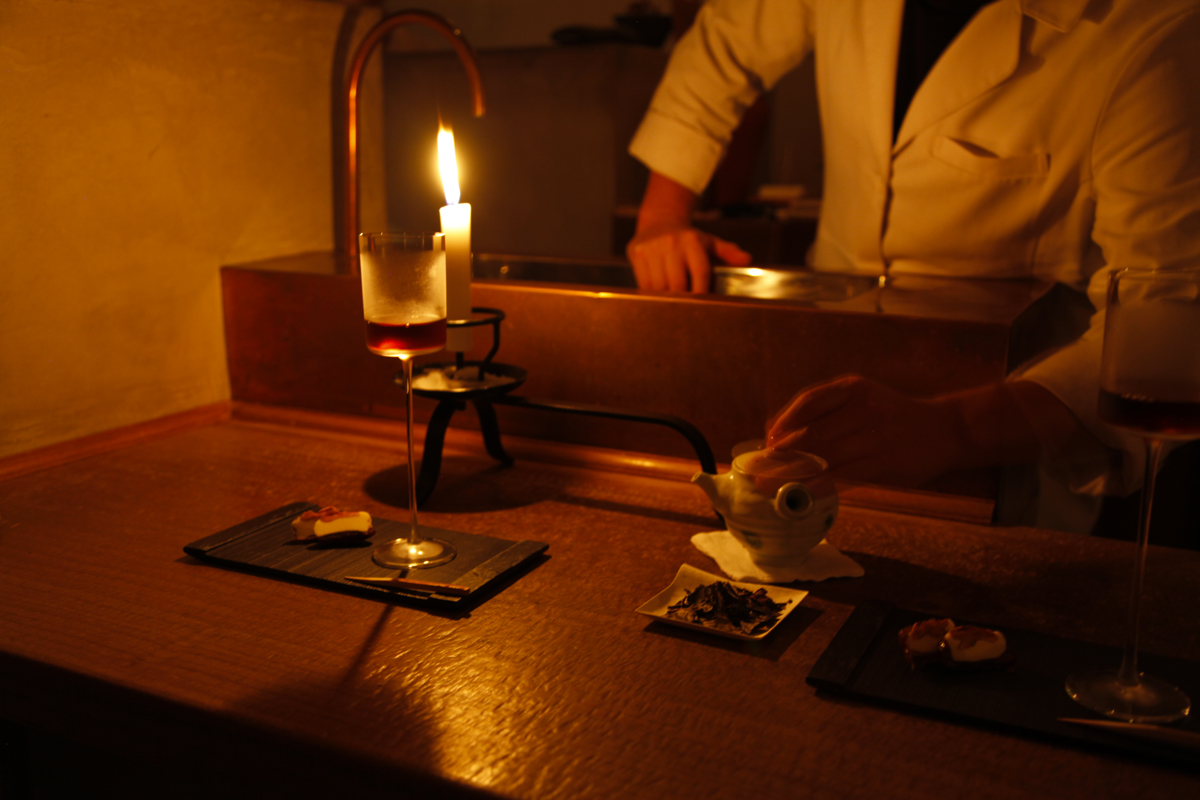 The Japanese city of Fukuoka may not get many Western tourists, but if you go there and you like new gastronomical experiences, you should go to Yorozu. You need to book in advance, you need to speak Japanese, or go with someone who speaks the language, it's essential, and you need a couple of hours free. Then, let yourself be guided, and Suguru Tokubuchi will introduce you to pairings of food with tea and various alcohols, dishes prepared in front of you in an intimate setting, which makes every sip even more precious, every mouthful chosen to accompany one of the cocktails. It's a unique experience.
Posted in Country : Japan by François-Xavier Delmas | Tags : Experience, gastronomy, Yorozu
The author
François-Xavier Delmas is a passionate globetrotter. He's been touring the world's tea plantations for more than 20 years in search of the finest teas. As the founder of Le Palais des Thés, he believes that travelling is all about discovering world cultures. From Darjeeling to Shizuoka, from Taiwan to the Golden Triangle, he invites you to follow his trips as well as share his experiences and emotions.
Articles classified by themes
Blogs on tea in English
Blogs on tea in French
Cooking
Links to Le Palais des Thés
Past travels