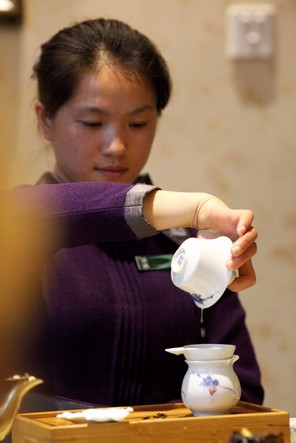 In China, there are various ways of using the "zhong". This recipient – also known as a "gaiwan" – can be used as a cup in which the tea infuses. You drink directly from it, retaining the cover and leaving a slight gap to hold back the leaves.
The "zhong" can also be used as a teapot for "gong-fu", in which several short infusions are prepared. After each one, every last drop of tea is poured into a reserve pot, from which the guests' tiny cups are filled.
Everyone then gets to taste a tea with particularly concentrated aromas, and to observe the changes in the liquor's texture and fragrances, infusion after infusion.
Posted in Country : China by François-Xavier Delmas | Tags : Country : China, Gong Fu Cha, Tea, teapot, zhong
The author
François-Xavier Delmas is a passionate globetrotter. He's been touring the world's tea plantations for more than 20 years in search of the finest teas. As the founder of Le Palais des Thés, he believes that travelling is all about discovering world cultures. From Darjeeling to Shizuoka, from Taiwan to the Golden Triangle, he invites you to follow his trips as well as share his experiences and emotions.
Articles classified by themes
Blogs on tea in English
Blogs on tea in French
Cooking
Links to Le Palais des Thés
Past travels