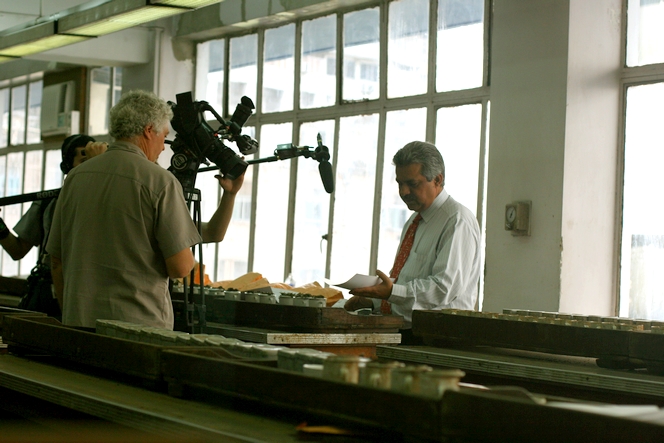 There are not many documentaries on tea, so when one comes up on television we shouldn't miss it. As part of its Global Drinks series, France 5 is showing a documentary called "Thé pour tous" (Tea for all), this Sunday at 2.45pm. The report lasts 52 minutes, which is quite exceptional. The director Stefano Tealdi travelled through various countries including Japan, Taiwan, the UK and India, and also stopped in Paris. We met a year ago and I agreed to him accompanying me into the tea mountains. So in February, we met in Kolkata. We then took the Darjeeling route in the company of Sandro DeFrino, his camera man, and Angelo Galeano, his sound recordist.
It is not easy to travel with a TV crew in places you love, on the other side of the world. It's a bit like being with a bull in a china shop. But with Stefano, Angelo and Sandro it was real pleasure; all of them treated everyone we met with great respect, and they showed a deep understanding of the nuances of local identities. It's a rare thing. I was very pleased to have met them. I think we started to develop a friendship and I'm looking forward to seeing their film.
In this photo, taken in Kolkata, Stefano Tealdi, with his back to the camera, is talking to Krishan Katyal, director of the tea auctioneers J Thomas & Co. Krisham is one of the leading experts in India, and I'm sure I'll be telling you more about him another time.
Ps: for the people who, like me, do not have the television, you can clic here http://documentaires.france5.fr/documentaires/global-drinks/pour-tous to view the programme until October 24th
Posted in Country : India by François-Xavier Delmas | Tags : Country : India, France 5, Kolkata, Krishan Katyal, Stefano Tealdi, Tea, tea documentary
The author
François-Xavier Delmas is a passionate globetrotter. He's been touring the world's tea plantations for more than 20 years in search of the finest teas. As the founder of Le Palais des Thés, he believes that travelling is all about discovering world cultures. From Darjeeling to Shizuoka, from Taiwan to the Golden Triangle, he invites you to follow his trips as well as share his experiences and emotions.
Articles classified by themes
Blogs on tea in English
Blogs on tea in French
Cooking
Links to Le Palais des Thés
Past travels