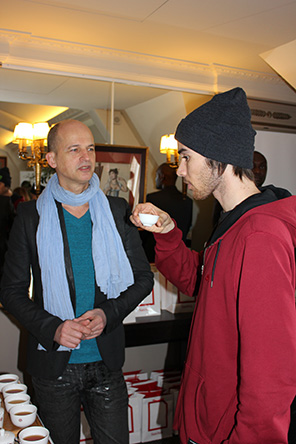 At the end of February I was invited to lead a tasting session for some actors, most of whom had been nominated for a César award. Throughout the day, they arrived at a suite in a Paris hotel. Among them was also Kevin Rolland, Olympic Gold medallist at Sotchi (see photo), as well as television presenters and journalists. I enjoyed introducing them to some Grand Cru teas such as Dong Ding, Tawaramine, Dan Cong and Jukro. And I surprised them with Pu Erh. Many of them really appreciated this astonishing tea. They stuck their nose into the infused leaves, which reminded some of a walk through the forest, others of a stay on a farm. An olfactory journey.
Posted in Palais des Thés by François-Xavier Delmas | Tags : François-Xavier Delmas, Grands Crus, tea tasting
The author
François-Xavier Delmas is a passionate globetrotter. He's been touring the world's tea plantations for more than 20 years in search of the finest teas. As the founder of Le Palais des Thés, he believes that travelling is all about discovering world cultures. From Darjeeling to Shizuoka, from Taiwan to the Golden Triangle, he invites you to follow his trips as well as share his experiences and emotions.
Articles classified by themes
Blogs on tea in English
Blogs on tea in French
Cooking
Links to Le Palais des Thés
Past travels