About
Behind success lies passion… And behind the success of Le Palais des Thés lies the passion of its director, François-Xavier Delmas.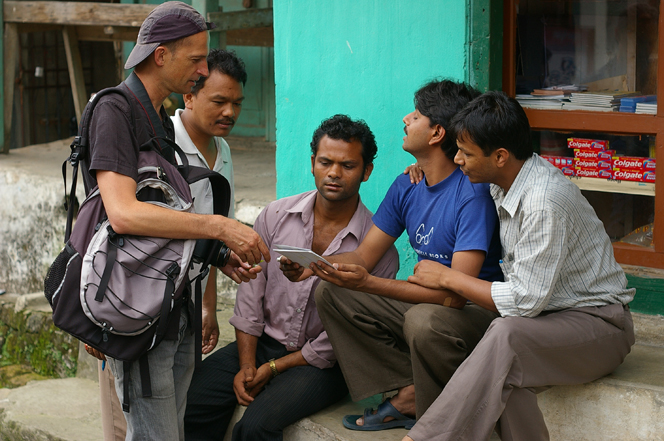 There is nothing in François-Xavier Delmas' early life to suggest his later career as a tea merchant or long-distance traveller. His father was a government finance auditor, his mother a coffee connoisseur; but nothing in particular predestined him for the tea trade.
Yet today, he is internationally recognised for his experience, and his knowledge of the sector has made Le Palais des Thés one of the leading direct importers of the finest teas harvested around the world.
François-Xavier Delmas is particularly passionate about two aspects of his work: travelling around the plantations on his quest for the best teas, and exercising his skills as a taster. His work depends on his excellent relations with suppliers and the expertise he has built up over 22 years since founding Le Palais des Thés.
His aim has always been clear: to offer the highest quality teas not otherwise available in Paris. Not wishing to limit himself to the traditional blends on offer from the main European importers, he decided to go direct to the source himself, to the producing countries.
Since then, every year, François-Xavier Delmas has visited the plantations and tasted many different teas.
He still spends more than half the year travelling through tea-producing countries like Nepal, India, China and Japan in search of the best pluckings. His strict criteria for selecting teas are applied back in Paris too, with daily tasting sessions at the offices of Le Palais des Thés where thousands of samples arrive each year from the growers.
At the high point in the season, in the spring, the team taste more than 200 teas every day before selecting the best brews and the freshest leaves, those that stand out for their aromatic richness and perfectly balanced flavours.
In 2007, François-Xavier Delmas and Mathias Minet brought out "Le Guide de Dégustation de l'Amateur de Thé", published by Editions du Chêne. In this guide to tea they describe the producers, gardens and plantations that have impressed them during 20 years of travels. François-Xavier Delmas also reveals his tasting secrets and his tips for preparing and enjoying the teas at their best.
François-Xavier Delmas loves to share his passion. Every year he takes a small team of between 5 and 10 colleagues to visit the plantations, observe the processing of the leaves and meet the growers.
The author
François-Xavier Delmas is a passionate globetrotter. He's been touring the world's tea plantations for more than 20 years in search of the finest teas. As the founder of Le Palais des Thés, he believes that travelling is all about discovering world cultures. From Darjeeling to Shizuoka, from Taiwan to the Golden Triangle, he invites you to follow his trips as well as share his experiences and emotions.
Articles classified by themes
Blogs on tea in English
Blogs on tea in French
Cooking
Links to Le Palais des Thés
Past travels