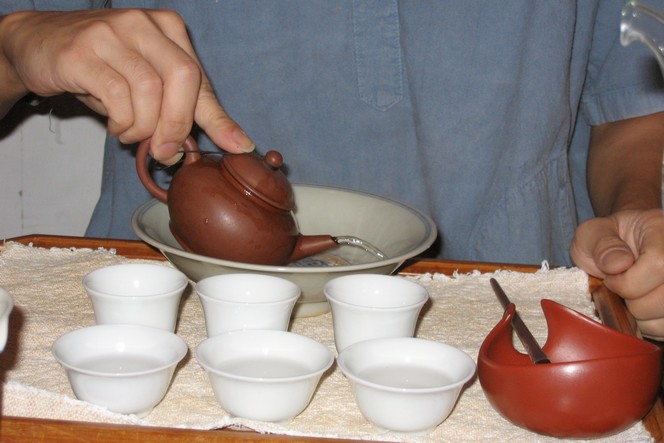 In Taiwan and in some regions of China, tea is prepared according to the Gong Fu method. This requires a very small teapot, smelling cups, tasting cups and a tea boat, a hollow vessel into which you pour the water used to rinse the tea and the cups.
The Gong Fu method consists of infusing the same tea leaves repeatedly for just a few seconds at a time. Each infusion, known as "water", releases new aromas, until there are no more.
This method is particularly appropriate for the preparation of certain Wu Long or Pu Er teas. On Sunday I tasted a 2008 Pu Er Xiao using this method: it was a real treat.
Posted in Country : Taiwan by François-Xavier Delmas | Tags : Country : China, Gong Fu Cha, Taïwan, Tea, tea leaves, teapot
The author
François-Xavier Delmas is a passionate globetrotter. He's been touring the world's tea plantations for more than 20 years in search of the finest teas. As the founder of Le Palais des Thés, he believes that travelling is all about discovering world cultures. From Darjeeling to Shizuoka, from Taiwan to the Golden Triangle, he invites you to follow his trips as well as share his experiences and emotions.
Articles classified by themes
Blogs on tea in English
Blogs on tea in French
Cooking
Links to Le Palais des Thés
Past travels