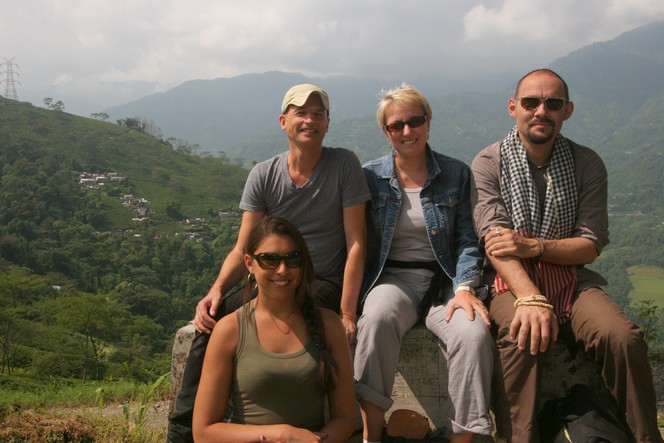 Once a year, I ask some of the senior staff at Le Palais des Thés who have not yet been on a trip with me to pack their bags and accompany me into the tea mountains. There is nothing like a visit to the plantations to compare your theoretical knowledge with reality, and bring a fresh impetus to your learning.
So, in October 2011, here we are: Sarah Daubron (head of customer services), myself, Christine Delétrée (network director) and Paul Roudez (manager of the Rue de l'Annonciation), posing for a group photo by the Tumsong factory in Darjeeling (India).
Posted in Country : India, Palais des Thés by François-Xavier Delmas | Tags : Country : India, Darjeeling, Palais des Thés, tea mountains, tea plantations, Tumsong
The author
François-Xavier Delmas is a passionate globetrotter. He's been touring the world's tea plantations for more than 20 years in search of the finest teas. As the founder of Le Palais des Thés, he believes that travelling is all about discovering world cultures. From Darjeeling to Shizuoka, from Taiwan to the Golden Triangle, he invites you to follow his trips as well as share his experiences and emotions.
Articles classified by themes
Blogs on tea in English
Blogs on tea in French
Cooking
Links to Le Palais des Thés
Past travels