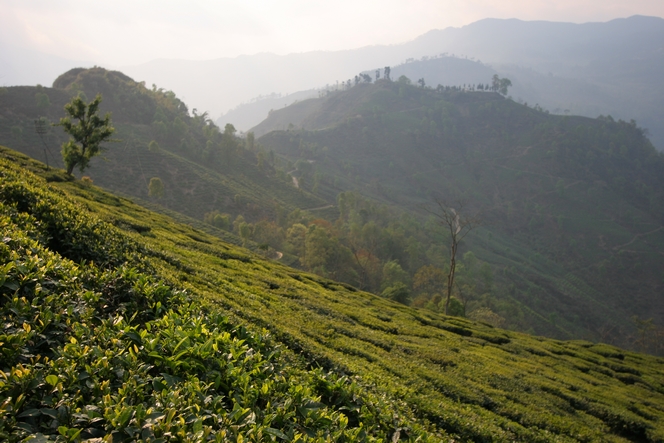 Because of the heightened unrest in Darjeeling this year, I have had to alter my plans. The movement in favour of the region's independence will decide today whether or not to block all the roads and shut down the shops again. So instead of visiting the Balasun plantation in the Kurseong region, I have decided to take a detour east. My friend Abhishek Dev, the grower at the Teesta Valley Tea Estate, came to collect me a short while ago from Bagdogra airport, and took me to his bungalow. Teesta Valley Tea Estate is in the extreme east of Darjeeling and from here, I can decide whether to go to Darjeeling city or not, depending on the turn of events tomorrow. At least, thanks to  Abhishek, I have the latest news from Darjeeling and on the forthcoming harvest. And this evening, I can also meet the growers from Gielle, Runglee Rungliot and maybe Namring. These four tea plantations, situated at quite a distance from Darjeeling city but, of course, within the prestigious "appellation", are some of the most beautiful in the region. In this photo you can see the view I have from here, in the late afternoon, walking towards the Gielle Tea Estate.
Posted in Country : India by François-Xavier Delmas | Tags : Balasun, Country : India, Darjeeling, Gielle, Kurseong, Namring, Runglee Rungliot, tea plantations, Teesta Valley
The author
François-Xavier Delmas is a passionate globetrotter. He's been touring the world's tea plantations for more than 20 years in search of the finest teas. As the founder of Le Palais des Thés, he believes that travelling is all about discovering world cultures. From Darjeeling to Shizuoka, from Taiwan to the Golden Triangle, he invites you to follow his trips as well as share his experiences and emotions.
Articles classified by themes
Blogs on tea in English
Blogs on tea in French
Cooking
Links to Le Palais des Thés
Past travels