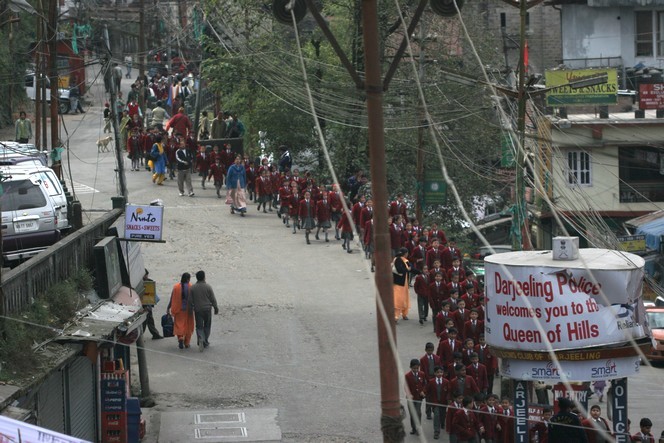 In Darjeeling, like everywhere else in India, school uniform is taken seriously. At every level of the education system, school colours are worn with pride. Here, the boys and girls are wearing the school crest embroidered on their blazers, and perfectly knotted ties.  I imagine one of the benefits of this system is to iron out differences in social backgrounds.
This morning parade gives me the opportunity to show you a street in Darjeeling. This is Nehru Road, where my hotel is. Look at the complex networks of electrical cables. They inspire respect for the engineers, who must have a very difficult job with repairs.
You will also notice that in this city, affectionately known as the "Queen of the Mountains", the Darjeeling police, despite the battered air of their station, extend a warm welcome to visitors!
Posted in Country : India, Places I like in Darjeeling by François-Xavier Delmas | Tags : Country : India, Darjeeling, Nehru Road
The author
François-Xavier Delmas is a passionate globetrotter. He's been touring the world's tea plantations for more than 20 years in search of the finest teas. As the founder of Le Palais des Thés, he believes that travelling is all about discovering world cultures. From Darjeeling to Shizuoka, from Taiwan to the Golden Triangle, he invites you to follow his trips as well as share his experiences and emotions.
Articles classified by themes
Blogs on tea in English
Blogs on tea in French
Cooking
Links to Le Palais des Thés
Past travels