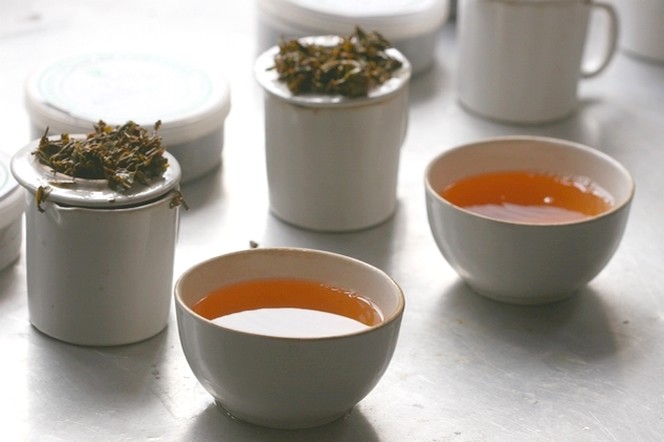 Once the tea is infused you have a wait a little bit of time before enjoying it. I grab this opportunity to smell the wet tea leaves and look around the tasting room flooded with northern light. While in the teacup the temperature goes from the infusion temperature (around 85 – 90 degrees for a black tea) to the tasting temperature (around 50 degrees), I take out my camera and turn around the teacups searching for the best possible angle. There's no hurry here in Barnsbeg (India), life goes on slowly. I take a picture of the tasting set just for the pleasure of capturing a shimmer or a colour, a shadow or a line on the teacup's surface. And my thoughts go on drifting, just like a travelling wave.
This is call taking time. The time for tea, simply.
Posted in Country : India by François-Xavier Delmas | Tags : Barnsbeg, black tea, Country : India, Tea, time for tea
The author
François-Xavier Delmas is a passionate globetrotter. He's been touring the world's tea plantations for more than 20 years in search of the finest teas. As the founder of Le Palais des Thés, he believes that travelling is all about discovering world cultures. From Darjeeling to Shizuoka, from Taiwan to the Golden Triangle, he invites you to follow his trips as well as share his experiences and emotions.
Articles classified by themes
Blogs on tea in English
Blogs on tea in French
Cooking
Links to Le Palais des Thés
Past travels