To create the ideal tasting conditions, you need quality tea, you have to pay attention to the quality and the temperature of the water, the brewing time and, of course, the recipient. Avoid large teapots, because they are detrimental to the quality of infusion. To get the very best out of your tea, including and above all the rarest teas of all, the material and the size of the recipient are essential. Here is an inspirational tasting session for the famous designer, Patrick Norguet. His goal is to understand my trade, to understand the imperatives and the expectations, so that, one day, he can create the ideal object for tasting tea. I am looking forward to it.
Posted in Professional tasting by François-Xavier Delmas | Tags : meeting, professional tea tasting, tea tasting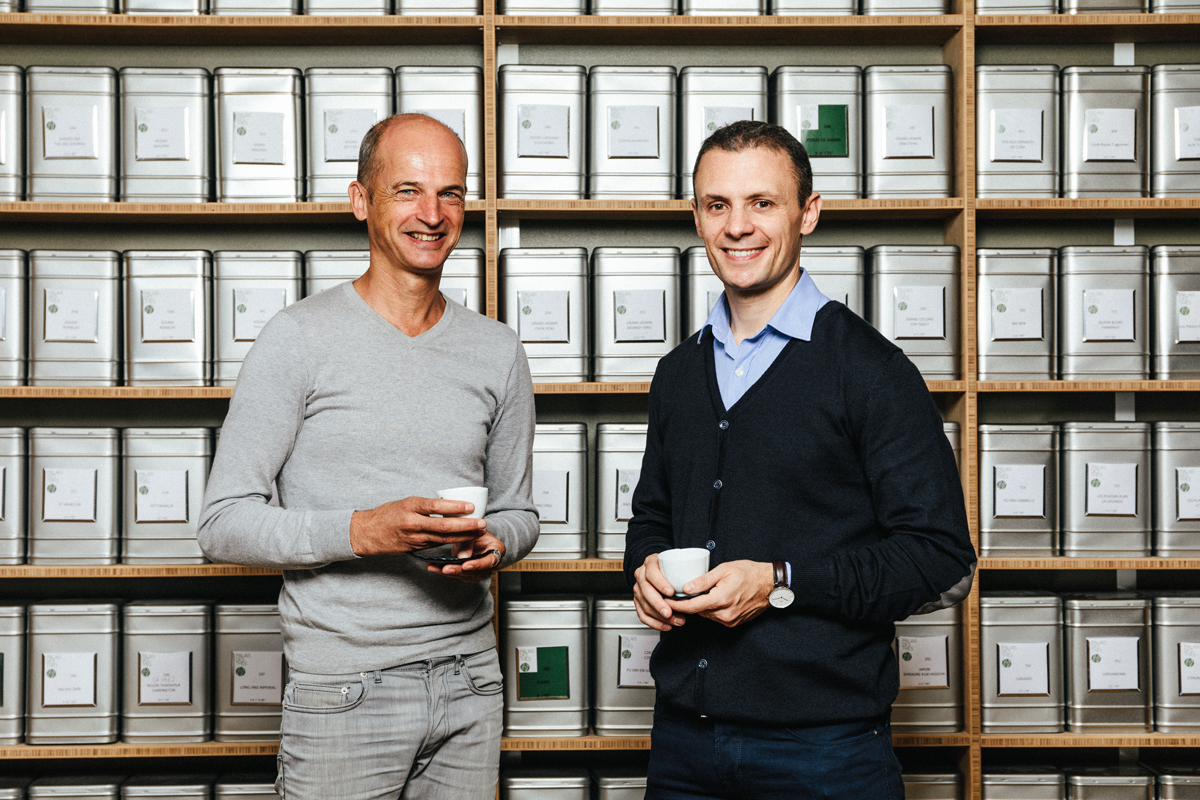 Named "Meilleur Sommelier de France" ("Best Sommelier of France"), Manuel Peyrondet is also interested in tea. He came to taste some premium teas with me, prepared at room temperature, meaning they were steeped for exactly an hour in water at 20°C. We talked about tea and food pairings, accompanied by Vanessa Zochetti, who was interviewing us for the next issue of Bruits de Palais. Tasting tea with a sommelier, especially Manuel, who used to be a sommelier at the Hotel George V, as well as the head sommelier at Taillevent, then at the Royal-Monceau, is a unique experience. In the world of fine food and drink, we often live in our bubble, focusing on our specialist product: wine for Manuel, tea for me. It's really strange to move outside this world, to focus on how we respond to different textures, aromas and flavours. It leads to particularly enriching discussions.
And for those who don't just drink tea, Manuel runs a wine club, which is an excellent way to build up a collection and attend tastings: www.chaisdoeuvre.com
(photo: Emmanuel Fradin)
Posted in Tea tasting by François-Xavier Delmas | Tags : meeting, sommelier, tea tasting
The author
François-Xavier Delmas is a passionate globetrotter. He's been touring the world's tea plantations for more than 20 years in search of the finest teas. As the founder of Le Palais des Thés, he believes that travelling is all about discovering world cultures. From Darjeeling to Shizuoka, from Taiwan to the Golden Triangle, he invites you to follow his trips as well as share his experiences and emotions.
Articles classified by themes
Blogs on tea in English
Blogs on tea in French
Cooking
Links to Le Palais des Thés
Past travels