Mao Cha – the raw tea from which Pu Erh is made – increasingly undergoes a rolling stage. Right after the leaves have been withered then heated in a wok, they are placed in a machine that shakes them from side to side, rapidly and regularly. The leaves hit the vertical sides and gradually their shape changes – they curl up gently lengthwise.  Rolling takes place with most teas, it shapes the leaves. With green teas, for example, it breaks down the cells and releases the aroma compounds that oxidise or ferment.
Posted in Producing tea by François-Xavier Delmas | Tags : Country : China, mao cha, pu erh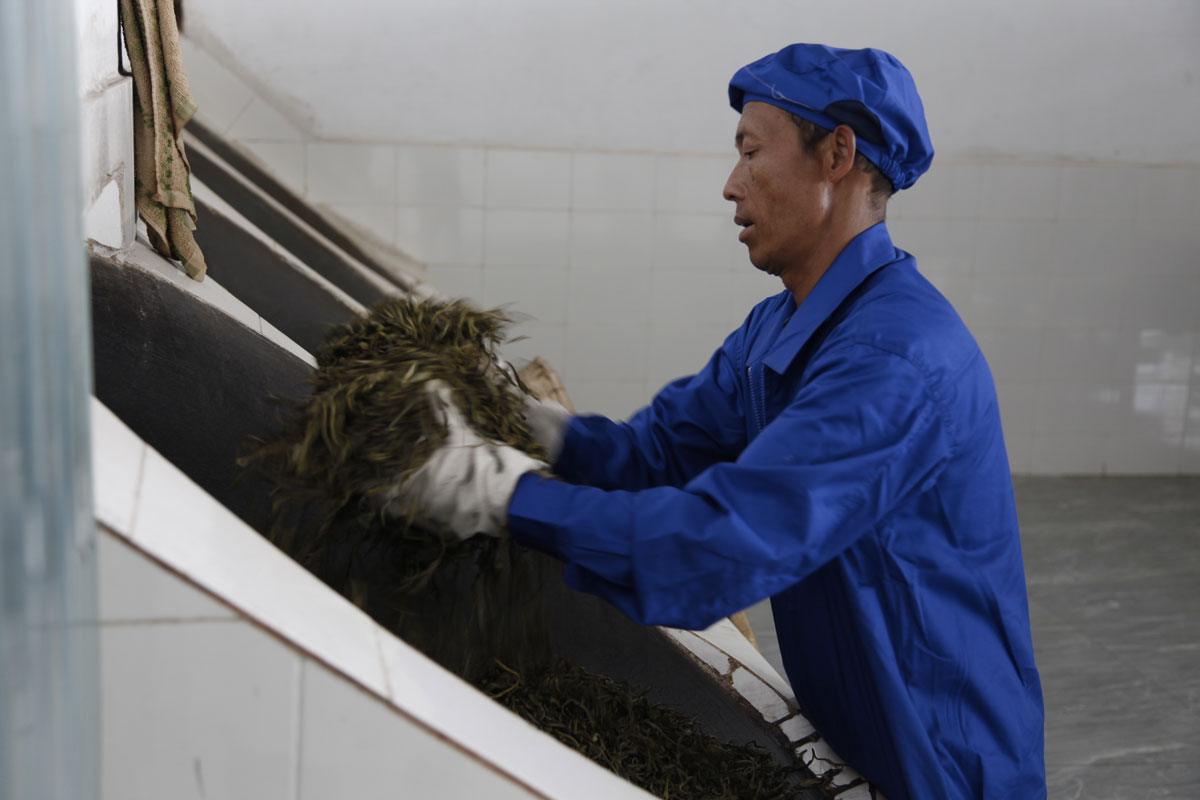 There are four stages in making mao cha. First, a reminder that mao cha is the tea used to make pu erh, either raw or cooked. It is also worth remembering that the way mao cha is made has evolved over time. Basic withering followed by drying in the sun has become more complex as trends have changed, and as dark teas have become so popular among the Chinese. Today, this is what is involved: after harvesting the leaves, they are withered for around two hours. Then the leaves are "fixed" in a wok (see photo) at 200°C for around 30 minutes. Next, the leaves are rolled for ten minutes before being left to dry for the whole day in the sun. In theory, mao cha is used to make compressed tea, but it can be drunk as it is, and appreciated for its mineral, fruity, vegetal and animal notes.
Posted in Producing tea by François-Xavier Delmas | Tags : manufacture, mao cha, pu er
The author
François-Xavier Delmas is a passionate globetrotter. He's been touring the world's tea plantations for more than 20 years in search of the finest teas. As the founder of Le Palais des Thés, he believes that travelling is all about discovering world cultures. From Darjeeling to Shizuoka, from Taiwan to the Golden Triangle, he invites you to follow his trips as well as share his experiences and emotions.
Articles classified by themes
Blogs on tea in English
Blogs on tea in French
Cooking
Links to Le Palais des Thés
Past travels