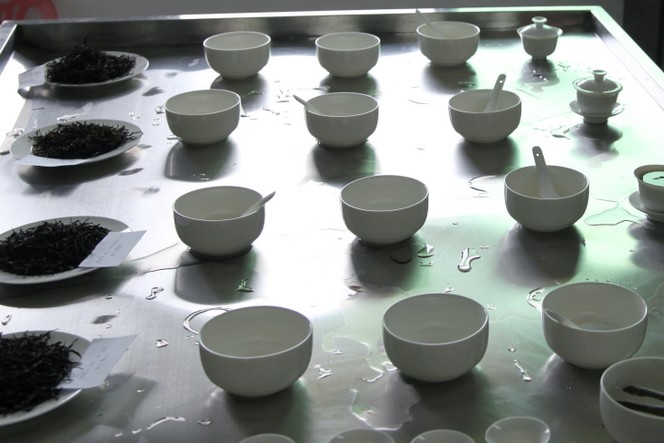 There are many ways of drinking tea. At home you can use a teapot, a mug, a "kyusu" or a "zhong", to name a few…
When I visit farmers I discover other methods of preparing tea, sometimes using different equipment. So I adapt my approach to the tasting according to the method used. Here, with our producer of Dan Congs, the teas are infused three times in a row, in a zhong, and each infusion is poured immediately into one of the bowls set out in front. We taste each of the three liquors, and can then easily assess the tea's potential to be prepared using the "Gong Fu Cha".
Posted in Country : China, Professional tasting by François-Xavier Delmas | Tags : Dan Cong, Gong Fu Cha, kyusu, Tea, teapot, teas, zhong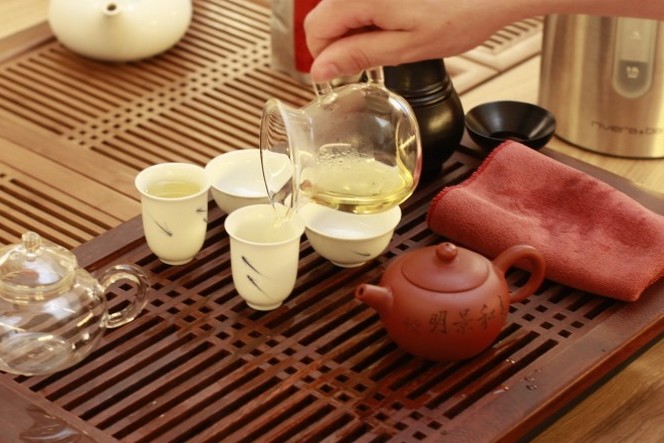 As I am leaving Japan for China, I am also swapping the "kyusu" for the tea boat. You pour the tea into the first cup, which is quite narrow. You then empty this cup into the wider one. The smelling cup retains the fragrances of the liquor for a long time and allows you to explore the tea's bouquet. You drink from the second cup, the tasting cup.
Posted in Country : China, Country : Japan by François-Xavier Delmas | Tags : Country : China, Country : Japan, kyusu, Tea, tea boat
The author
François-Xavier Delmas is a passionate globetrotter. He's been touring the world's tea plantations for more than 20 years in search of the finest teas. As the founder of Le Palais des Thés, he believes that travelling is all about discovering world cultures. From Darjeeling to Shizuoka, from Taiwan to the Golden Triangle, he invites you to follow his trips as well as share his experiences and emotions.
Articles classified by themes
Blogs on tea in English
Blogs on tea in French
Cooking
Links to Le Palais des Thés
Past travels