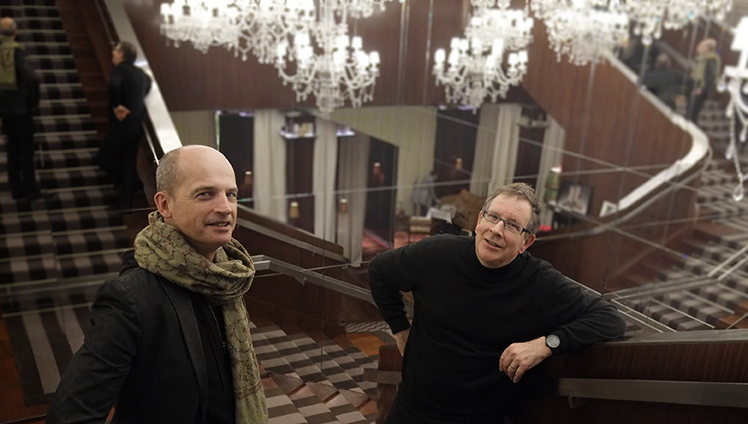 There is nothing I enjoy more than thinking about what tea I will drink next. For me, the pleasure of tea begins as soon as I lift the lids from my canisters, inhale the scent of the leaves and decide which one is best suited to the moment, mood and season.
From time to time, this exercise moves beyond the close confines of the teapot, when considering which tea will go best with a particular food. A few days ago, the journalist Laura Annaert arranged a meeting between the well-known pâtissier Daniel Rebert and myself at the Royal Monceau Hotel in Paris. She wanted to listen to us both as we decided on suitable pairings between Daniel's creations and my selection of fine teas. Together, we tasted a Butterfly of Taiwan, a Qimen Imperial and a Shiraore Kuki Hojicha at different temperatures. We compared the textures, the toasted and toothsome notes, and the aromas of leather, cocoa and wood, while enjoying delicious millefeuilles, biscuits and chocolates. It was a very fruitful discussion!
(photo: Victoire Avril)
Posted in Tea and food pairing by François-Xavier Delmas | Tags : Grands Crus, Kuki Hojicha, pâtisseries, Qimen
The author
François-Xavier Delmas is a passionate globetrotter. He's been touring the world's tea plantations for more than 20 years in search of the finest teas. As the founder of Le Palais des Thés, he believes that travelling is all about discovering world cultures. From Darjeeling to Shizuoka, from Taiwan to the Golden Triangle, he invites you to follow his trips as well as share his experiences and emotions.
Articles classified by themes
Blogs on tea in English
Blogs on tea in French
Cooking
Links to Le Palais des Thés
Past travels