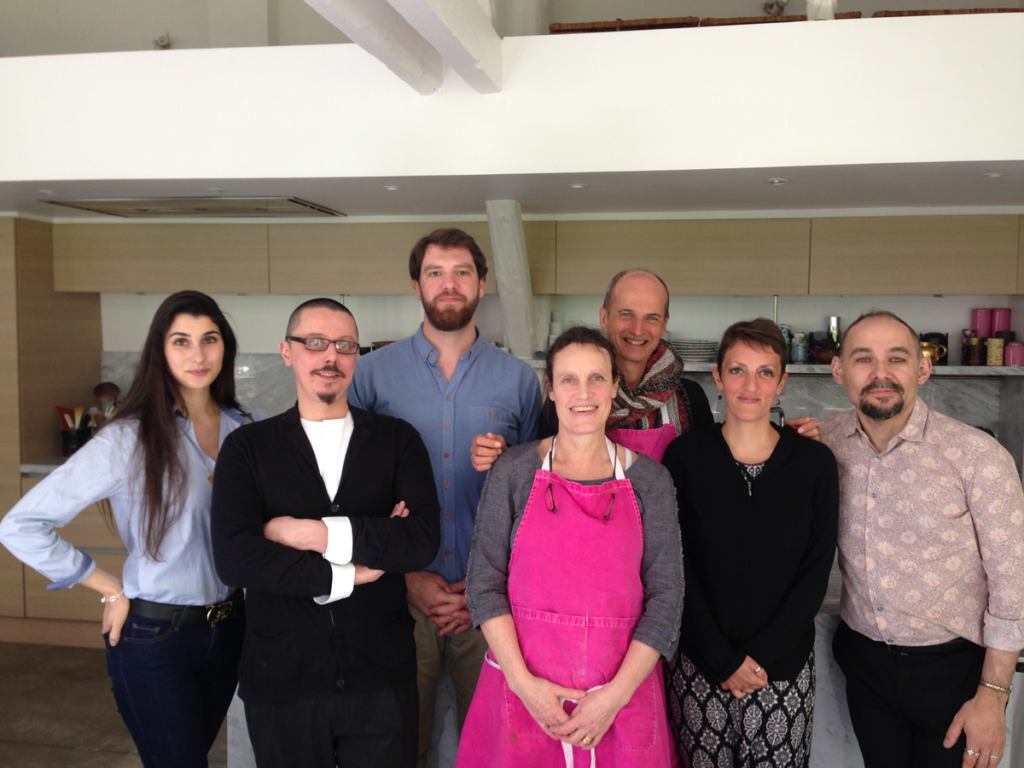 Working together is good; sharing good times is even better. Yesterday was the Tea Sommeliers day, which I devote to the people who have obtained their precious diploma. The aim of the day is to spend a good time together, with tea, food and treats for the senses.
We began by tasting the entire selection of first-flush Darjeelings, which I have just completed, before joining Nathaly from L'Esprit-Cuisine for a meal of food and tea pairings. With Nathaly – a remarkable, positive and passionate teacher – we prepared an onglet of Aubrac beef with crème à l'anguille, flavoured with Bourgeons de Yunnan Premium tea. It was delicious, and we ate it accompanied by the same tea. This followed a fresh herb soup served with a Taiwan Si Ji Chun, and was followed by a delicious streusel, chocolate and black sesame biscuit served with the famous Jukro from South Korea.
In the afternoon we returned to the tasting room, where our tea sommeliers discovered a few rare teas, tasted blind of course, before we all decided together whether they merited being called "premium" teas. Among the curiosities we tasted were a goishicha from Japan, a compressed dark tea from Hunan, little tea balls from Sri Lanka, a tea from the Nainital region of India, and a black tea from Colombia!
Posted in Inspirational by François-Xavier Delmas | Tags : gastronomy, tasting, Tea sommelier
Identifying tea and food pairings is a serious business. By this I mean identifying a tea to accompany a dish so that you create a happy combination for both protagonists. And that's where it gets difficult. For example, if I pair a Genmaicha with a hazelnut financier, it only works if the tea's vegetal, toasted notes enhance the cake, and also if, having consumed a morsel of the financier, the Japanese green tea is revealed in a new light, to its advantage. A few weeks ago I spent a solid six hours in the company of chef Michel Lentz, at the Baccarat Crystal Room in Moscow, tasting with him a profusion of bouchées, tartlets, crèmes, madeleines, financiers, meringues, ice creams and sorbets, made by him, accompanied by an equal number of teas, so that together we could find many happy combinations. I would particularly like to mention the crème caramel, with memories of childhood, which we enjoyed with a Dan Cong for the top part, while the liquid at the bottom of the ramekin was the most successful pairing with a Jin Zhen, with warm notes of stewed fruit, wax and honey.
Posted in Tea and food pairing by François-Xavier Delmas | Tags : gastronomy, Tea and Food Pairing
The author
François-Xavier Delmas is a passionate globetrotter. He's been touring the world's tea plantations for more than 20 years in search of the finest teas. As the founder of Le Palais des Thés, he believes that travelling is all about discovering world cultures. From Darjeeling to Shizuoka, from Taiwan to the Golden Triangle, he invites you to follow his trips as well as share his experiences and emotions.
Articles classified by themes
Blogs on tea in English
Blogs on tea in French
Cooking
Links to Le Palais des Thés
Past travels