Tea has been consumed in China for more than 3,000 years, and it is only in this country that we find such a rich variety. It produces all colours of tea: white, green, blue-green, yellow, black and dark. In China we find a unique culture of terroir: one village might have been following a very specific tradition of tea shaping for centuries, while in the next village the leaves could be processed in a completely different way. Nowhere else in the world do we find such a variety of practices. This photo shows my 2017 selection of "new-season" Chinese green teas, some of which were harvested before the Qingming festival. From left to right: Pre Qing Ming Bi Luo Chun, Pre Qing Ming Long Jing, Pre Qing Ming Bourgeons de Jade, Pre Qing Ming Lu An Gua Pian, Pre Qing Ming Anji Bai Cha, Bai Mao Hou, Mao Feng Premium, Yong Xi Huo Qing, Huang Shan Mao Feng. It goes without saying that just as the size, shape and colour of the leaves differ so much, the tasting experience is equally varied among these premium teas.
Posted in Country : China by François-Xavier Delmas | Tags : colours of tea, Country : China, new season teas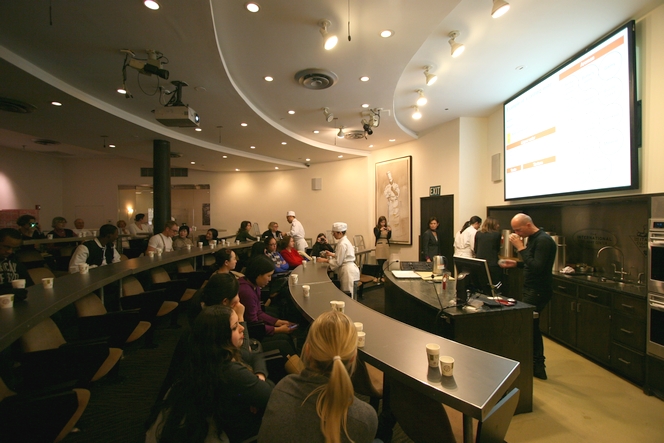 I've just returned from New York, where I gave a tea tasting lesson to 35 journalists, bloggers and students from the prestigious French Culinary Institute. Cyrille and Aurélie Bessière, who moved to New York to foster a taste for fine teas among Americans, also took part in the exercise.
Having talked about the different colours of tea, and explained how to prepare them, we all tasted five different teas, taking time to consider their aromas, flavours and textures. Then, in the company of chef Mélanie Franks, who is well known for her use of tea in cooking, we set about tasting some interesting pairings of tea and cheese.
On the subject, I recommend you try a fresh goat's cheese with a Dong Ding. You'll find the creaminess of the former goes very well with the roundness of the latter. And if you want a different way of experiencing your Butterfly of Taiwan, serve it with an Ossau Iraty. A pure delight!
Posted in Professional tasting by François-Xavier Delmas | Tags : Butterfly of Taiwan, colours of tea, Dong Ding, Tea, tea tasting
The author
François-Xavier Delmas is a passionate globetrotter. He's been touring the world's tea plantations for more than 20 years in search of the finest teas. As the founder of Le Palais des Thés, he believes that travelling is all about discovering world cultures. From Darjeeling to Shizuoka, from Taiwan to the Golden Triangle, he invites you to follow his trips as well as share his experiences and emotions.
Articles classified by themes
Blogs on tea in English
Blogs on tea in French
Cooking
Links to Le Palais des Thés
Past travels