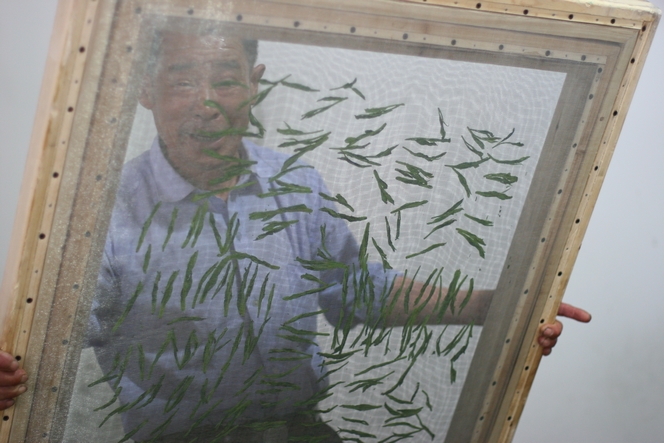 After being fired, then rolled individually by hand, Taiping Hou Kui leaves are placed between two meshes. Moments later, the upper mesh is covered with a cloth and pressed with a roller, to flatten the leaves.
This painstaking task does not take place for any other tea. In this photo I took during my last trip to China, you can see how proud this producer is, preparing for the last stage in the processing of this fine green tea, the drying. The leaves you see here are held in place between the two meshes, and have just been flattened.
Posted in Country : China by François-Xavier Delmas | Tags : Country : China, green tea, Taiping Hou Kui, Tea, tea leaves
The author
François-Xavier Delmas is a passionate globetrotter. He's been touring the world's tea plantations for more than 20 years in search of the finest teas. As the founder of Le Palais des Thés, he believes that travelling is all about discovering world cultures. From Darjeeling to Shizuoka, from Taiwan to the Golden Triangle, he invites you to follow his trips as well as share his experiences and emotions.
Articles classified by themes
Blogs on tea in English
Blogs on tea in French
Cooking
Links to Le Palais des Thés
Past travels