Category : Tea and food pairing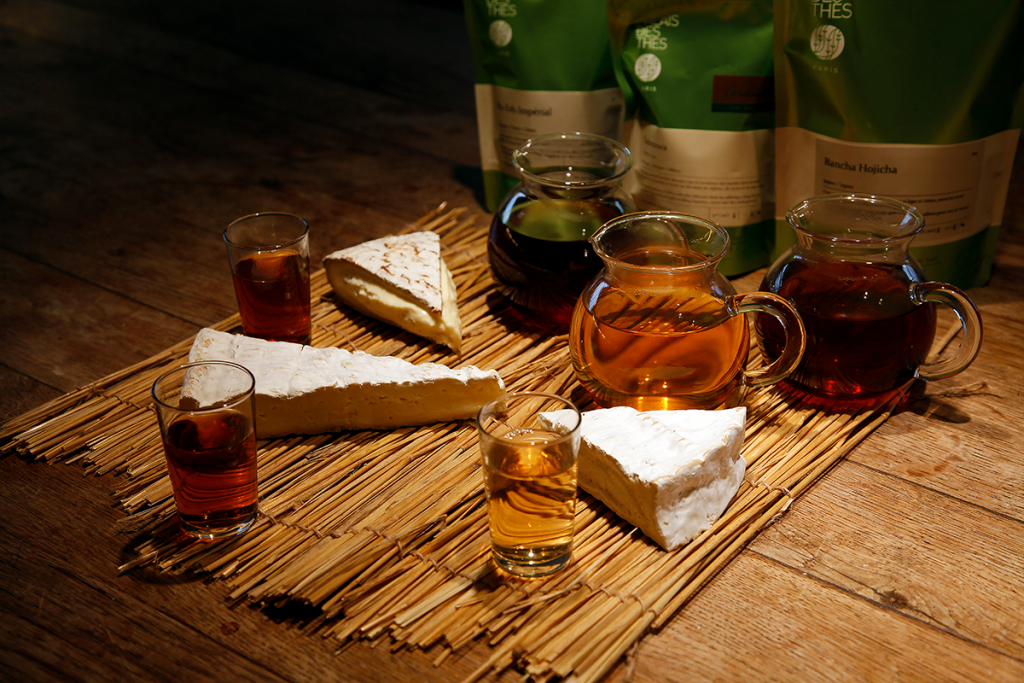 Tea and cheese make ideal partners. To go with a Brie, whether it's from Melun, Meaux, Nangis or Montereau, I recommend a Bancha Hojicha. The woody, roasted notes of this well-known Japanese toasted tea beautifully complement the flavours of the soft cheese. And if you prefer, you could infuse the tea for an hour in water at room temperature, instead of in hot water.
It's not easy to find the right pairing. You need to taste lots of different teas, as in this photo, where I'm comparing Pu erh Impérial, Malawi Dark and Bancha Hojicha with three different Bries, after trying many others.
Posted in Tea and food pairing by François-Xavier Delmas | Tags : Bancha Hojicha, cheese, pairing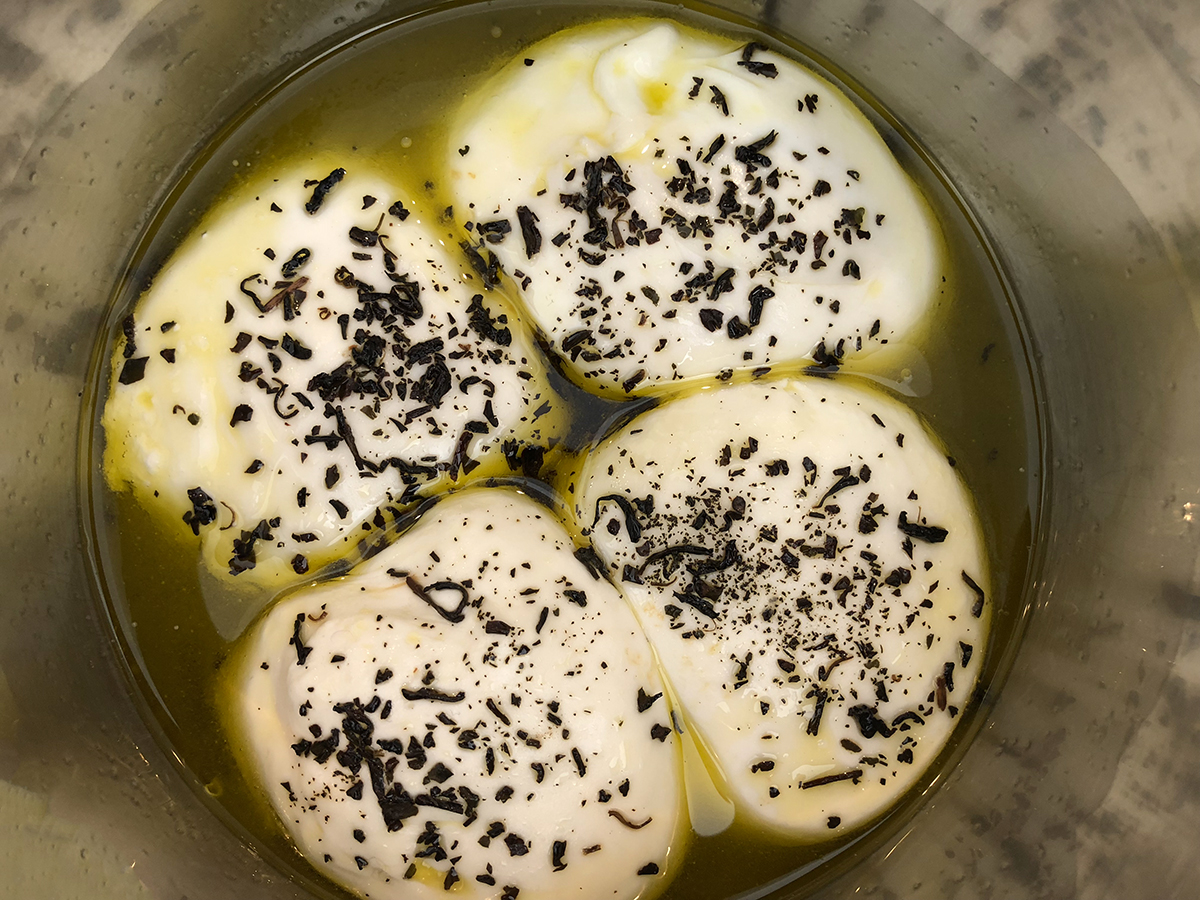 There are endless ways to use tea in cooking. For example, why not sprinkle it over food like a spice? Here, the aromatic, toasted, delicately woody and fruity notes of Jejudo Grand Oolong Impérial bring an exotic touch and a hint of crunch to this delicious burrata cheese. Sprinkle the tea over it and leave it in some green olive oil in the fridge for a couple of days. Enjoy it the Italian way: not too cold, as you sometimes see it served, but at a temperature of 20° to 22°C. To accompany it, infuse the same Korean tea in water at room temperature for 30 minutes and serve in small glasses such as vodka glasses.
Posted in Tea and food pairing by François-Xavier Delmas | Tags : Cooking, preparing tea, Tea and Food Pairing
Identifying tea and food pairings is a serious business. By this I mean identifying a tea to accompany a dish so that you create a happy combination for both protagonists. And that's where it gets difficult. For example, if I pair a Genmaicha with a hazelnut financier, it only works if the tea's vegetal, toasted notes enhance the cake, and also if, having consumed a morsel of the financier, the Japanese green tea is revealed in a new light, to its advantage. A few weeks ago I spent a solid six hours in the company of chef Michel Lentz, at the Baccarat Crystal Room in Moscow, tasting with him a profusion of bouchées, tartlets, crèmes, madeleines, financiers, meringues, ice creams and sorbets, made by him, accompanied by an equal number of teas, so that together we could find many happy combinations. I would particularly like to mention the crème caramel, with memories of childhood, which we enjoyed with a Dan Cong for the top part, while the liquid at the bottom of the ramekin was the most successful pairing with a Jin Zhen, with warm notes of stewed fruit, wax and honey.
Posted in Tea and food pairing by François-Xavier Delmas | Tags : gastronomy, Tea and Food Pairing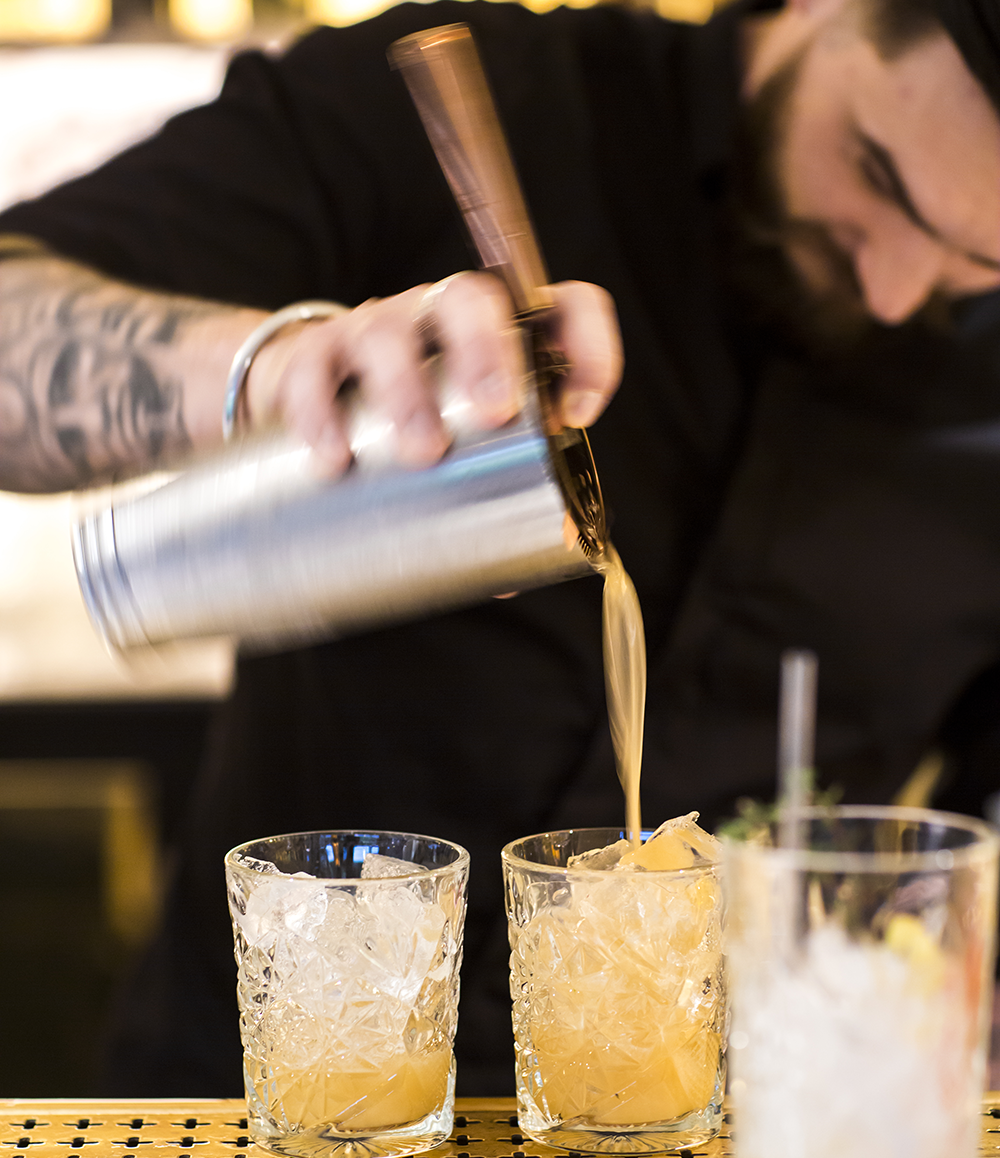 You can use tea in many ways. In cooking, if there is water, milk or single cream in a recipe, for example, you simply infuse the tea in the liquid and filter it. I'll come back to that subject soon. You can also make cocktails with tea. If you'd like to try it, you can infuse tea directly in alcohol, though you may have to use more tea and steep it for longer. You can also prepare a strong tea in the usual way, and use it as an ingredient. Herbal infusions are also very good in cocktails. Philippe Carraz, head barman at the Alcazar, is pictured here mixing a delicious non-alcoholic cocktail made from agave syrup, fresh ginger, our Romantic Garden and a few sprigs of thyme. Let me know what you think.
Posted in Tea and food pairing by François-Xavier Delmas | Tags : cocktail, Tea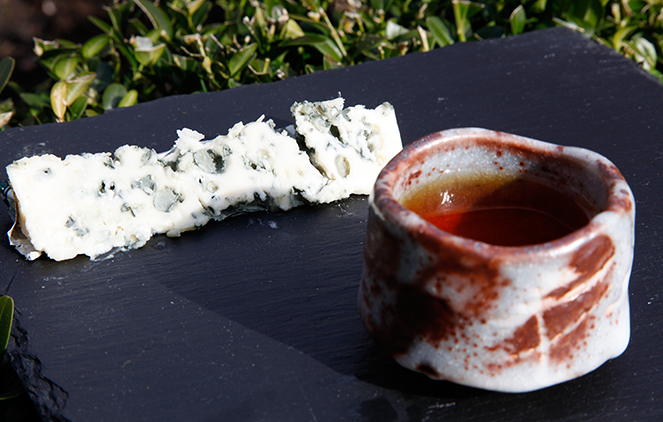 If you love cheese it can be good to have a change. Rather than drinking wine with cheese, how about trying it with tea? Combinations of cheese and tea arouse curiosity, and this week I'm suggesting a new pairing: Thé du Tigre and Roquefort. I'm not a big drinker of smoked tea but it has to be said that with a blue cheese as strong as this, the combination works very well. The warmth of the tea quickly melts the cheese in the mouth, and the woody, animal, smoky and milky notes mingle and complement one another. Try this sensual, creamy pairing and see what you think.
Posted in Tea and food pairing by François-Xavier Delmas | Tags : cheese, smoked tea, Tea and Food Pairing
The author
François-Xavier Delmas is a passionate globetrotter. He's been touring the world's tea plantations for more than 20 years in search of the finest teas. As the founder of Le Palais des Thés, he believes that travelling is all about discovering world cultures. From Darjeeling to Shizuoka, from Taiwan to the Golden Triangle, he invites you to follow his trips as well as share his experiences and emotions.
Articles classified by themes
Blogs on tea in English
Blogs on tea in French
Cooking
Links to Le Palais des Thés
Past travels