Category : Recipes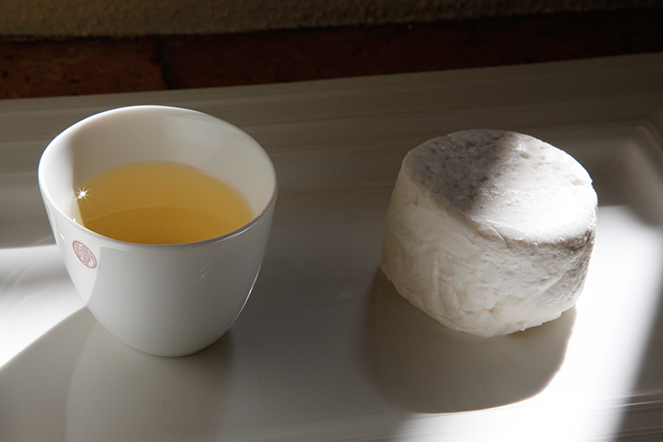 Pairing tea and cheese: the example of goat's cheese Fresh goat's cheese is one of my favourite cheeses, and I like going to the farm to choose mine. I prefer to accompany it with tea rather than wine. More precisely, a Premium Bao Zhong served at room temperature. To prepare it, first steep the tea for six minutes, then remove the leaves from the pot and leave it to cool for 30 minutes. Serve in small clear liqueur glasses. It will make an interesting change for your guests, and you will love the pairing: the tea does not overwhelm the subtle flavour of the cheese; on the contrary, it accompanies it, as the tea's vegetal and floral notes make way for the milky, delicate animal qualities of the cheese. They make a fine match.
Posted in Country : Taiwan, Recipes by François-Xavier Delmas | Tags : cheese, Taïwan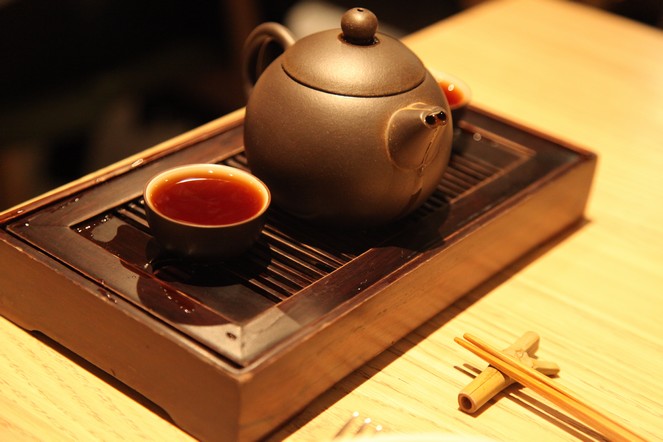 Gradually, tea is coming out of its teapot: more and more chefs are using it as an ingredient in their cooking. First there was baking with matcha; now tea is making itself more at home in the kitchen as a flavouring for savoury dishes.
Tea is also served as an accompaniment to food, like here at Yam'Tcha, in Paris, where a pu erh is paired with a chicken dish, poularde de Bresse.
Posted in Recipes by François-Xavier Delmas | Tags : Cooking, matcha, Tea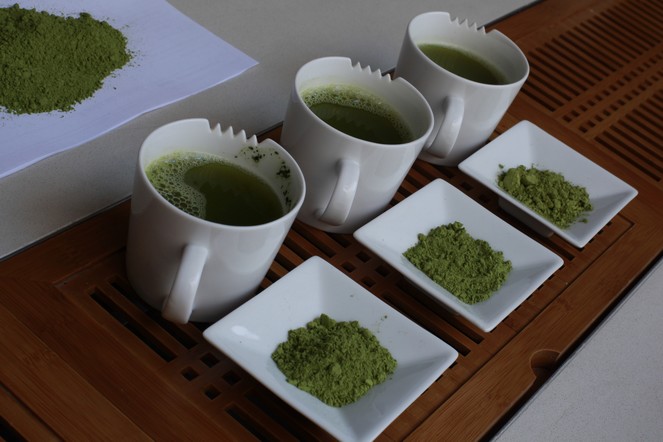 Every day, I have the pleasure of tasting very different teas. But the technique is always the same, and in each tasting session my senses are alive to the experience. I pay as much attention to the tea's colour, smell and texture as to its flavours.
Here, I'm tasting three different cooking matchas in order to choose the best one. This powdered green tea from Japan can be used to flavour your cakes, sorbets and other dishes. Even a Christmas log, why not?
Posted in Country : Japan, Professional tasting, Recipes by François-Xavier Delmas | Tags : green tea, matcha, professional tea tasting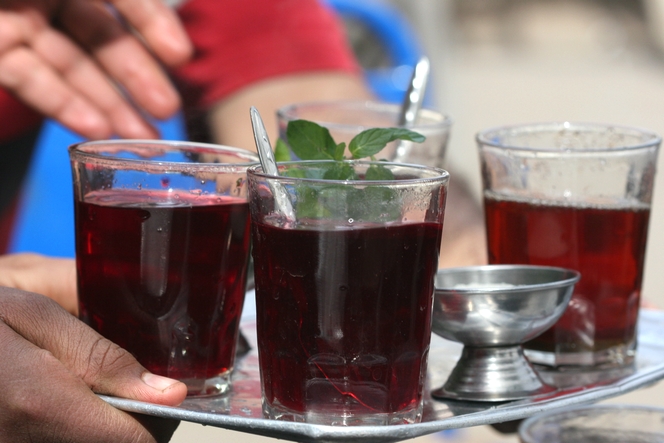 The summer is upon us in France, and with it comes the heat. Many people like iced tea at this time of year, simply because they want a refreshing drink. But it's funny that in regions where it is very hot – like the Sahara, but there are many other examples – people tend to drink their tea hot. In fact, hot tea is considered more refreshing than cold tea. This is because the closer the liquid's temperature is to body temperature, the less it will provoke a temperature change. And this temperature change is one of the reasons we sweat.
Our love of iced drinks comes from the other side of the Atlantic, and when a food-related fashion arrives from that region, we are not necessary wrong to question it. My suggestion for fans of iced tea is to shun the overly sweetened – in my opinion – commercial varieties and instead to make your own delicious teas using water at room temperature, and to drink them chilled.
Or, as I am here to tell you about the different customs relating to tea, you can also celebrate the arrival of the warm season by drinking a hot tea with mint leaves, like this one, served on the banks of the river Nile.
Posted in Iced tea, Recipes by François-Xavier Delmas | Tags : cold tea, hot tea, iced tea, Tea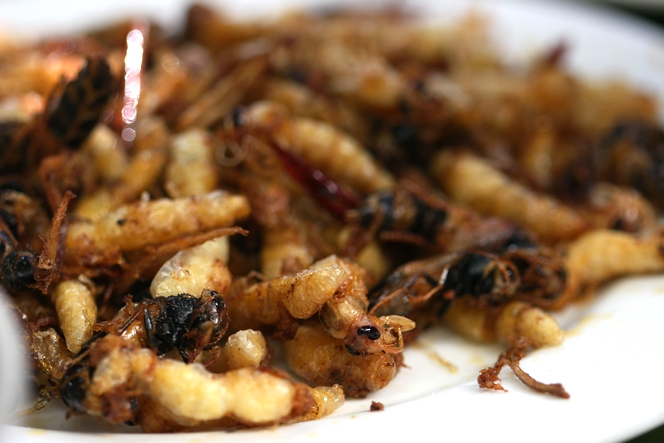 Part of the experience of travelling is escaping from your usual routines. What a joy to be able to discover the habits and customs of our fellow men! Here is one such example…
While stopping off in Lisu (China) I was honoured to be invited to lunch at a little riverside restaurant, a short distance from the main road on which we were travelling. There, in the peaceful surroundings with only the gurgling of the stream and the enthusiastic trilling of a couple of mynah birds to distract me, I waited to see what my hosts had ordered.
For those who one day might travel to this part of our beautiful planet, I feel a bit guilty for spoiling the inevitable surprise and pleasure of discovering a dish so little known in our own country, despite its wealth of gastronomic curiosities. But given that hornets – for this was the local delicacy in question – are so common in the south of France, it seems a shame to deprive our friends in Provence of a recipe that is so easy to prepare and would not fail to impress their guests.  And as we approach the end-of-year festivities, which are always upon us sooner than expected, are we not looking for a more unusual festive dish to make a nice change from turkey or capon?
Here's an extract from my tasting notes: "A particularly intense contrast between the head of the insect (one of which is at least 10 cm long) and its abdomen. The head, grilled to perfection, is crunchy in the mouth, while the creamy substance that escapes from its abdomen lines the palate, coating the tongue in a thick, generous matter that slowly develops lingering aromas…"
Accompaniment suggestion: I think a "Bourgeons de Yunnan" tea would suit perfectly with our dish.
Posted in Country : China, Recipes by François-Xavier Delmas | Tags : Bourgeons de Yunnan, Country : China, Lisu, Tea
The author
François-Xavier Delmas is a passionate globetrotter. He's been touring the world's tea plantations for more than 20 years in search of the finest teas. As the founder of Le Palais des Thés, he believes that travelling is all about discovering world cultures. From Darjeeling to Shizuoka, from Taiwan to the Golden Triangle, he invites you to follow his trips as well as share his experiences and emotions.
Articles classified by themes
Blogs on tea in English
Blogs on tea in French
Cooking
Links to Le Palais des Thés
Past travels