Category : Professional tasting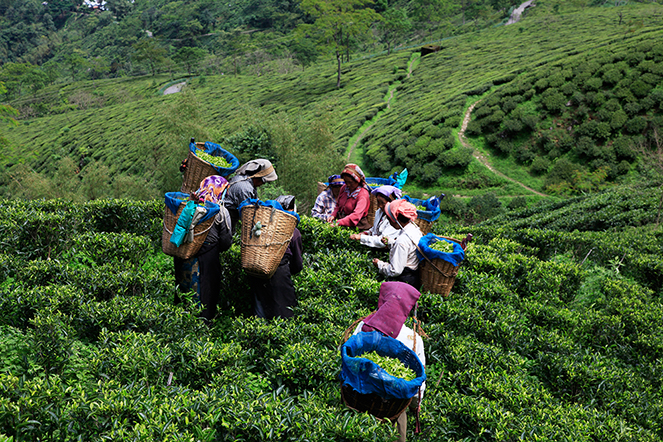 It's not only the tea plantations that are busy at the moment. Yesterday I received no less than 120 different tea samples to taste. As ever, you need to be quick. If I want to make an offer on one of these batches I must have tasted them all in one or two days at the most. After that, it will be too late.
Of course, I don't drink all the teas, I spit them out after turning the liquor around in my mouth while I analyse it.
Posted in Country : India, Places I like in Darjeeling, Professional tasting by François-Xavier Delmas | Tags : Darjeeling first flush, spring teas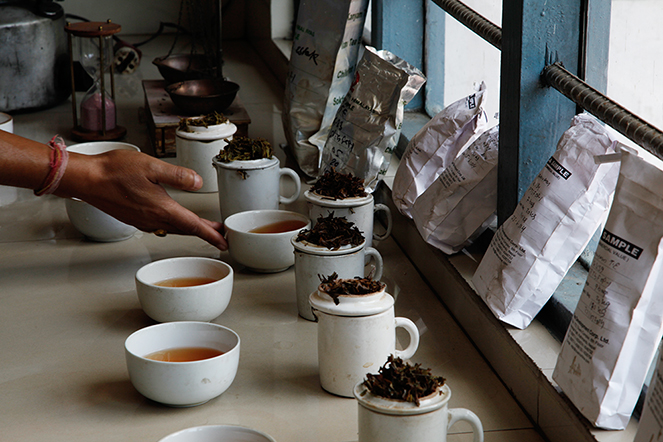 There are many teas to taste at this time of year. From now and for the next few months, I'll be tasting dozens of teas every day, and up to 100 or 150 at times. I taste them "blind" because I don't want to be influenced by my friendship with particular farmers. The name of the garden is hidden so that the initial selection is based solely on a sensory analysis. To express my preference, I make this gesture, shared by many planters: pushing the cup gently with the fingertips, palm facing upwards.
Posted in Professional tasting by François-Xavier Delmas | Tags : professional tea tasting, spring teas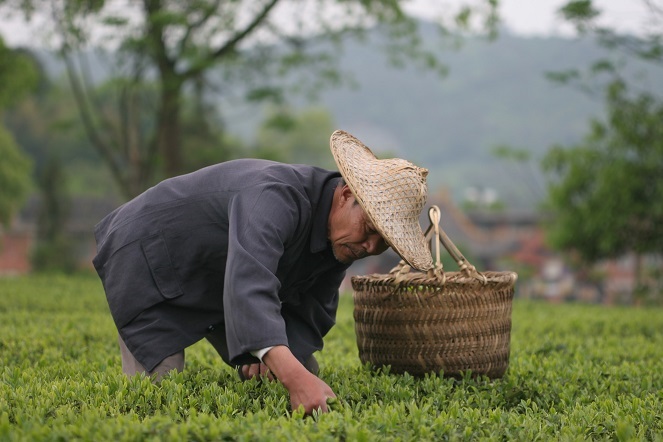 The process of buying tea in China is not what it used to be. Only 20 years ago only the state had the authority to export tea, and every Chinese tea was given a specific reference. Expert tasters would travel the whole country, visiting each tea factory and tasting each tea before giving it a reference number. For example a Grand Yunnan Imperial was given a grade of 6112.
Things have changed a great deal since then. Today those Chinese experts have gone, no doubt to the private sector, and domestic consumption has increased dramatically. Demand now outstrips supply, pushing prices up. And nobody thinks to remember how it was done 20 years ago.
Posted in Country : China, Professional tasting by François-Xavier Delmas | Tags : Country : China, Tea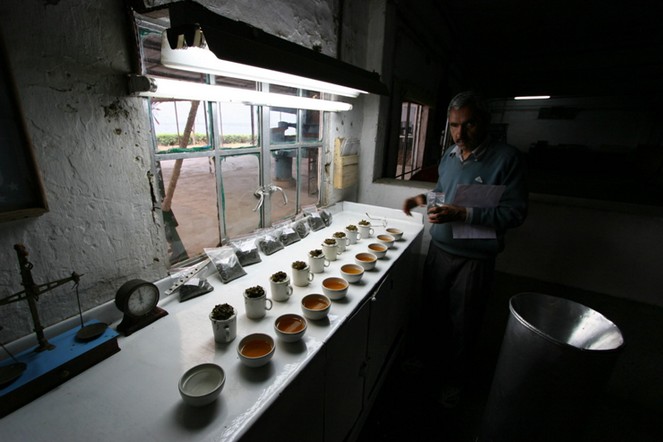 Scales, a timer, a spittoon, a cup to rinse one's mouth between two liquors if necessary, a shaft of light; everything is ready. Admittedly the building itself is showing signs of wear and tear, but that's not important; Namring teas retain their incredible aura and I'm about to taste the best of the third-flush, or autumn, pluckings.
Posted in Country : India, Professional tasting by François-Xavier Delmas | Tags : autumn flush, Darjeeling, Namring Tea Estate, tea tasting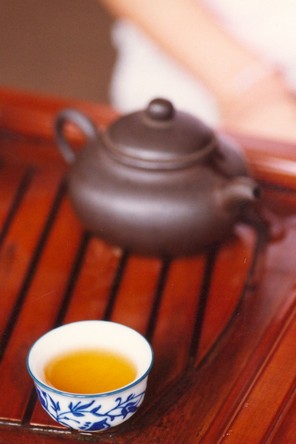 To appreciate a tea as fine as the Taiwanese "Black Pearl" I recently selected, there are two options: either use your usual teapot, or prepare it according to the Gong Fu Cha method. This involves placing the tea in a very small teapot and steeping the same leaves several times in succession. It is a different way of discovering the rich aromas of this fine tea, whose fairly sweet notes make it perfect for the season.
Posted in Country : Taiwan, Professional tasting by François-Xavier Delmas | Tags : Gong Fu Cha, Grands Crus, Taïwan
The author
François-Xavier Delmas is a passionate globetrotter. He's been touring the world's tea plantations for more than 20 years in search of the finest teas. As the founder of Le Palais des Thés, he believes that travelling is all about discovering world cultures. From Darjeeling to Shizuoka, from Taiwan to the Golden Triangle, he invites you to follow his trips as well as share his experiences and emotions.
Articles classified by themes
Blogs on tea in English
Blogs on tea in French
Cooking
Links to Le Palais des Thés
Past travels