Category : Professional tasting
To create the ideal tasting conditions, you need quality tea, you have to pay attention to the quality and the temperature of the water, the brewing time and, of course, the recipient. Avoid large teapots, because they are detrimental to the quality of infusion. To get the very best out of your tea, including and above all the rarest teas of all, the material and the size of the recipient are essential. Here is an inspirational tasting session for the famous designer, Patrick Norguet. His goal is to understand my trade, to understand the imperatives and the expectations, so that, one day, he can create the ideal object for tasting tea. I am looking forward to it.
Posted in Professional tasting by François-Xavier Delmas | Tags : meeting, professional tea tasting, tea tasting
This week I had the immense pleasure of tasting a fine selection of premium teas with Anne-Sophie Pic and her team of sommeliers. Anne-Sophie is such a kind and considerate person and treated me like royalty in Valence. She is eager to learn and so generous with her time, especially considering she's the only French woman to hold three Michelin stars. She listens attentively and asks plenty of questions. Together, we tasted teas infused, both hot and cold. Our tastings took us to Darjeeling and Japan via Nepal, South Korea, Viêt Nam and even Africa. We talked about ways to use tea in cooking, and possible pairings between teas and dishes. It was incredible to contribute, however modestly, to her inspiration! And what a treat to share an unforgettable meal with her afterwards, an explosion of textures, flavours and aromas. Thank you Anne-Sophie.
Posted in Professional tasting by François-Xavier Delmas | Tags : professional tea tasting, sharing, tea tasting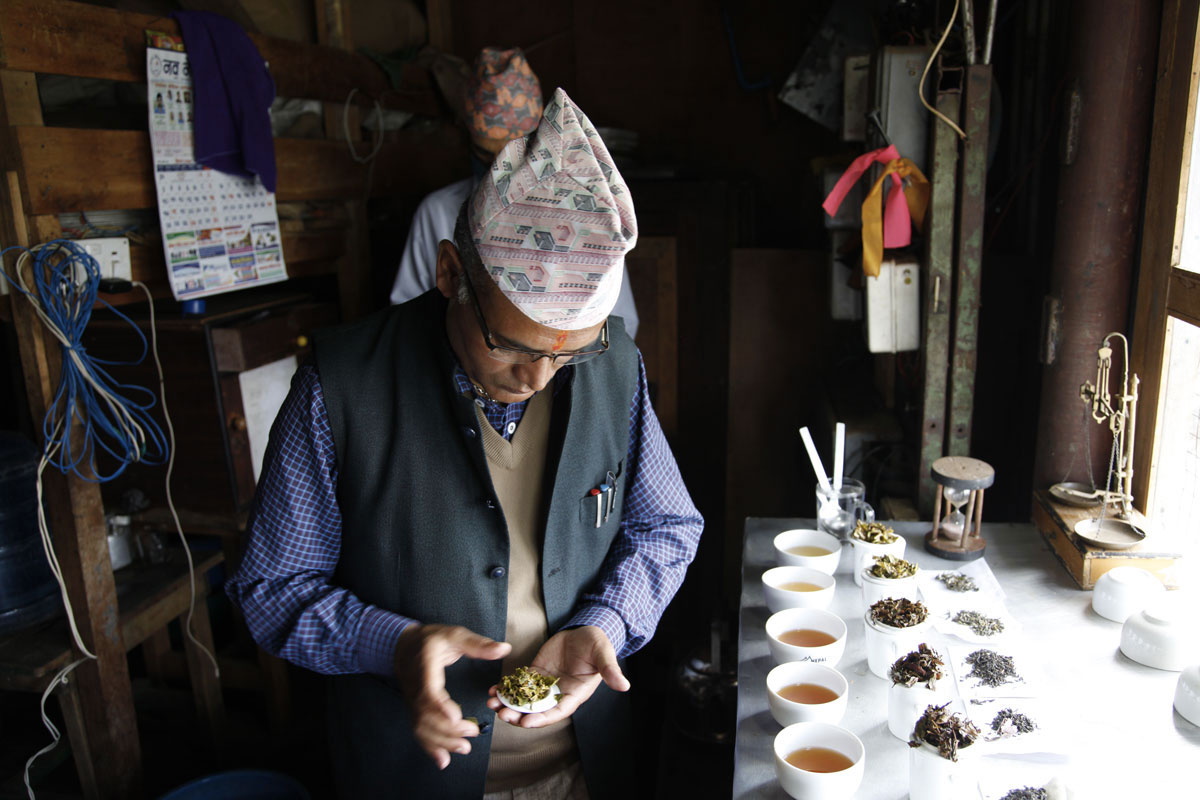 When we taste tea, we pay attention to the leaves at every stage. Of course we are interested in the liquor, which we drink, and we also examine the dried leaves: are they whole or broken? Do they contain buds? What colour are the leaves? Are they all similar? Lastly, the infused leaves can tell us a great deal. We smell them, and press them, as Nirananda Acharya is doing here. Often, the smell of the wet leaves can tell us as much about the tea as drinking the liquor itself. The wet leaves inform us about every stage of the processing. We can pick up on the slightest defect, or on the contrary, we can revel in the wonderful bouquet.
Posted in Professional tasting by François-Xavier Delmas | Tags : analyzing, leaves, tasting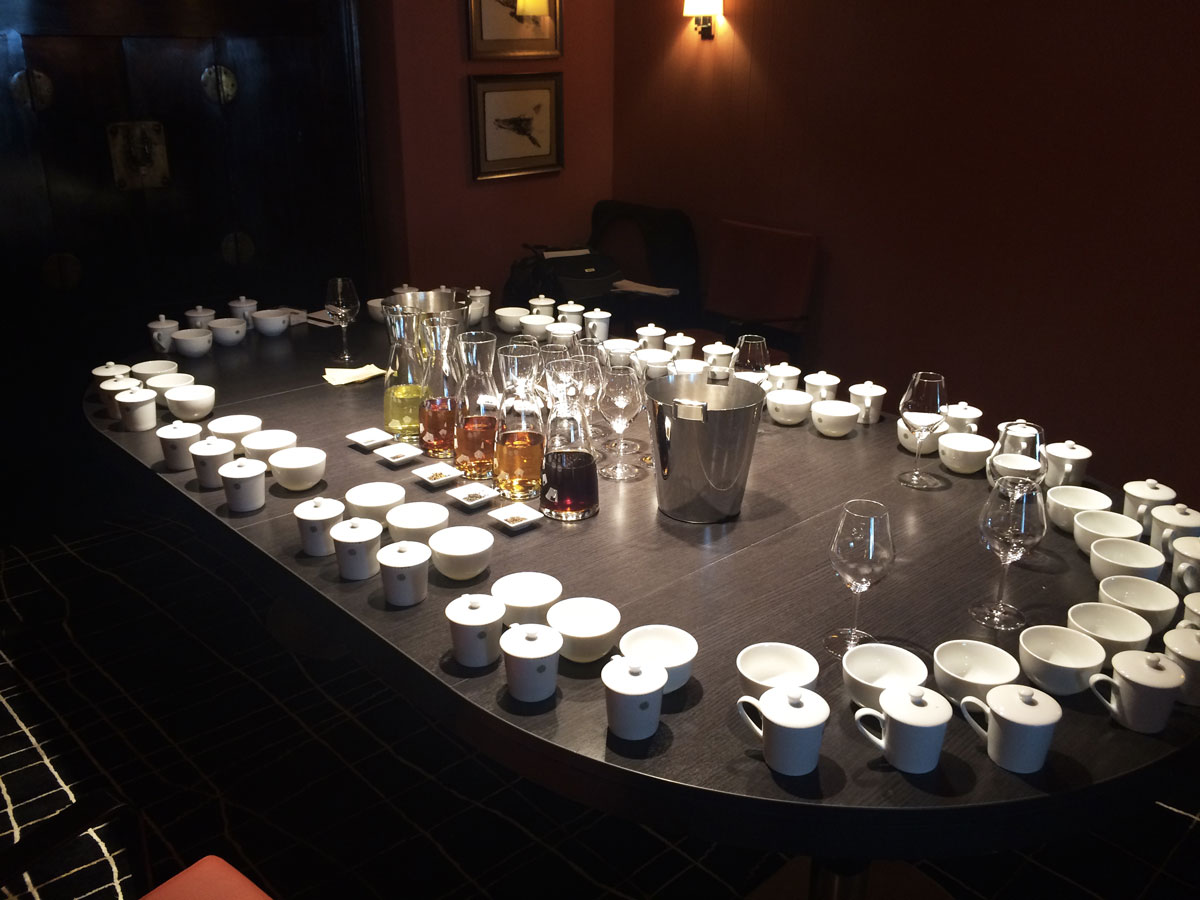 The Tea School provides training for Palais des Thés employees to ensure their knowledge and expertise is as good as possible. The school also offers courses for members of the public who want to learn about tea and the best way to drink it, and lastly, it trains food professionals. Recently, these have included teams from the Ritz and Bristol hotels in Paris. In this way, maîtres d'hôtel and sommeliers learn about tea, and many are passionate about the subject. Some have built up their knowledge over a long period, while others are thirsty to learn. This is how we prepare the tasting session – this one took place at the Institut Paul Bocuse a few days ago. There are three tasting sets per participant, to taste three premium teas (Jade Oolong by Mrs Ming, Dong Ding Antique, Pu Erh Menghai XO Milésime 1999). In addition, five teas were infused in cold water and served in stemmed glasses: Ryogôchi Saemidori Shicnha Ichibancha 2017, Kagoshima Benifuki by Mr Kumada, Népal Kanchenjunga Gold Récolte Tardive, Satemwa Dark and Enjin Jukro from Korea. The leaves are examined in little dishes. However, we do not label the teas – I like people to taste them blind and if possible I hide the tea colour, without saying what type of tea it is, so that students can keep their minds clear and not form preconceptions. This is a refined approach to tea. It is about awakening the senses, describing a texture and a flavour, and recognising aromas. My dream is to initiate new people into this vocation so that one day they can become a tea sommelier!
Posted in Professional tasting by François-Xavier Delmas | Tags : formation, Paul Bocuse, tasting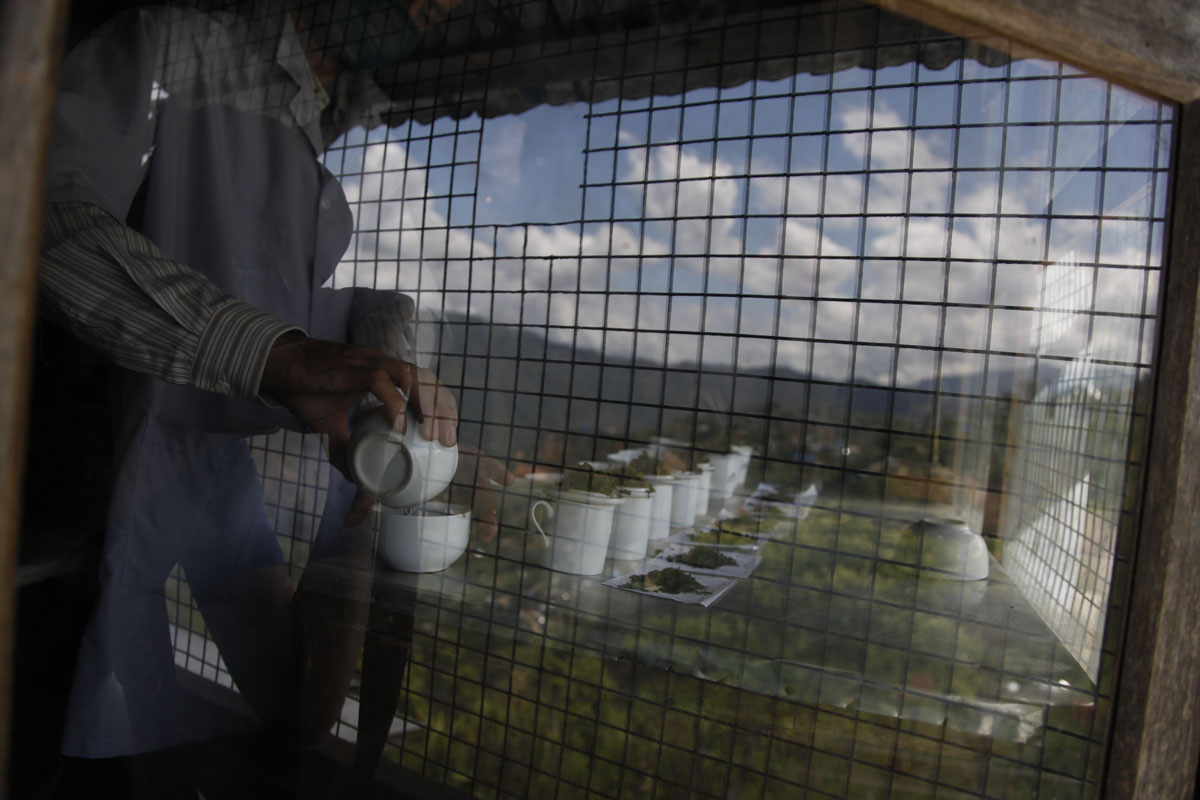 The preparation for a tasting is a special moment. I watch what my host is doing, each precise movement. The leaves are presented on a base that allows you to see them, then the tea is weighed out to the nearest tenth of a gram, before being steeped for a specific time. Each tea must be brewed in exactly the same conditions. Before tasting the tea, while the liquors cool a little, I like to take a few photos of the room itself, of people going about their activities, their faces, or the landscape. I often make use of windows. The reflections can be unexpected. I take photos through the window, while others look on, puzzled. Here, at the Kanchenjunga Tea Estate, through the grille-covered window, you can see the tea being prepared against a background of mountains and the tea garden.
Posted in Professional tasting by François-Xavier Delmas | Tags : Preparation, rituals, tasting
The author
François-Xavier Delmas is a passionate globetrotter. He's been touring the world's tea plantations for more than 20 years in search of the finest teas. As the founder of Le Palais des Thés, he believes that travelling is all about discovering world cultures. From Darjeeling to Shizuoka, from Taiwan to the Golden Triangle, he invites you to follow his trips as well as share his experiences and emotions.
Articles classified by themes
Blogs on tea in English
Blogs on tea in French
Cooking
Links to Le Palais des Thés
Past travels