Category : Iced tea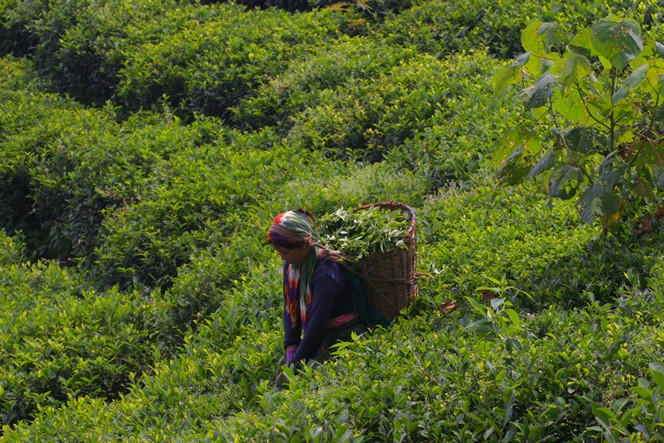 With many of you currently heading off to the green countryside, I dedicate this photo to you, and hope you enjoy your holidays. As for me, I'm surrounded by greenery all year round in the tea fields, and I'll continue to bring you news throughout the summer. The tea plants won't stop growing while you're at the seaside! And don't forget to prepare a jug of your favourite iced tea to take with you and keep you cool on the beach!
Posted in Iced tea, Tea plant by François-Xavier Delmas | Tags : iced tea, tea fields, tea plants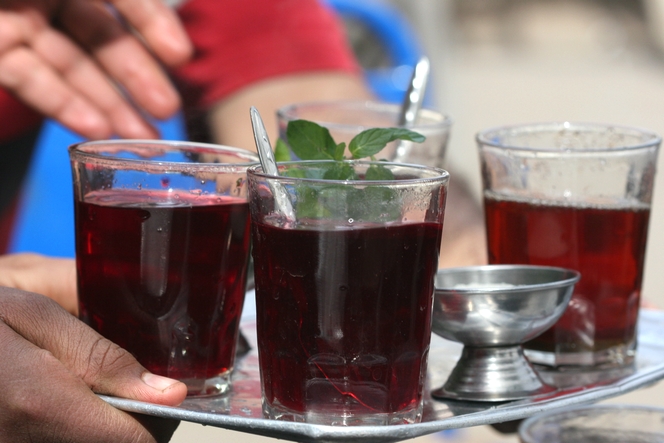 The summer is upon us in France, and with it comes the heat. Many people like iced tea at this time of year, simply because they want a refreshing drink. But it's funny that in regions where it is very hot – like the Sahara, but there are many other examples – people tend to drink their tea hot. In fact, hot tea is considered more refreshing than cold tea. This is because the closer the liquid's temperature is to body temperature, the less it will provoke a temperature change. And this temperature change is one of the reasons we sweat.
Our love of iced drinks comes from the other side of the Atlantic, and when a food-related fashion arrives from that region, we are not necessary wrong to question it. My suggestion for fans of iced tea is to shun the overly sweetened – in my opinion – commercial varieties and instead to make your own delicious teas using water at room temperature, and to drink them chilled.
Or, as I am here to tell you about the different customs relating to tea, you can also celebrate the arrival of the warm season by drinking a hot tea with mint leaves, like this one, served on the banks of the river Nile.
Posted in Iced tea, Recipes by François-Xavier Delmas | Tags : cold tea, hot tea, iced tea, Tea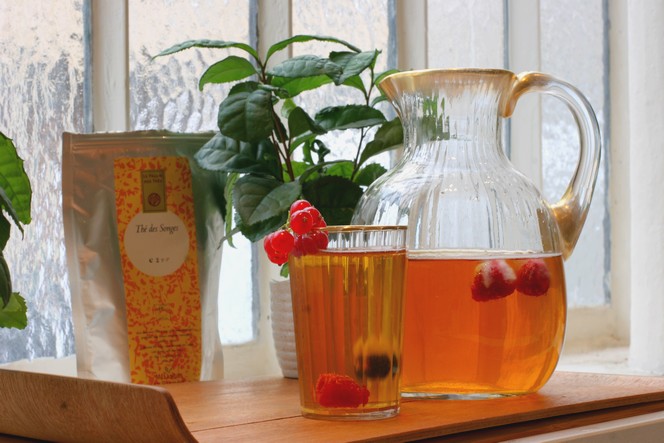 Last Friday, I spent my whole day in my tasting room. This room is usually cool, but here it was so hot that after having tasted a large number of Darjeeling 2nd flush, I felt like having a cold tea. I prepared myself two different teas, because I like making comparisons: a Thé des Songes and a Thé des Sables.
The recipe of iced tea is extremely simple: put 15 grams of tea in one litre of water, let it brew for 30 minutes, then filter the tea with the help of a tea strainer or a filter and it's ready! After that, up to you to leave the carafe or the bottle in the fridge, if you want an iced tea rather than a cold tea. When serving, and as a suggestion of garniture, a few ice cubes with summer fruits taken in the ice (blueberries, raspberries, redcurrants): it's nice and delicious.
To help you choosing the delicous teas to drink cold, here are some of my favourites: Bancha Hojicha, Grand Jasmin Chung Feng, Genmaicha, Tie Guan Yin, Thé des Sables, Thé des Enfants, Thé du Hammam, Thé des Songes Blancs, as well as most flavoured teas with citrus fruits or berries…
Enjoy!
P.S.: on the picture, just behind the carafe full of Thé des Songes, one of the tea trees I received when I was in Japan last April. I take great care of it and it returns it good: it has already doubled in size!
Posted in Iced tea, Recipes by François-Xavier Delmas | Tags : cold tea, flavoured teas, iced tea, iced tea recipe, Tea, tea filter, tea strainer
The author
François-Xavier Delmas is a passionate globetrotter. He's been touring the world's tea plantations for more than 20 years in search of the finest teas. As the founder of Le Palais des Thés, he believes that travelling is all about discovering world cultures. From Darjeeling to Shizuoka, from Taiwan to the Golden Triangle, he invites you to follow his trips as well as share his experiences and emotions.
Articles classified by themes
Blogs on tea in English
Blogs on tea in French
Cooking
Links to Le Palais des Thés
Past travels