Category : Country : Taiwan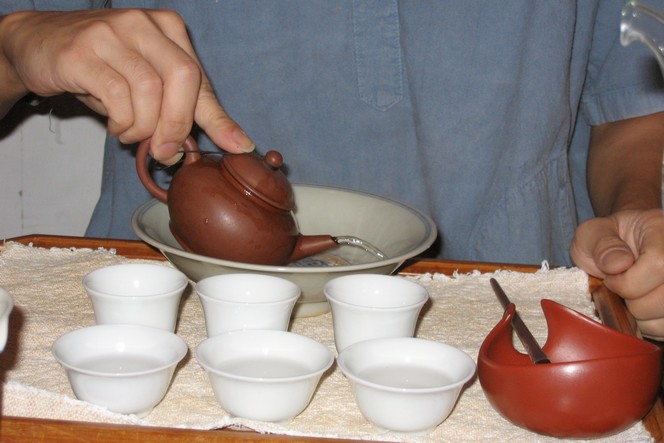 In Taiwan and in some regions of China, tea is prepared according to the Gong Fu method. This requires a very small teapot, smelling cups, tasting cups and a tea boat, a hollow vessel into which you pour the water used to rinse the tea and the cups.
The Gong Fu method consists of infusing the same tea leaves repeatedly for just a few seconds at a time. Each infusion, known as "water", releases new aromas, until there are no more.
This method is particularly appropriate for the preparation of certain Wu Long or Pu Er teas. On Sunday I tasted a 2008 Pu Er Xiao using this method: it was a real treat.
Posted in Country : Taiwan by François-Xavier Delmas | Tags : Country : China, Gong Fu Cha, Taïwan, Tea, tea leaves, teapot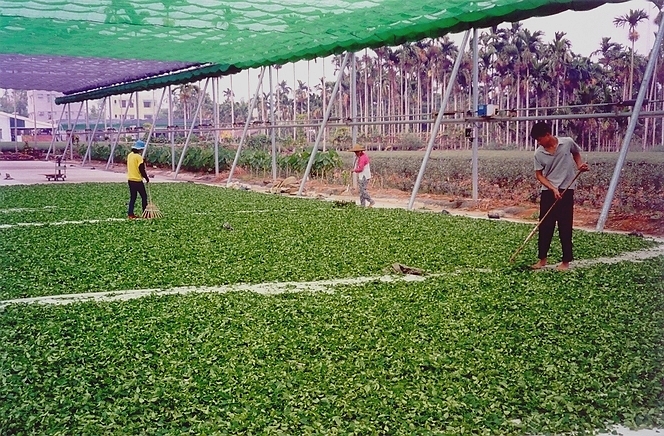 In Taiwan, people take great care of semi-fermented teas (wu longs) left to wither outside. The grower first buy an electrical system of open-weave canvases that are moved across to shade the leaves when the sunlight gets too intense. Tea is then aired: it is raked very carefully, for hours, to prevent the leaves from starting to ferment.
Posted in Country : Taiwan by François-Xavier Delmas | Tags : semi-fermented teas, Taïwan, withering, Wu long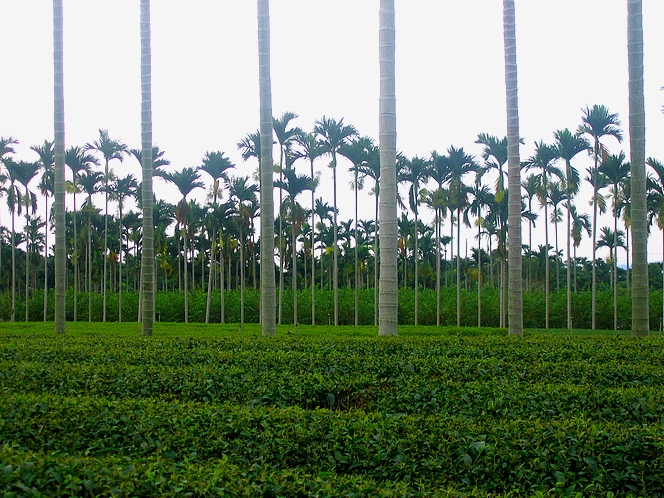 In Taiwan, in the Nantou region for example, well-known for its Wu Long teas (Dong Ding, etc.), the tall and spindly trunks of the palm trees contrast with the rows of tea plants and give the landscape a very graphic appearance.
I have to admit that this impression is emphasized by the fact that I have been a little disrespectful to the posers in the foreground by chopping their head off…
Posted in Country : Taiwan by François-Xavier Delmas | Tags : Dong Ding, Nantou, Taïwan, Tea, tea plants, Wu long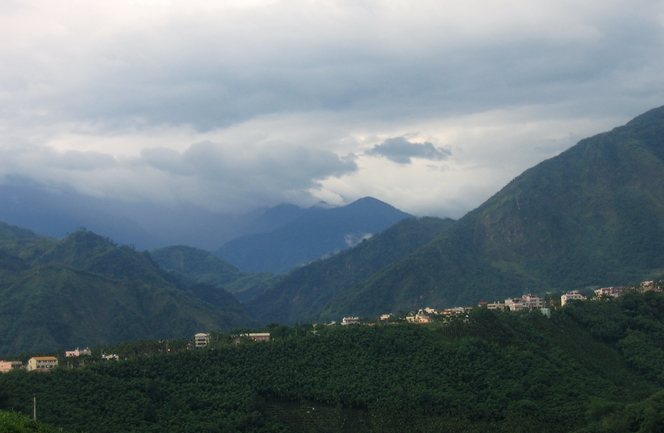 Wu Long teas from Taiwan are among the best teas in the world. By the way, we will receive beautiful Bao Zhong teas in a few days.
However, of that island, we easily have an image of a country whose activity is turned towards electronics and other micro-electronic components. In any case, not the image of an island whose territory is mainly covered by mountains. Taiwan is indeed divided by central ranges spreading from north to south and is very much appreciated by hiking lovers who enjoy walking on its small steep paths. During my trips, I can often see some of them, tired and out of breath but delighted by the beautiful landscapes around them.
This geography offering coolness and humidity combines the ideal conditions to grow high quality teas and we come across plantations a little bit everywhere in the country, each region producing distinct designations. The best Taiwanese teas are the "blue-green" or semi-oxidized: lightly oxidized Bao Zhong, Wu Long rolled up in perls (Jing Xuan, Gao Shan Cha) and Bai Hao Wu Longs.
Carine (see the post My travelling companions of last Friday) took this photo when we were in the county of Nantou in the centre of Taiwan. You can see the village of Lu Gu, perched on the crest of the Shan Lin Xi mountains, not far from the lake with the same name and near the place where great Dong Ding teas are produced.
Posted in Country : Taiwan by François-Xavier Delmas | Tags : Bai Hao Wu Long, Bao Zhong, Dong Ding, Gao Shan Cha, Jing Xuan, Lu Gu, Shan Lin Xi, Taïwan, Taiwanese tea, Taiwanese teas, Tea, tea plantations, teas, Wu long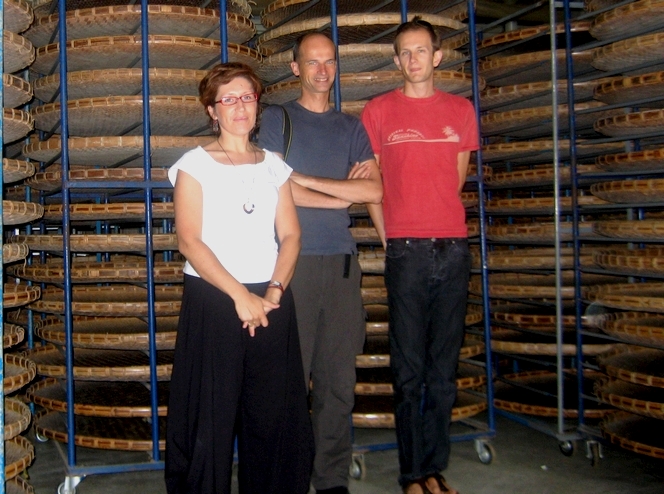 Most of the time, I travel on my own. Nothing's better than solitude to meet others, be receptive and start up relations. I go foward at my own pace, going from one plantation to another as I like. I stay there the time it takes to strike up a friendship with tea producers and learning the most about their work. In the evening, I look for a friendly inn and right after having sat down, I start up a conversation with my neighbours.
 
I make other trips with companions, study trips of example, during which we aim at learning everything possible about teas coming from a specific area. We then have to take notes, talk with producers or farmers, learn about the manufacturing process of each tea, ask endless questions and take lots of pictures at the same time… In that case, two or three of us are not too many to accomplish all these tasks!
 
My best trip companion in that case is Mathias, on the right of the photo, with whom I have been sharing the same passion for more than ten years. And Carine, on the left, who is in charge of the Tea School, is a perfect complement to us thanks to her career as an aroma specialist.
 
This photo was taken in Beipu, Taiwan, to be precise. Behind us, bamboo trays on which Bao Zhong tea leaves are left to sweat.
Posted in Country : Taiwan by François-Xavier Delmas | Tags : Bao Zhong, Beipu, Carine Baudry, François-Xavier Delmas, Taïwan, Tea, tea leaves, Tea plantation, tea producers, Tea School, teas, travel
The author
François-Xavier Delmas is a passionate globetrotter. He's been touring the world's tea plantations for more than 20 years in search of the finest teas. As the founder of Le Palais des Thés, he believes that travelling is all about discovering world cultures. From Darjeeling to Shizuoka, from Taiwan to the Golden Triangle, he invites you to follow his trips as well as share his experiences and emotions.
Articles classified by themes
Blogs on tea in English
Blogs on tea in French
Cooking
Links to Le Palais des Thés
Past travels
Community