Category : Country : Nepal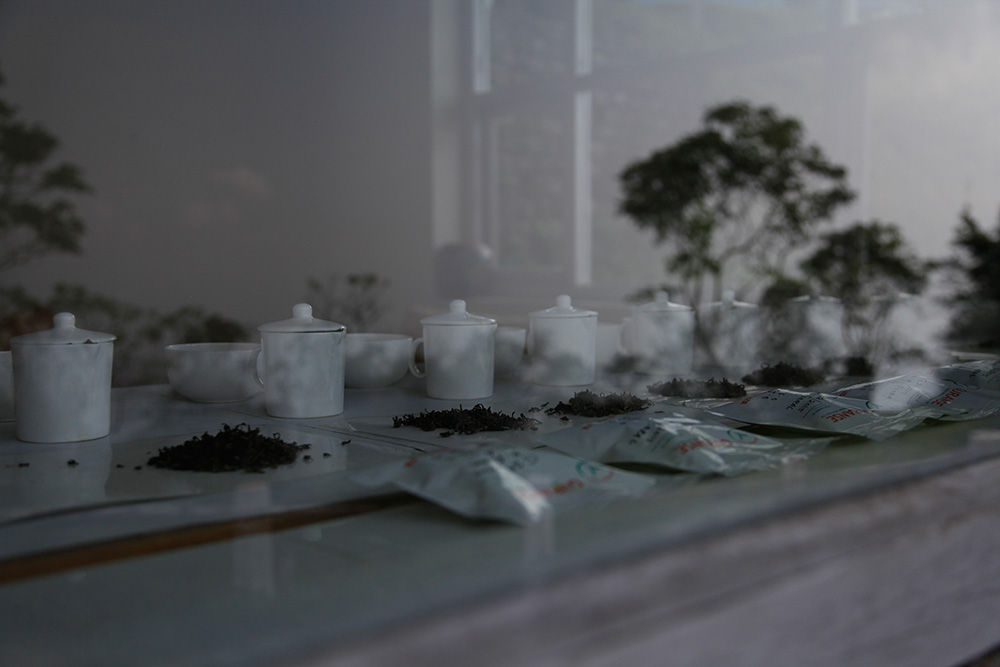 The advantage of photographing a window is that you can layer two images: here, the tasting set being prepared, and the landscape reflected in the glass. It's fun to combine and merge the two views. The meaning of the tasting becomes clearer: we drink the tea, which comes from nature, surrounded by the land from which it originated.
Posted in Country : Nepal, Tea tasting by François-Xavier Delmas | Tags : Landscapes, tea tasting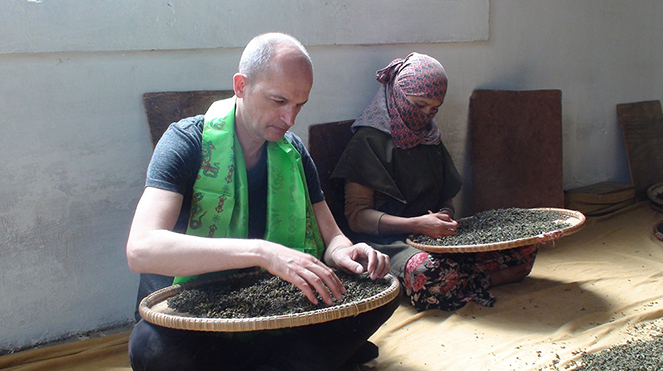 While you're brewing your tea, you can't always imagine how much work has gone into it already, with the harvesting and processing of each little leaf. The manual sorting, done leaf by leaf to remove any stems, is just as painstaking.
Posted in Country : Nepal by François-Xavier Delmas | Tags : tea leaves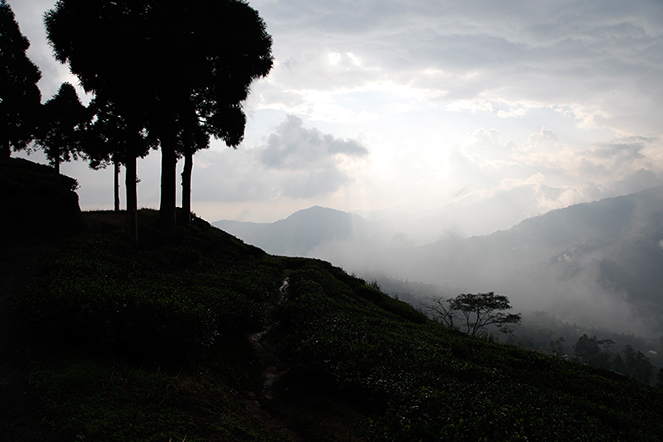 During a heatwave you must remember to stay hydrated. You need to drink frequently. You can also cool your face, with a wet cloth or a facial mist. As for me, I like the original version of mist – it's called the Himalayas. It is cool there, especially at this time of year, when clouds full of monsoon rain gather above your head.
Posted in Country : Nepal by François-Xavier Delmas | Tags : Himalaya, summer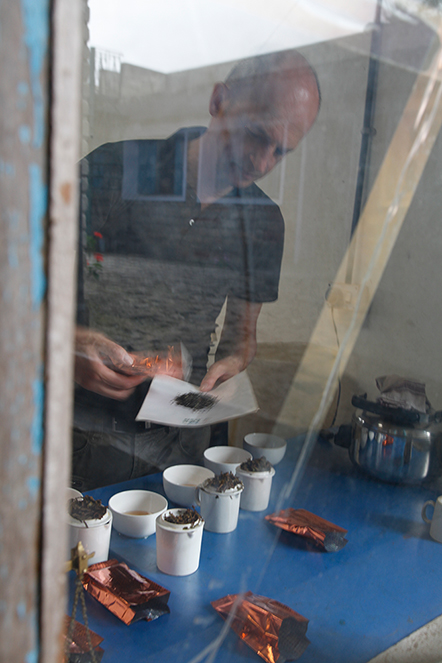 The first step in tasting consists of looking at the leaves. You pour a small amount out onto a neutral surface, like a sheet of card, and you examine the quality of the plucking, the colour of the leaves, their size, evenness, etc. This already gives you a good idea of what you're about to taste.
Posted in Country : Nepal, Professional tasting by François-Xavier Delmas | Tags : professional tea tasting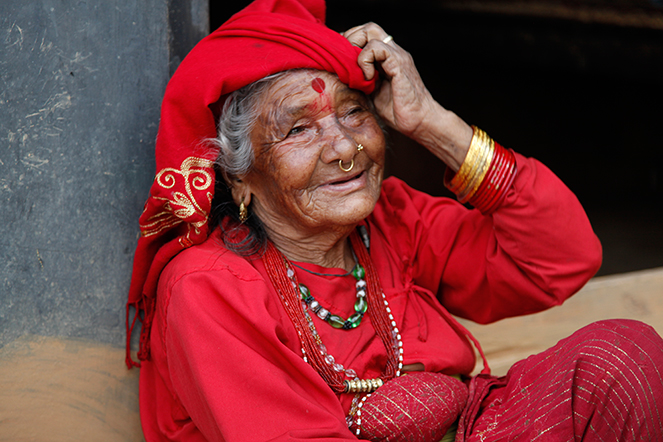 This woman is 95. She lives on an isolated farm, with her husband. They live alone, on the mountainside, far from any other houses, with just a few chickens and a little land to cultivate. A tiny path leads to their house. It is so narrow you must place one foot in front of the other. I visited them last week, while walking in the mountains in eastern Nepal. I was with Andrew, the planter from Guranse who shares my love of long walks. She made us tea while we talked with her husband. She brought us the tea in a metal goblet and threw a handful of cereal into a small, separate bowl. We poured the milky tea, which was quite peppery, over the cereal, and ate. We drank the remaining tea. We talked for a long time with her and her husband, on their doorstep, beneath a beehive. They talked non-stop. She understood my mediocre Hindi but spoke only in Nepali. Andrew translated for me. When I managed to get a word in, I asked her questions. What was her secret for a long life? Eating healthy food; fresh, home-grown produce. And was not love also the secret of their longevity? She laughed and exchanged a tender, incredibly touching, look with her husband. They married when she was 11. He was 15. They love each other. They have been together more than 80 years. When it was time for us to leave, they took our hands, and they blessed us by placing their hands on our foreheads. And they asked us if, later, when they are no longer there, we could once, just once, think of them.
Posted in Country : Nepal by François-Xavier Delmas | Tags : Encounter, Nepal
The author
François-Xavier Delmas is a passionate globetrotter. He's been touring the world's tea plantations for more than 20 years in search of the finest teas. As the founder of Le Palais des Thés, he believes that travelling is all about discovering world cultures. From Darjeeling to Shizuoka, from Taiwan to the Golden Triangle, he invites you to follow his trips as well as share his experiences and emotions.
Articles classified by themes
Blogs on tea in English
Blogs on tea in French
Cooking
Links to Le Palais des Thés
Past travels