Category : Country : Nepal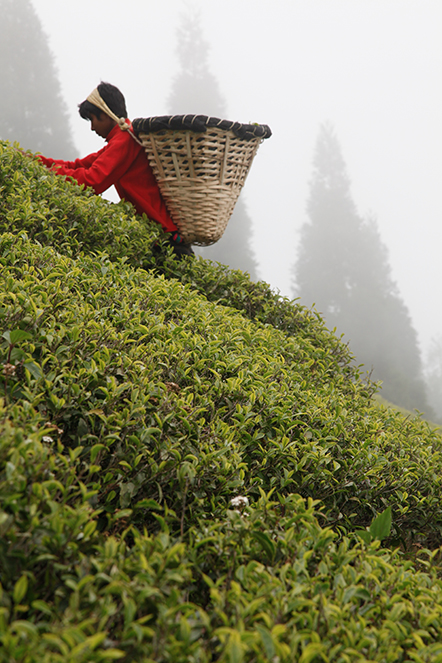 This man dressed in red with a basket on his back, do you recognise him? He is filling his basket with the greatest care, delicately picking the best tea shoots, for you. A few fir trees can be seen through the mist. I hope that, at the bottom of your tree, in a few days' time, he will place the finest teas in the world.
Posted in Country : Nepal by François-Xavier Delmas | Tags : Grands Crus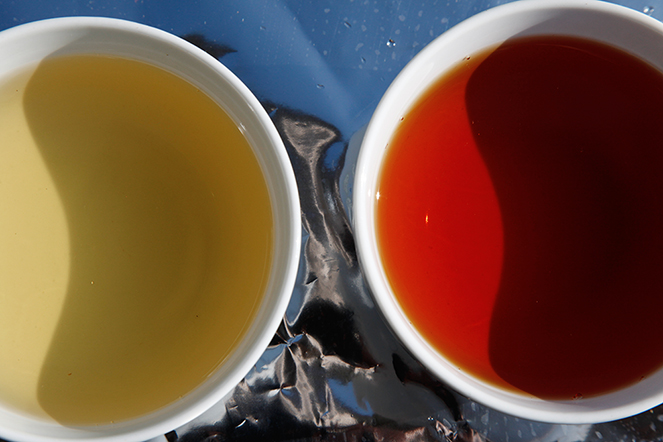 Looking at the liquor is one of the first steps in tea tasting. While the temperature of the cup slowly falls, we pay attention to the colour of the liquid. Green tea produces something pale, while black tea gives a more coppery tone. This does not mean darker tea has been infused for longer, or has a more pronounced fragrance than its neighbour. In fact there are green teas that have a remarkably powerful aroma, even after quite a short infusion. So we cannot conclude from this photo that the most aromatic tea will be the more coloured of the two.
Posted in Country : Nepal, Professional tasting by François-Xavier Delmas | Tags : black tea, green tea, professional tea tasting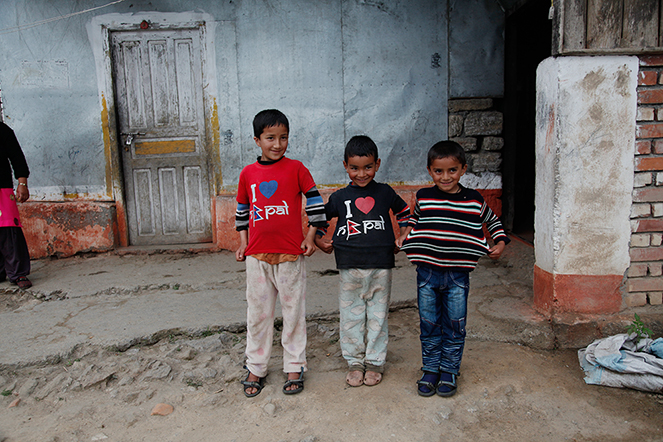 At a time when we are seeing our French flag flying everywhere, I have rediscovered this wonderful photo. Last May, when their country had just been hit by a serious earthquake, these children proudly showed off their "I love Nepal" slogans, with big heart-warming smiles on their faces. These children have every reason to love their beautiful country.
Posted in Country : Nepal by François-Xavier Delmas | Tags : flags, smiles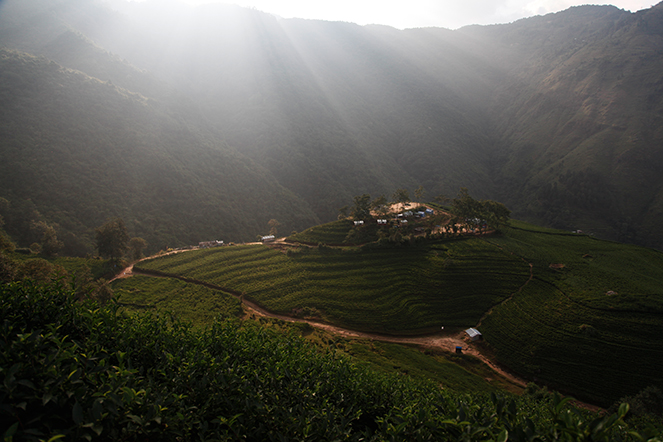 A few days ago I was lucky enough to meet the monk, Matthieu Ricard. It was a joy to listen to him speak. When you hear him, you feel light. You tell yourself that happiness is our responsibility. The happiness of others, first (ours comes indirectly, like the cherry on the cake). A few days later, I was in Nepal. I was helping a planter friend who is starting a great project, taking over an abandoned tea plantation between Kathmandu and Tibet. After walking for several hours between tea plants that were often taller than us, we sat down to catch our breath. We turned around to admire the view, and luckily just at that moment the sunlight pierced through. A light unlike any other. Something very beautiful, a halo of light that caressed the tea plants.
I thought about that fine English word, "enlightened", I thought again of Matthieu Ricard, and I thought about the beauty of our planet, of course. As we sat there, my friend and I marvelled at it. It illuminated us. But why is it so difficult for so many people to feel this beauty? Why don't they see it? Why do men keep trying to destroy our poor planet, day after day, throughout our lives? Why do they bring in their tarmac, plastic and bulldozers, their manic industrialisation and advertising hoardings, their deforestation and frenzied consumption, to lay waste to this Earth? For whose selfish happiness? And where is the Other? Who is thinking of our future generations?
Posted in Country : Nepal by François-Xavier Delmas | Tags : environment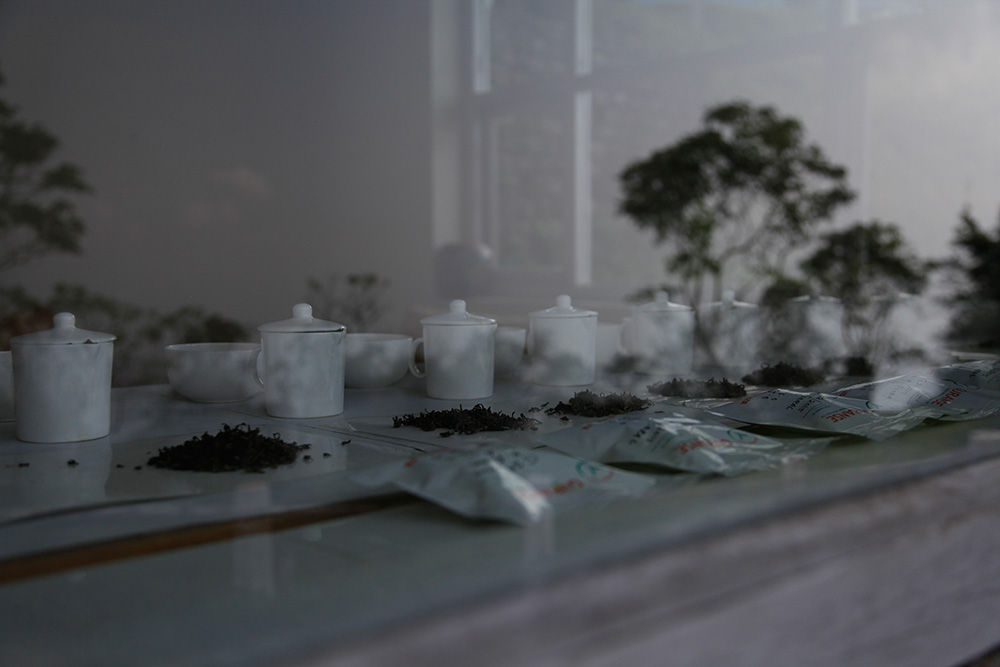 The advantage of photographing a window is that you can layer two images: here, the tasting set being prepared, and the landscape reflected in the glass. It's fun to combine and merge the two views. The meaning of the tasting becomes clearer: we drink the tea, which comes from nature, surrounded by the land from which it originated.
Posted in Country : Nepal, Tea tasting by François-Xavier Delmas | Tags : Landscapes, tea tasting
The author
François-Xavier Delmas is a passionate globetrotter. He's been touring the world's tea plantations for more than 20 years in search of the finest teas. As the founder of Le Palais des Thés, he believes that travelling is all about discovering world cultures. From Darjeeling to Shizuoka, from Taiwan to the Golden Triangle, he invites you to follow his trips as well as share his experiences and emotions.
Articles classified by themes
Blogs on tea in English
Blogs on tea in French
Cooking
Links to Le Palais des Thés
Past travels