Category : Country : Nepal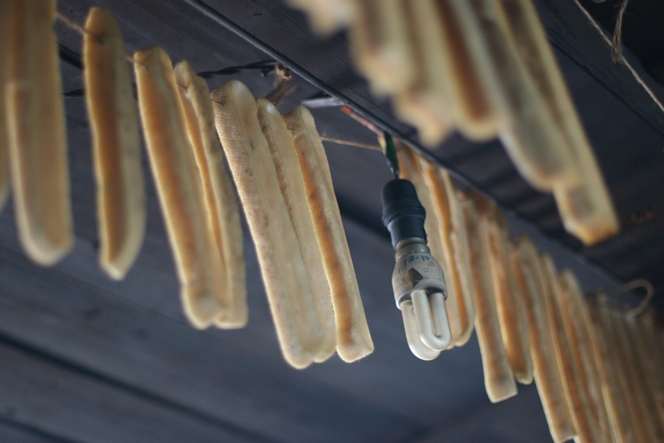 I was in Nepal recently and accepted an invitation I had received on numerous occasions to enter a house, often a farm. And I have had many opportunities to admire these strange forms hanging above my head like laundry on a line. It is difficult to know which is more incongruous, the electric bulb or these sticks.
But what is this stuff the colour of fresh butter?
In fact, it is cheese, drying out until it becomes as hard as rock.  When it comes to cutting it, no less than a pair of pincers is required. Chewing it is no easier: even just a tiny piece left to soften for ten or twenty minutes in the mouth is still inedible. It requires enormous patience to actually chew it and extract its minimal flavours.
Posted in Country : Nepal by François-Xavier Delmas | Tags : Nepal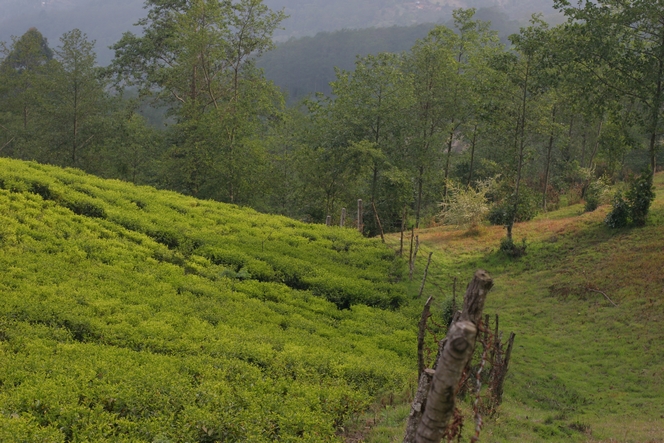 Last month a strike affected all of Nepal's tea plantations, and for more than ten days the tea trees were left to grow undisturbed. This explains why, in this photo taken at Kuwapani, the delicate yellow colour of the new shoots reflects the light of the setting sun in such abundance. Over on the right of the fence, the grass is so closely shorn because the region's many stags and roe deer have not joined in the movement, and show no signs of stopping work.
Posted in Country : Nepal by François-Xavier Delmas | Tags : Kuwapani, Nepal, tea plantations, tea trees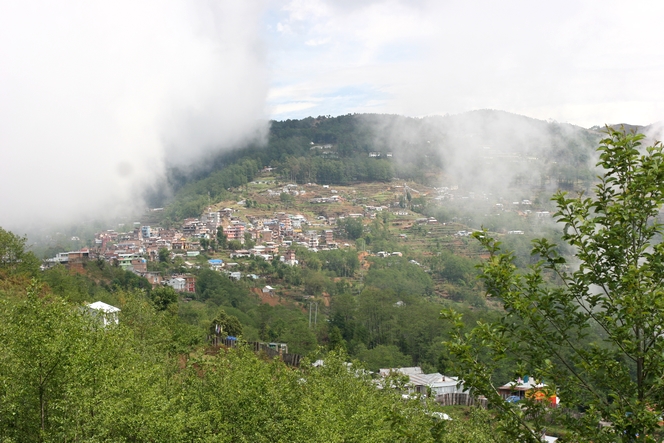 I have just spent three days in the region of Nepal where the country's best teas are produced. It is a valley to the east of Kathmandu from where, on a clear day, you can see the fifth highest peak in the world, Makalu.
The tea in this high valley is produced by just three plantations: Kuwapani, Guranse and Jun Chiyabari, all equally prestigious. They are situated right next to each other, at an altitude of around 2 000 metres, and this is the village of Hile, opposite.
In three days, I have only enjoyed such a clear view of this village twice, despite it being just a few hundred metres away. So I'll have to come back another time to see Makalu!
Posted in Country : Nepal by François-Xavier Delmas | Tags : Guranse, Hile, Jun-Chiyabari, Kathmandu, Kuwapani, Makalu, Nepal, Tea, teas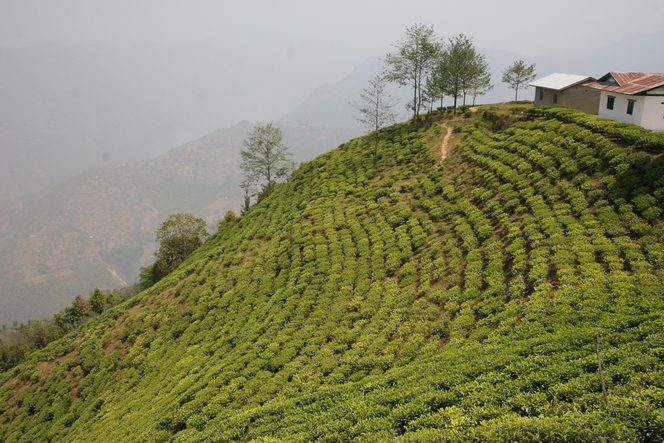 Some regions produce their best teas during the period from March to May. So this is a good time to meet the farmers and planters and see them at work.
I have left China for Nepal, which has been producing excellent teas in the past few decades. While here, I am visiting tea plantations in Hile (Kuwapani, Guranse, Jun-Chiyabari) located in the district of Dhankuta in Eastern Nepal, the most prestigious in the country.
Posted in Country : Nepal by François-Xavier Delmas | Tags : Dhankuta, Guranse, Hile, Jun-Chiyabari, Kuwapani, Nepal, teas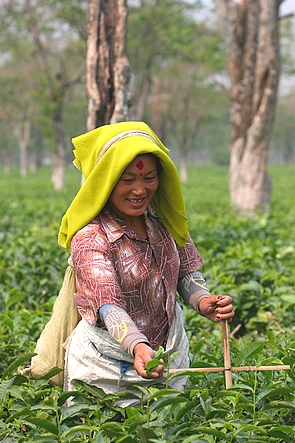 On the Terai plain (area straddling Nepal and India), I've seen them use strange crosses to mark the height of tea plants. The cross is stuck into the ground and only the shoots growing above the horizontal bar are plucked. It makes this cheerful plucker look a bit like a tea missionary.
Posted in Country : India, Country : Nepal by François-Xavier Delmas | Tags : Country : India, Nepal, Tea, tea plants, tea plucker, tea plucking, Terai
The author
François-Xavier Delmas is a passionate globetrotter. He's been touring the world's tea plantations for more than 20 years in search of the finest teas. As the founder of Le Palais des Thés, he believes that travelling is all about discovering world cultures. From Darjeeling to Shizuoka, from Taiwan to the Golden Triangle, he invites you to follow his trips as well as share his experiences and emotions.
Articles classified by themes
Blogs on tea in English
Blogs on tea in French
Cooking
Links to Le Palais des Thés
Past travels