Category : Country : Nepal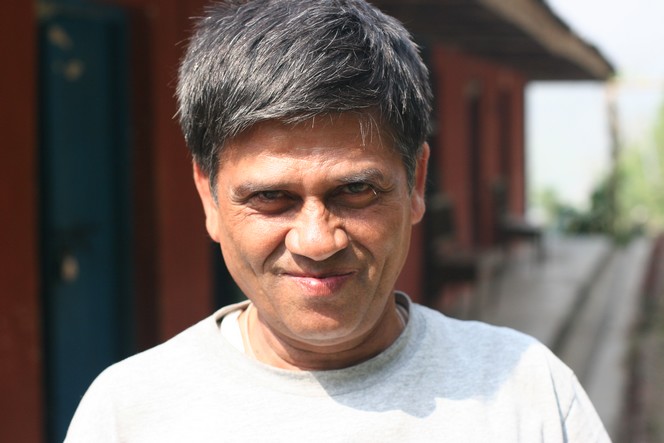 I've just completed my annual selection of spring teas from Nepal. They will be available in a few days' time, once they have been shipped by plane. This year, the Guranse and Kuwapani plantations produced the best lots. They are truly remarkable: if you have never tasted these teas, don't delay! They are worth trying.
Other gardens have made excellent progress and I've reserved two lots, one from the Everest Tea Estate, the other from the Kanchenjunga Tea Estate – an incredible plantation located in the far north of the Ilam Valley and run by my friend Dilli Baskota, pictured here. He is passionate about tea and is very involved in the sustainable development of the region.
Posted in Country : Nepal by François-Xavier Delmas | Tags : Dilli Baskota, Everest Tea Estate, Guranse, Kanchenjunga Tea Estate, Kuwapani, Nepal, Tea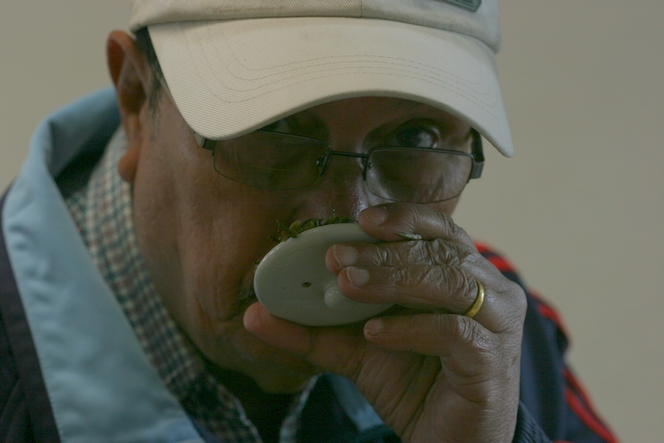 When you taste tea, the first thing you do is look at the dry tea leaf, of course. Then you bring the liquor to your lips and analyse the flavours, aromas and texture. But assessing the qualities of a tea includes another important step: smelling the wet leaves that have just been infused. For this, we can follow the example of Peter Orchard, manager of Kuwapani Tea Estate, who you see here, plunging his nose into the leaves while they're still warm. Peter is looking at me but he is elsewhere, concentrating intently on the smell of the infusion, a smell which says a great deal about the quality of the lot he has just tasted.
Posted in Country : Nepal, Professional tasting by François-Xavier Delmas | Tags : Kuwapani, Tea, tea leaf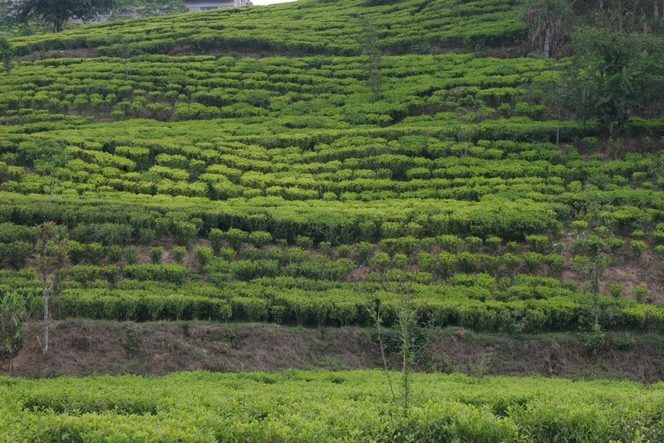 I am very aware of how lucky I am to be able to spend several months a year walking through tea fields. I never tire of it. Each tea plantation looks different. Some slope, others are flat, some are densely planted, others sparsely. Some are wooded, but the trees vary from one region to another.
What I like about this photo taken on Kuwapani Tea Estate (Nepal) is the contrast in these tea trees planted in rows that are quite orderly, yet which leave room for some interesting effects. The wavy lines follow the irregularities of the terrain, with a certain sense of freedom. They have adapted to their environment. We can see how the hand of man has marked out a neat line, and nature, rebellious, has ignored it.
Posted in Country : Nepal, Tea plant by François-Xavier Delmas | Tags : Kuwapani, tea fields, Tea plantation, tea trees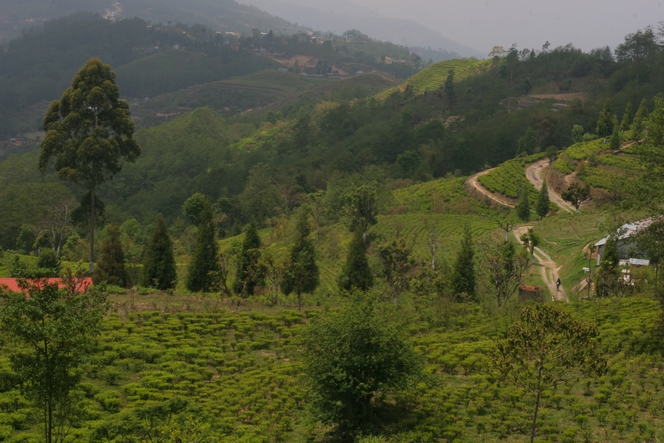 The plantations in the valley of Hile, in Nepal, were established recently. The oldest garden among Kuwapani, Guranse and Jun Chiyabari was created not much more than ten years ago. This might in part explain the quality of their tea, because the bushes they chose to plant on these mountain slopes are recent cultivars, famous for their aromatic properties. In addition, each of these plantations has developed innovative techniques for rolling the leaves, which is unusual in Nepal and India.
These three plantations are also special in that they are situated right next to each other. In this photo I took of Kuwapani, you can admire its splendid views, of course, but you can also see the red roof of the Guranse factory, close by.
Posted in Country : Nepal by François-Xavier Delmas | Tags : cultivars, Guranse, Hile, Jun-Chiyabari, Kuwapani, Nepal, Tea, tea plantations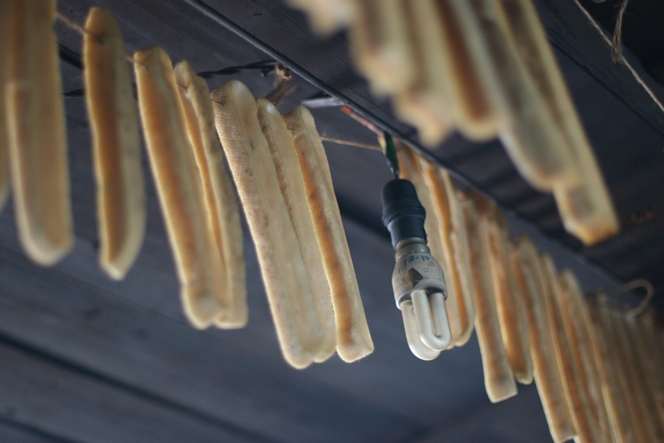 I was in Nepal recently and accepted an invitation I had received on numerous occasions to enter a house, often a farm. And I have had many opportunities to admire these strange forms hanging above my head like laundry on a line. It is difficult to know which is more incongruous, the electric bulb or these sticks.
But what is this stuff the colour of fresh butter?
In fact, it is cheese, drying out until it becomes as hard as rock.  When it comes to cutting it, no less than a pair of pincers is required. Chewing it is no easier: even just a tiny piece left to soften for ten or twenty minutes in the mouth is still inedible. It requires enormous patience to actually chew it and extract its minimal flavours.
Posted in Country : Nepal by François-Xavier Delmas | Tags : Nepal
The author
François-Xavier Delmas is a passionate globetrotter. He's been touring the world's tea plantations for more than 20 years in search of the finest teas. As the founder of Le Palais des Thés, he believes that travelling is all about discovering world cultures. From Darjeeling to Shizuoka, from Taiwan to the Golden Triangle, he invites you to follow his trips as well as share his experiences and emotions.
Articles classified by themes
Blogs on tea in English
Blogs on tea in French
Cooking
Links to Le Palais des Thés
Past travels