Category : Country : Nepal
In the Himalayas, people love music. Whenever the opportunity arises, they take up their instruments – sometimes a guitar, sometimes something more traditional – and they sing and dance. Here, with the Limbu people, everyone is wearing traditional dress to celebrate my arrival. They played and danced until the last rays of the setting sun, overlooking magnificent mountains. Later, they lit the fire. It's a moment of pure happiness.
Posted in Country : Nepal by François-Xavier Delmas | Tags : Himalaya, Music, Nepal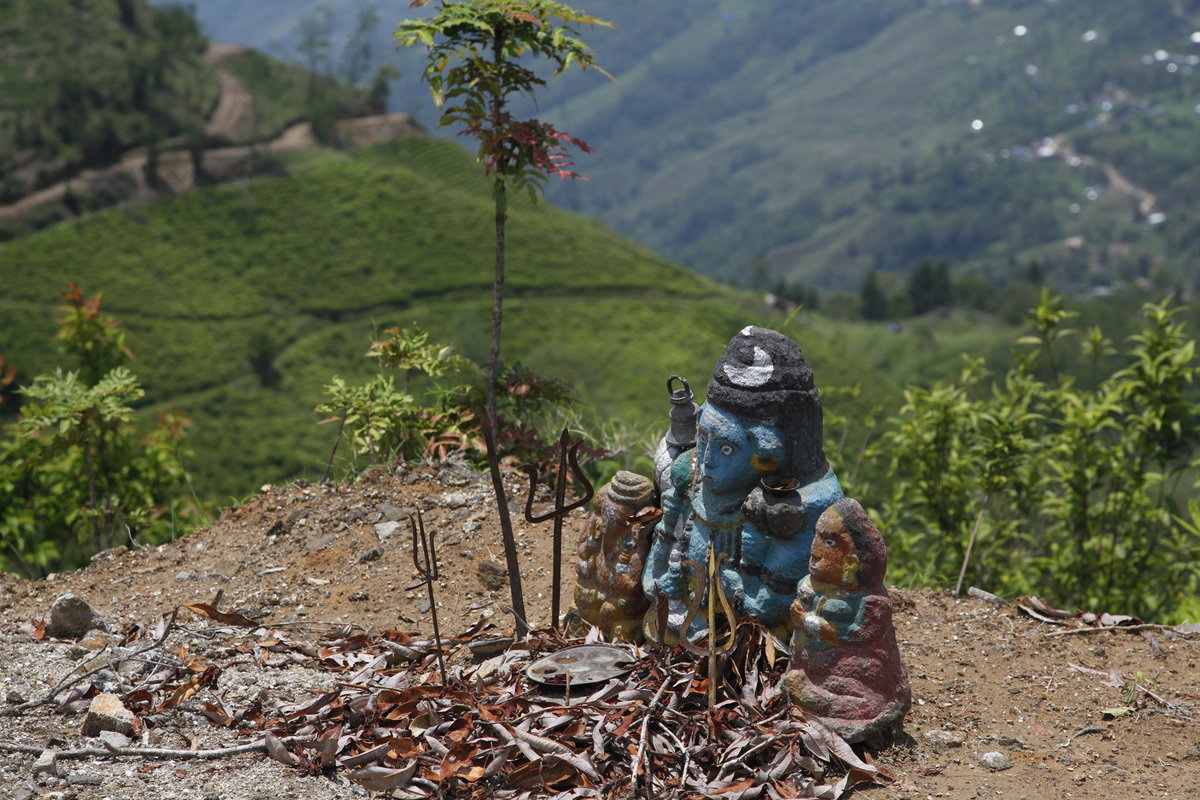 Divinities differ from country to country, and while some people are celebrating Christmas, on other continents they worship Shiva, or pray to Allah, or follow the words of Buddha. Through my work I'm lucky to come across people from different cultures and religions, and I love this variety. Happily, we don't all think the same way yet; our customs and rituals change and we speak different languages depending on where we're born, and I hope this continues as long as the world exists. It makes travel more interesting. Some people follow a religion, others don't – although the latter are rare in the parts of Asia and Africa I visit. Among them, I find a multitude of different rites. People pray before a wall, from a pulpit, at the foot of a minaret, or around a stupa. They pray to the wind or fire, they place offerings at the foot of simple statuettes. Whoever or whatever you pray to, and even if you don't pray at all, I wish you all happy holidays!
Posted in Country : Nepal by François-Xavier Delmas | Tags : Divinities, Holiday, Nepal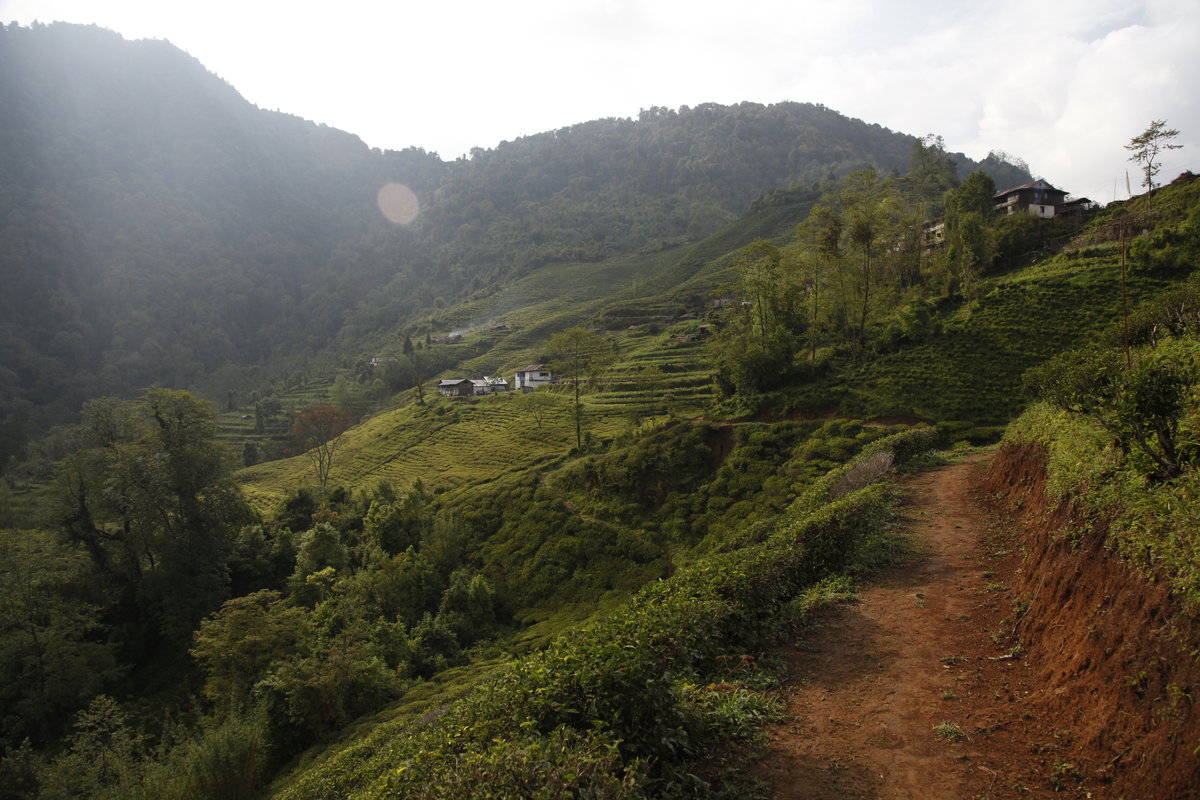 A few days ago, while walking in a remote part of Nepal on a track that winds through hamlets and tea fields, I remembered my first trip to this country a little over ten years ago. I remembered the curfew, the war, the ban on driving at night, the fearful army who pulled your vehicle off the road, made you get out and pointed an automatic weapon at you. I remembered the Maoists who held villagers to ransom, who took their belongings if they couldn't pay their taxes, and sometimes even one of their sons. I remembered stories of executions, a father or mother in tears. I remembered all this pain, and now, on this little path surrounded by glorious nature, I thought that sometimes we forget to be happy, we forget to see the good things. It's easy to spend your life lamenting, as if everything was so much better before, as if everything is going to ruins, when sometimes the world is improving. It's a shame not to think about this, to forget to be happy. So I stopped walking, looked all around me at the incredible landscape in this peaceful country that has put war behind it. I took my time to appreciate it and to feel thankful. Sometimes the world is beautiful.
Posted in Country : Nepal by François-Xavier Delmas | Tags : History, memories, Nepal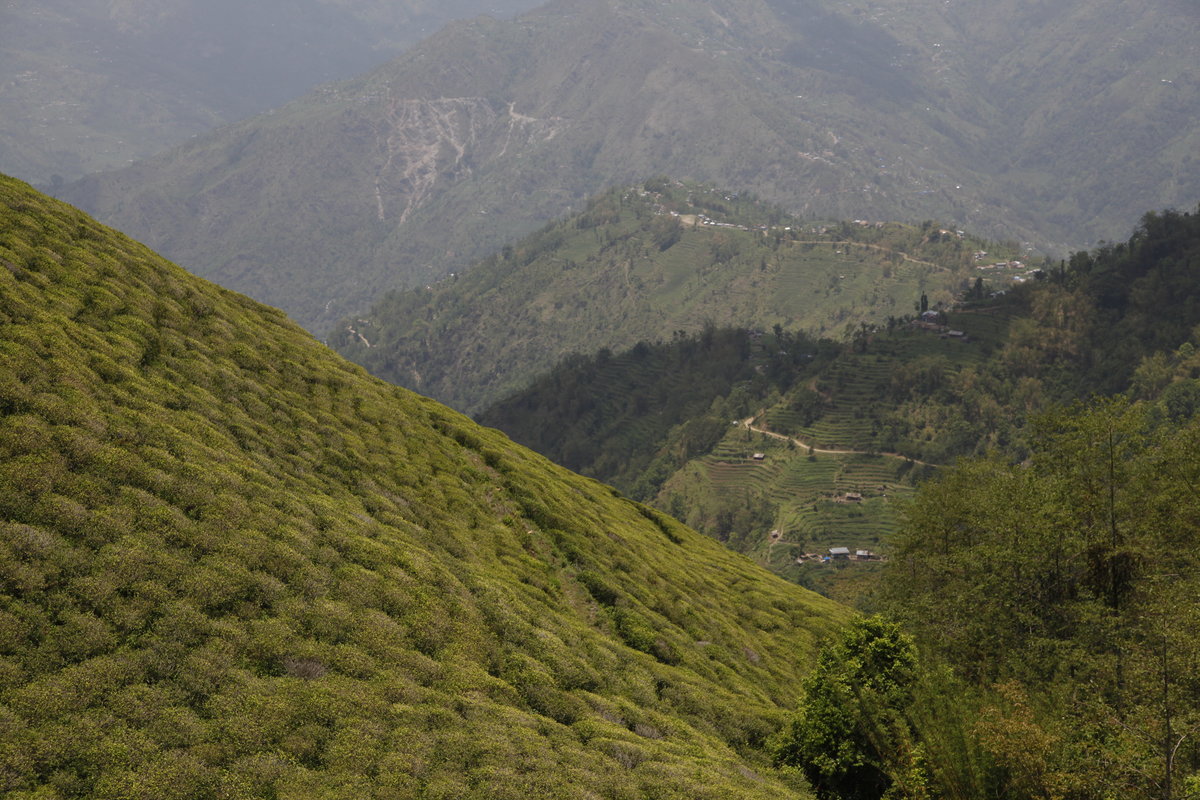 During a tour of the Institute of Himalayan Bioresource Technology, Dr Rakesh Kumar reminded those I'd brought with me on the trip of the essential conditions required to grow tea: acidic soil (pH 4.5 to 5.5), temperatures between 15°C and 32°C, and abundant rainfall (around 1,500 mm per year). Of course, altitude, sunlight and gradient also influence the way the plants behave.
I've chosen this photo to illustrate gradient. It is without doubt in the Himalayan foothills that I encounter the steepest mountainsides. With copious rainfall and well-drained soil, it's a tea plant's dream location!
Posted in Country : Nepal by François-Xavier Delmas | Tags : Himalaya, Nepal, Tea plantation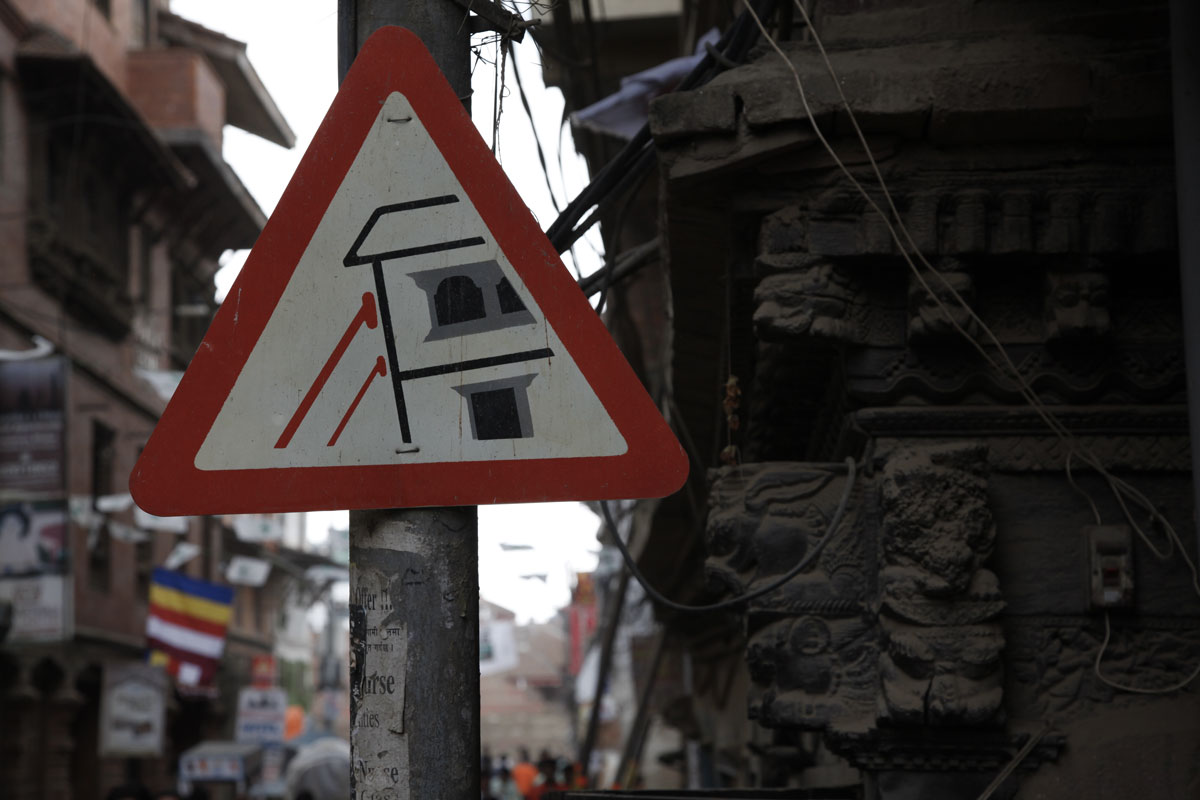 In Nepal, the effects of the earthquake are ongoing. Whole villages are still in ruins, their inhabitants living among these ruins, in houses that have half-collapsed, covered over with a tarpaulin for a roof. In Kathmandu, only the old town was affected. There too, there is no sign of reconstruction. A significant number of the capital's most beautiful monuments have been reduced to dust, and surrounding houses are in a fragile state. While they await repair, they are being propped up by wooden struts, and signs warn people of the risk of collapsing buildings.
Posted in Country : Nepal by François-Xavier Delmas | Tags : earthquake, Kathmandu, rebuilt
The author
François-Xavier Delmas is a passionate globetrotter. He's been touring the world's tea plantations for more than 20 years in search of the finest teas. As the founder of Le Palais des Thés, he believes that travelling is all about discovering world cultures. From Darjeeling to Shizuoka, from Taiwan to the Golden Triangle, he invites you to follow his trips as well as share his experiences and emotions.
Articles classified by themes
Blogs on tea in English
Blogs on tea in French
Cooking
Links to Le Palais des Thés
Past travels