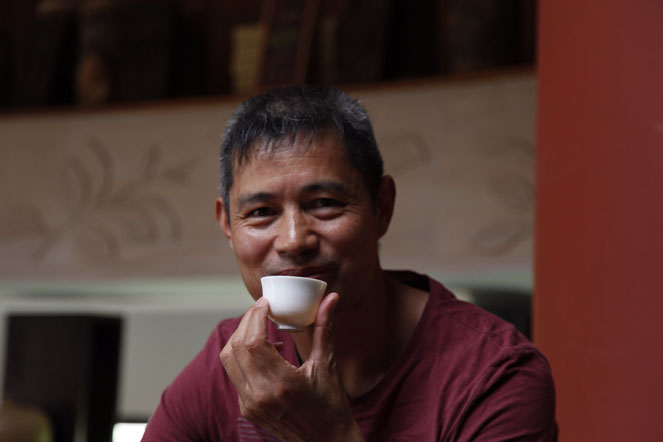 Wen Rong Tian has had two lives: the first as a physical education teacher; the second, which began 27 years ago, as a tea producer. From the first he has kept his love of a healthy life, and follows a daily programme of vigorous exercise and a strict diet. The second came from his father, who managed a tea factory for 20 years. However, son has surpassed father: today, Wen Rong Tian is one of the main, if not the leading, producer of black tea in Yunnan. He makes excellent teas and even claims to have created the famous Yunnan Golden Buds and Golden Needle teas produced in the province. I visited him near Baoshan, where he lives. His passion lies not so much with walking though tea fields as spending all his time tasting his teas and improving production processes. He lives, sleeps, eats and breathes just a few metres from his factory. What gives him the most pride is to make some of the most amazing teas in the world, just from simple leaves. And unlike many Chinese producers, he prefers black teas to green teas, for their generous aromas and smooth presence.
Posted in Country : China by François-Xavier Delmas | Tags : black teas, tea producer, Yunnan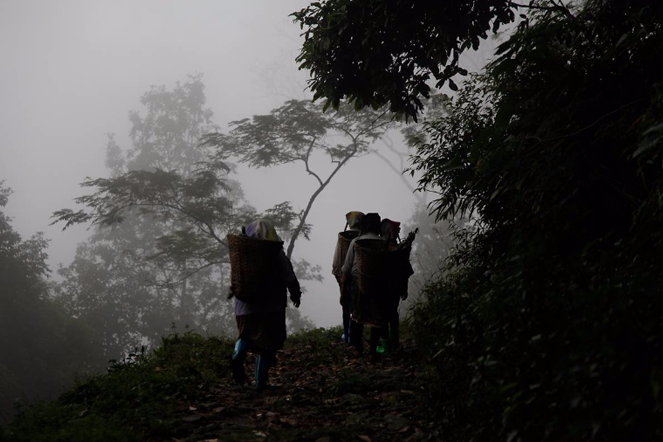 Darjeeling is a place of contrasts right now. Life has resumed throughout the district. Once again, the roads, shops and hotels are open, the tea plantations too. But there is much work to be done, as the tea plants have disappeared beneath the weeds. This is not serious for the shrubs, they're in good conditions, but all the vegetation needs clearing, and then the precious camellia sinensis must be cut back to their initial size. Sadly, there is a lack of manpower in Darjeeling. During the three months of protests in favour of regional autonomy, many men left the mountains to find work elsewhere. And now, the plantations don't have enough people to do the clearing and cutting back. Yet this work is essential if there is to be a good harvest next spring, otherwise there won't be enough Darjeeling tea, and fake Darjeelings, which are already in circulation, will flood the market. That would be a catastrophe for Darjeeling, and I hope with all my heart it will never come to that. We will have to pay close attention to the situation.
Posted in Country : India by François-Xavier Delmas | Tags : Darjeeling, Tea plantation, tea pluckers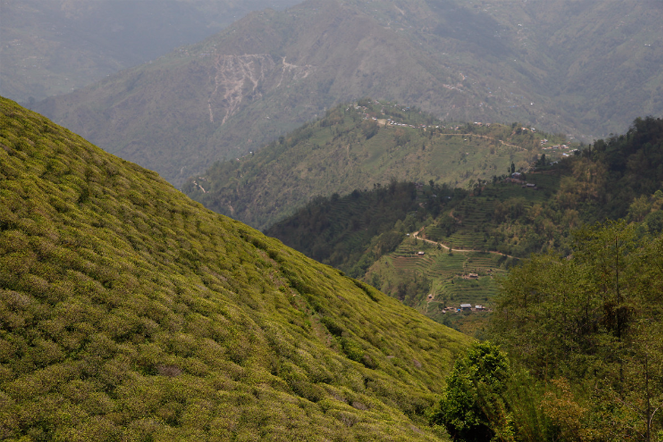 During a tour of the Institute of Himalayan Bioresource Technology, Dr Rakesh Kumar reminded those I'd brought with me on the trip of the essential conditions required to grow tea: acidic soil (pH 4.5 to 5.5), temperatures between 15°C and 32°C, and abundant rainfall (around 1,500 mm per year). Of course, altitude, sunlight and gradient also influence the way the plants behave.
I've chosen this photo to illustrate gradient. It is without doubt in the Himalayan foothills that I encounter the steepest mountainsides. With copious rainfall and well-drained soil, it's a tea plant's dream location!
Posted in Country : Nepal by François-Xavier Delmas | Tags : Himalaya, Nepal, Tea plantation
The author
François-Xavier Delmas is a passionate globetrotter. He's been touring the world's tea plantations for more than 20 years in search of the finest teas. As the founder of Le Palais des Thés, he believes that travelling is all about discovering world cultures. From Darjeeling to Shizuoka, from Taiwan to the Golden Triangle, he invites you to follow his trips as well as share his experiences and emotions.
Articles classified by themes
Blogs on tea in English
Blogs on tea in French
Cooking
Links to Le Palais des Thés
Past travels