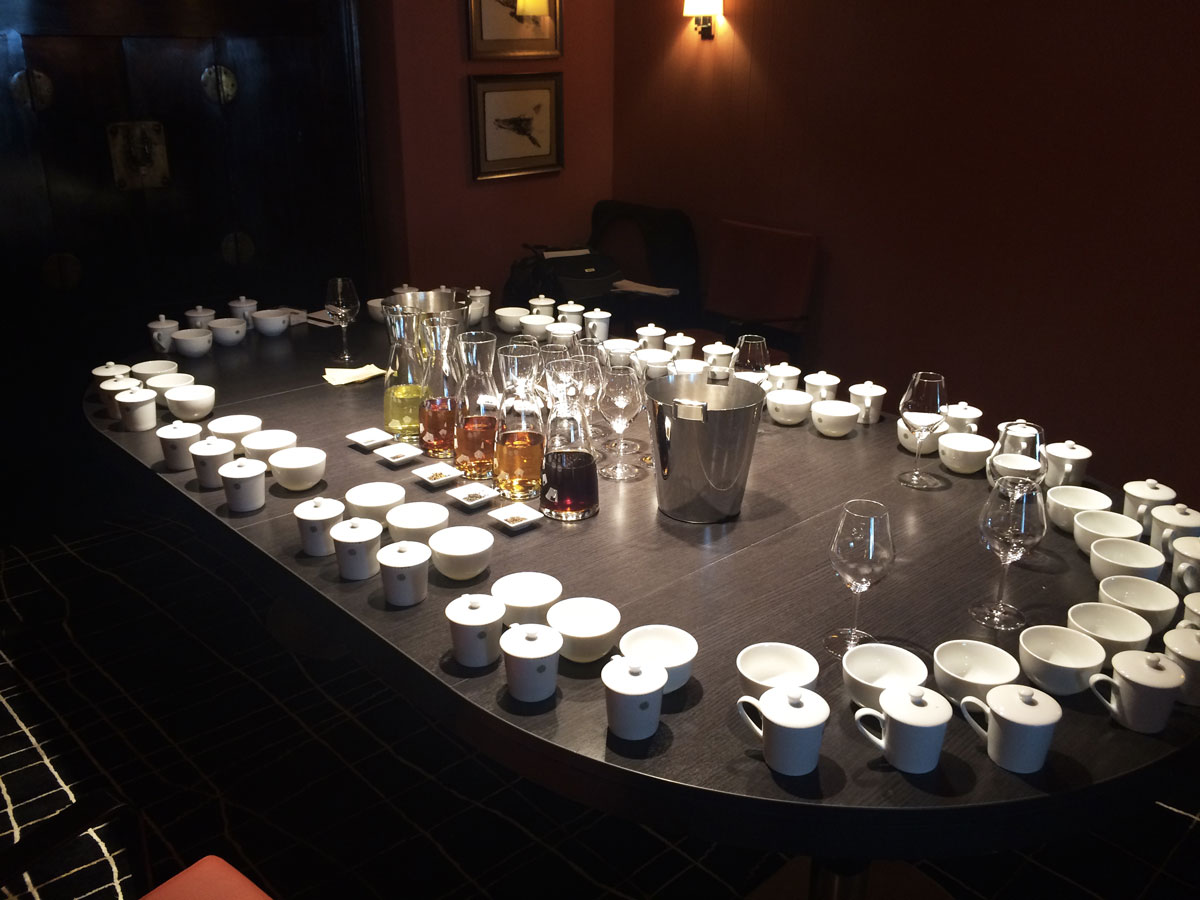 The Tea School provides training for Palais des Thés employees to ensure their knowledge and expertise is as good as possible. The school also offers courses for members of the public who want to learn about tea and the best way to drink it, and lastly, it trains food professionals. Recently, these have included teams from the Ritz and Bristol hotels in Paris. In this way, maîtres d'hôtel and sommeliers learn about tea, and many are passionate about the subject. Some have built up their knowledge over a long period, while others are thirsty to learn. This is how we prepare the tasting session – this one took place at the Institut Paul Bocuse a few days ago. There are three tasting sets per participant, to taste three premium teas (Jade Oolong by Mrs Ming, Dong Ding Antique, Pu Erh Menghai XO Milésime 1999). In addition, five teas were infused in cold water and served in stemmed glasses: Ryogôchi Saemidori Shicnha Ichibancha 2017, Kagoshima Benifuki by Mr Kumada, Népal Kanchenjunga Gold Récolte Tardive, Satemwa Dark and Enjin Jukro from Korea. The leaves are examined in little dishes. However, we do not label the teas – I like people to taste them blind and if possible I hide the tea colour, without saying what type of tea it is, so that students can keep their minds clear and not form preconceptions. This is a refined approach to tea. It is about awakening the senses, describing a texture and a flavour, and recognising aromas. My dream is to initiate new people into this vocation so that one day they can become a tea sommelier!
Posted in Professional tasting by François-Xavier Delmas | Tags : formation, Paul Bocuse, tasting
The author
François-Xavier Delmas is a passionate globetrotter. He's been touring the world's tea plantations for more than 20 years in search of the finest teas. As the founder of Le Palais des Thés, he believes that travelling is all about discovering world cultures. From Darjeeling to Shizuoka, from Taiwan to the Golden Triangle, he invites you to follow his trips as well as share his experiences and emotions.
Articles classified by themes
Blogs on tea in English
Blogs on tea in French
Cooking
Links to Le Palais des Thés
Past travels