Posted in Country : China, Tea plant by François-Xavier Delmas | Tags : Tea, Tea plant, tea trees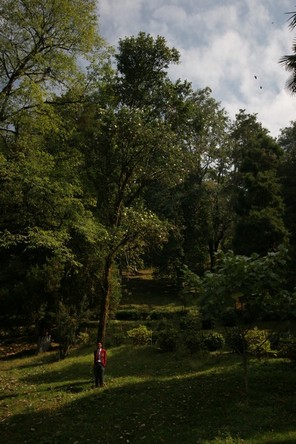 If one day you decide you want to see what a wild tea plant looks like, you could visit the Golden Triangle. On the border between China and Burma you might be lucky enough to come across the famous tea plants, often a hundred years old, that are used to make pu er.
You may have to drive for several days to see them. But you will also find a tea plant the size of a tree in Darjeeling, in the Botanic Gardens. It is the same age as the region's tea plantations, nearly two hundred years old.
To give you an idea of its size, I asked someone measuring around 180cm to stand at its foot.
One Comment by "Century-old wild tea plants"
The author
François-Xavier Delmas is a passionate globetrotter. He's been touring the world's tea plantations for more than 20 years in search of the finest teas. As the founder of Le Palais des Thés, he believes that travelling is all about discovering world cultures. From Darjeeling to Shizuoka, from Taiwan to the Golden Triangle, he invites you to follow his trips as well as share his experiences and emotions.
Articles classified by themes
Blogs on tea in English
Blogs on tea in French
Cooking
Links to Le Palais des Thés
Past travels