Posted in Country : China by François-Xavier Delmas | Tags : Gong Fu Cha, Hong Kong, pu er, Tea, tea cake, tea houses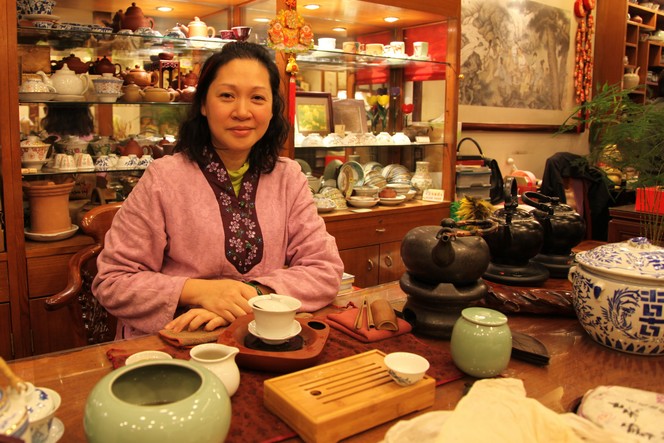 When I arrive in Hong Kong I go straight to one of the tea houses; they're such havens of peace. People go to them to buy old pu er; traditionally, the vendor sits opposite you and, after looking at you for a few moments, puts the water on to boil. They break off a piece of the tea cake, and you talk together about this and that, and about tea of course. You compare the different waters, because the same tea is infused several times over. From one tea to the next, one cake to the next, the minutes – sometimes the hours – pass by, interspersed with the sound of our little gulps: here, tea is drunk from tiny cups, like those used in the Gong Fu Cha.
A student of Yip Wai Man, Eliza Liu has one of these tea houses in the Mongkok district, and teaches her many devoted customers all about tea in an informal manner. Yabo Cha Fang is a friendly place with a special atmosphere, a mysterious charm, like Eliza's smile which I have captured here, as she crosses her hands in the style of the Mona Lisa.
One Comment by "Yabo cha fang: a tea house in Hong Kong"
The author
François-Xavier Delmas is a passionate globetrotter. He's been touring the world's tea plantations for more than 20 years in search of the finest teas. As the founder of Le Palais des Thés, he believes that travelling is all about discovering world cultures. From Darjeeling to Shizuoka, from Taiwan to the Golden Triangle, he invites you to follow his trips as well as share his experiences and emotions.
Articles classified by themes
Blogs on tea in English
Blogs on tea in French
Cooking
Links to Le Palais des Thés
Past travels