Posted in Country : Turkey by François-Xavier Delmas | Tags : Country : Turkey, Rize, Tea, tea harvesting, tea leaves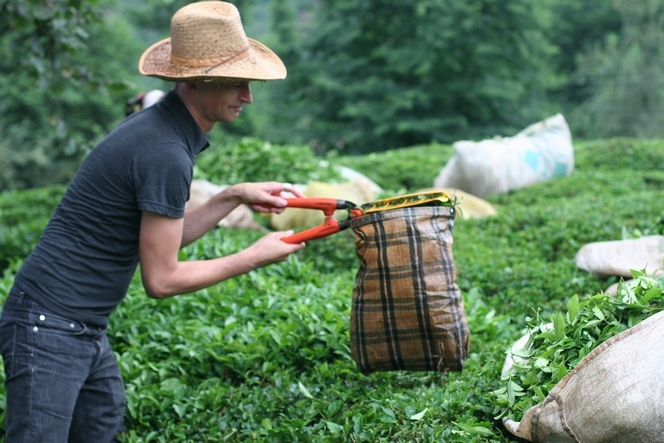 In general, good tea should be plucked by hand. The leaf bud and the first two leaves on each stem are plucked between the thumb and index finger, with a precise, rapid movement.
It is best to avoid the use of clippers, although they are commonly used in some regions of the world where tea is produced with less emphasis on quality. Although the farmers in the Rize region of Turkey are very friendly, hospitable people, it has to be said that their harvesting methods massacre the tea.
Here, I have dared to give them a helping hand and I'm a little ashamed, I must admit, to be caught red-handed using their tool.
One Comment by "In Turkey, one uses clippers to pluck tea"
The author
François-Xavier Delmas is a passionate globetrotter. He's been touring the world's tea plantations for more than 20 years in search of the finest teas. As the founder of Le Palais des Thés, he believes that travelling is all about discovering world cultures. From Darjeeling to Shizuoka, from Taiwan to the Golden Triangle, he invites you to follow his trips as well as share his experiences and emotions.
Articles classified by themes
Blogs on tea in English
Blogs on tea in French
Cooking
Links to Le Palais des Thés
Past travels